 News
Pink Floyd's Wish You Were Here SACD back in print at the end of this year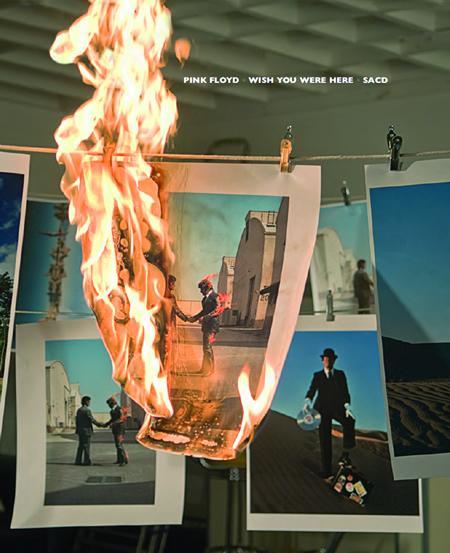 Analog Productions' SACD of Pink Floyd's 1975 album Wish You Were Here is being remanufactured and will be available to buy again from the end of this year.

This hybrid disc contains the album mixed for 5.1 surround sound and stereo from the original analog master tapes by Pink Floyd Producer/Engineer James Guthrie. It was originally issued back in 2011, around the time that the 'Immersion' box set of Wish You Were Here came out, but has since gone out of print.
Despite that big box containing a 5.1 mix on both DVD and blu-ray, the band wanted an SACD version to be released and the Analogue Productions package delivered on both sound and an excellent presentation, with six postcards featuring iconic Hipgnosis designs ('The Veil,' 'The Diver,' 'The Swimmer,' 'Man in the Desert,' 'Cover Sticker' and 'Burning Man') and an eight-page booklet.
The word on the street is that The Dark Side Of The Moon will follow in the same format, even though an SACD of that title was widely available when issued for the 30th anniversary in 2003.
This new edition of Wish You Were Here on SACD is available to pre-order via Acoustic Sounds online store and has a release date of 28 December 2018. Over time it is likely to become more widely available in Europe and other territories.
Compare prices and pre-order
Pink Floyd
Wish You Were Here SACD - 2018 reissue
1. Shine On You Crazy Diamond (Parts 1-5)
2. Welcome to the Machine
3. Have a Cigar
4. Wish You Were Here
5. Shine On You Crazy Diamond (Parts 6-9)
5.1 surround mix by James Guthrie
Assistant engineer Joel Plante
Mastered by James Guthrie and Joel Plante
Mixed and mastered at das boot recording
DSD authoring for SACD by Gus Skinas