 News
Pink Floyd's Animals reissue confirmed for October
Check out formats and details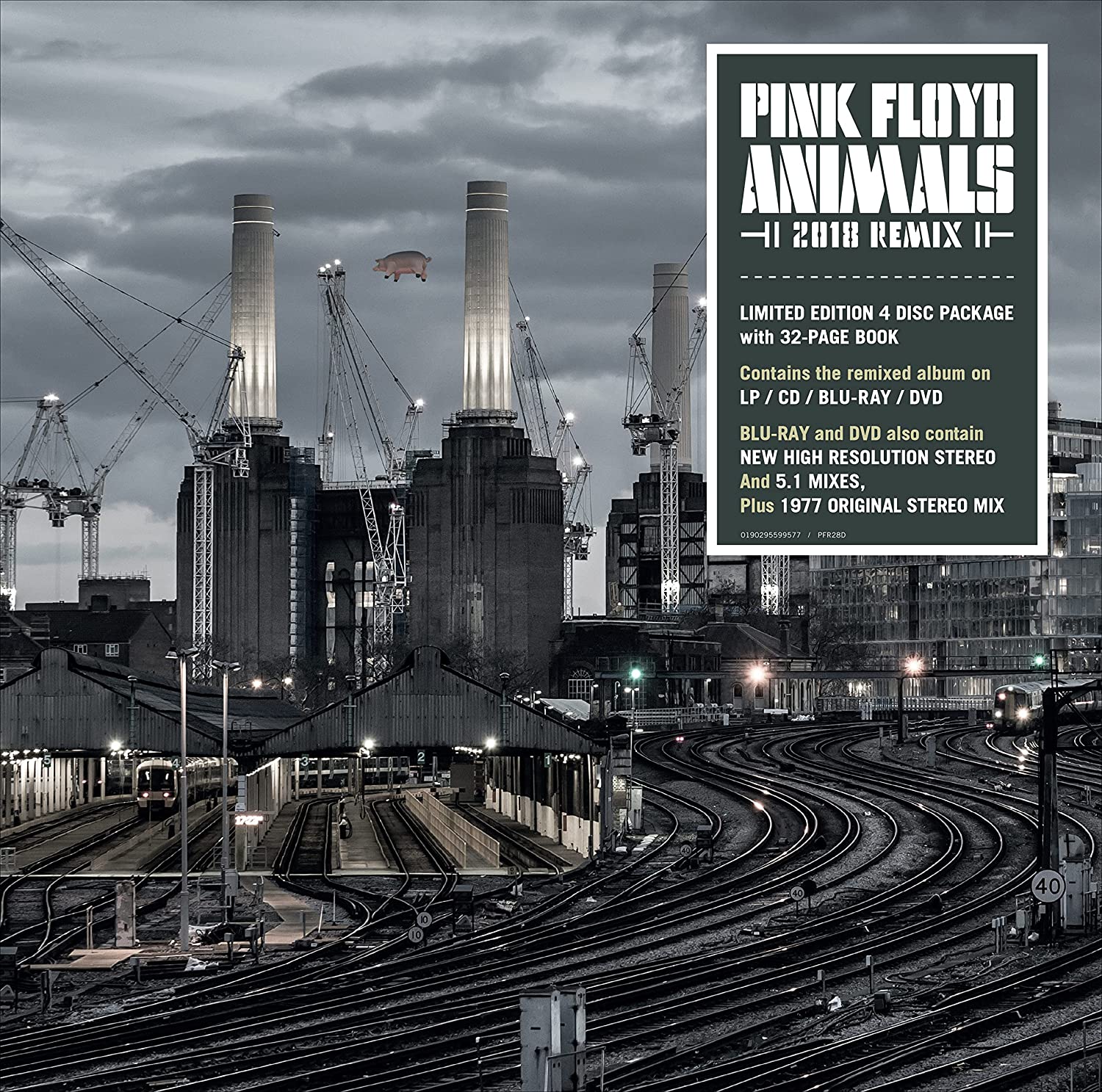 Pink Floyd's long-awaited reissue of their 1977 studio album Animals will be issued in September (and October) of this year.
The band's tenth studio album, Animals was recorded by band members David Gilmour, Nick Mason, Roger Waters and Richard Wright at Britannia Row Studios in London throughout 1976 and early 1977, and was produced by the band themselves. The record peaked at number two in the UK and number three in the US, and is considered as one of the band's best works.
The reissue features a 2018 stereo remix and some formats offer a 5.1 surround mix, both of which were created by James Guthrie.
The formats are as follows:
CD+DVD+blu-ray+vinyl LP deluxe gatefold edition
Gatefold vinyl LP
CD edition
standalone blu-ray audio
All formats offer the new 2018 stereo mix (by James Guthrie). The DVD and blu-ray offer this mix along with Guthrie's 5.1 mix and the original mix (in 2011 remaster guise).
The deluxe set comes with a 32 page book. The standalone blu-ray can be ordered via the SDE shop using this link or directly via the ('add to cart') button below (it comes packaged in a card wallet with a 16-page booklet).
Animals 2018 mix will be reissued in all formats on 16 September, except for the deluxe gatefold edition which is 7 October 2022.
Compare prices and pre-order
Pink Floyd
Animals 2018 mix - CD+DVD+blu-ray+LP box set
Compare prices and pre-order
Pink Floyd
Animals 2018 mix on vinyl LP
Compare prices and pre-order
Pink Floyd
Animals 2018 mix - CD edition
Tracklisting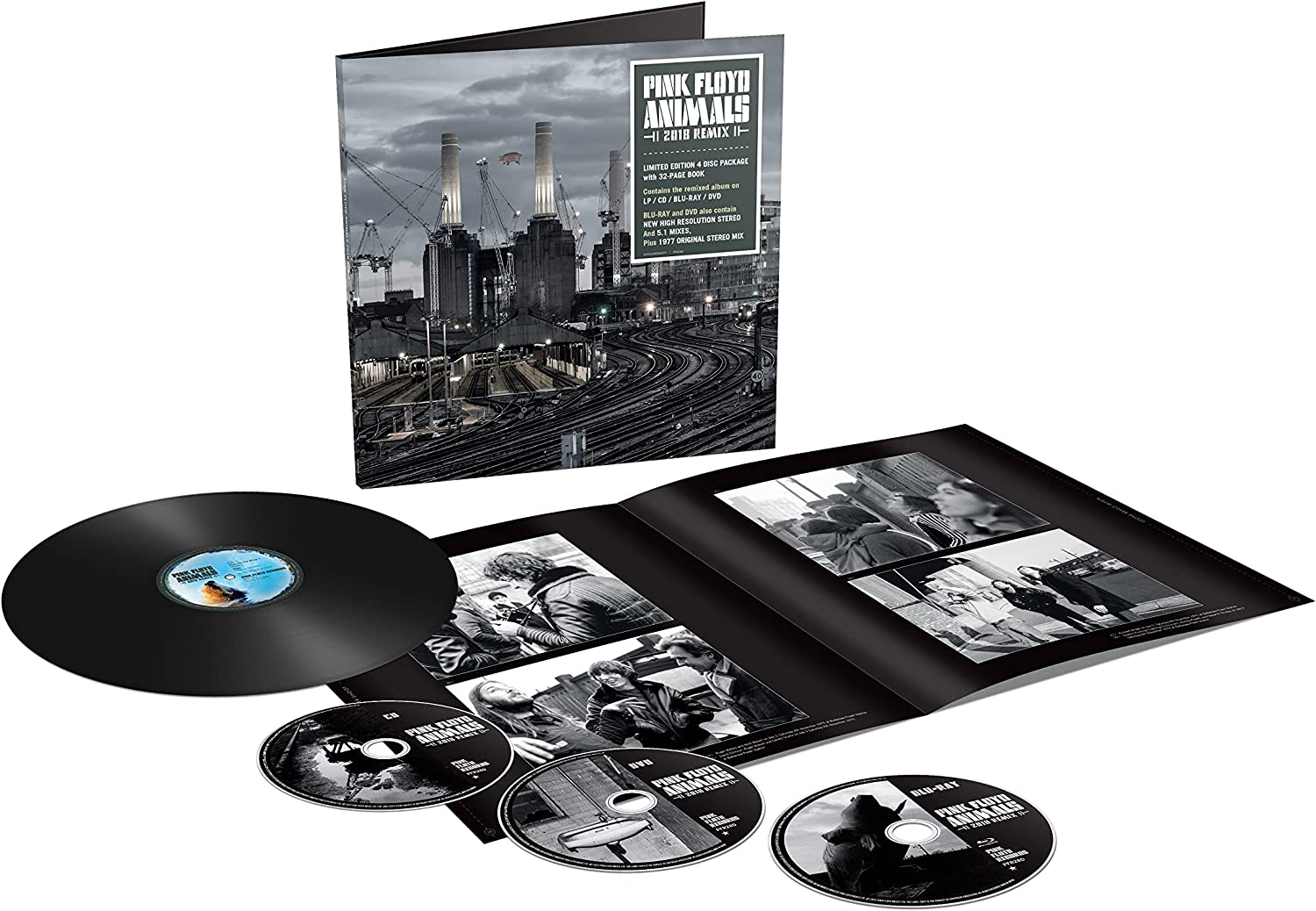 Animals 2018 box set Pink Floyd
/
CD+DVD+blu-ray+LP
CD: Animals 2018 stereo mix

2018 Stereo Remix

Pigs On The Wing
Dogs
Pigs (Three Different Ones)
Sheep
Pigs On The Wing

DVD: Animals 2018

2018 Stereo Remix

Pigs On The Wing
Dogs
Pigs (Three Different Ones)
Sheep
Pigs On The Wing

2018 Remix 5.1 Surround – 96kHz/24-bit 

Pigs On The Wing 1
Dogs
Pigs (Three Different Ones)
Sheep
Pigs On The Wing

Original 1977 Mix – 2011 Remaster

Pigs On The Wing
Dogs
Pigs (Three Different Ones)
Sheep
Pigs On The Wing

Blu-ray Audio: Animals 2018 mix

2018 Stereo Remix

Pigs On The Wing
Dogs
Pigs (Three Different Ones)
Sheep
Pigs On The Wing

2018 Remix 5.1 Surround – 24-bit/96kHz Uncompressed, dts-HD MA

Pigs On The Wing 1
Dogs
Pigs (Three Different Ones)
Sheep
Pigs On The Wing

Original 1977 Mix – 2011 Remaster – 24-bit/192kHz Uncompressed, dts-HD MA

Pigs On The Wing
Dogs
Pigs (Three Different Ones)
Sheep
Pigs On The Wing

Vinyl LP: Animals 2018 mix

2018 Stereo Remix

Pigs On The Wing
Dogs
Pigs (Three Different Ones)
Sheep
Pigs On The Wing