 News
Pre-order the new Simple Minds live album as an exclusive SIGNED 2CD set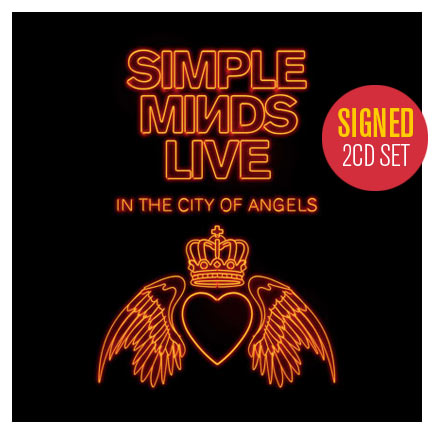 The mystery of why there is no signed CD option in the official Simple Minds store, for the newly announced Live In The City Of Angels album, has been solved. Amazon UK has been given that exclusive and today a listing has appeared for a SIGNED two-CD edition.

The slight downside is that it's not the four-disc deluxe, but on the positive the signed 25-track, double-disc package is only £9.99!
Incidentally, both the deluxe 4CD and 4LP vinyl editions are now also available via other channels like JPC and Amazon, in addition to the bundles and offerings on the official store.
Live In The City Of Angels will be released on 4 October 2019. Secure your signed two-CD set by pre-ordering here.
Compare prices and pre-order
Simple Minds
Live In The city of Angels - exclusive signed 2CD
Compare prices and pre-order
Simple Minds
Live In The City Of Angels - 4CD deluxe
Compare prices and pre-order
Simple Minds
Live In The City Of Angels - 4LP vinyl
Live In The City Of Angels 2CD set
DISC 1
1. The Signal and the Noise
2. Waterfront
3. Love Song
4. Let There Be Love
5. Up on the Catwalk
6. Sense of Discovery
7. Glittering Prize
8. Promised You a Miracle
9. The American
10. Hunter and the Hunted
11. Stand by Love
12. Dirty Old Town
DISC 2
1. Theme for Great Cities
2. She's a River
3. Walk Between Worlds
4. Hypnotised
5. Someone Somewhere in Summertime
6. See the Lights
7. All the Things She Said
8. Dolphins
9. Don't You (Forget About Me)
10. New Gold Dream (81-82-83-84)
11. Once Upon a Time
12. Alive and Kicking
13. Sanctify Yourself
Live In The City Of Angels 4CD deluxe set
CD 1
1. The Signal and the Noise
2. Waterfront
3. Love Song
4. Let There Be Love
5. Up on the Catwalk
6. Sense of Discovery
7. Glittering Prize
8. Promised You a Miracle
9. The American
10. Hunter and the Hunted
11. Stand by Love
12. Dirty Old Town
CD 2
1. Theme for Great Cities
2. She's a River
3. Walk Between Worlds
4. Hypnotised
5. Someone Somewhere in Summertime
6. See the Lights
7. All the Things She Said
8. Dolphins
9. Don't You (Forget About Me)
10. New Gold Dream (81-82-83-84)
11. Once Upon a Time
12. Alive and Kicking
13. Sanctify Yourself
CD 3
1. Book of Brilliant Things
2. I Travel
3. Blindfolded
4. Honest Town
5. In Dreams
6. Stars Will Lead The Way
7. Big Sleep
CD 4
1. Let the Day Begin
2. Barrowland Star
3. Midnight Walking
4. Summer
5. Big Music
6. Celebrate
7. The Cross
Live In The City Of Angels 4LP vinyl set
SIDE 1
1. The Signal and the Noise
2. Waterfront
3. Love Song
SIDE 2
1. Let There Be Love
2. Up on the Catwalk
3. Sense of Discovery
SIDE 3
1. Glittering Prize
2. Promised You a Miracle
3. The American
SIDE 4
1. Hunter and the Hunted
2. Stand by Love
3. Dirty Old Town
SIDE 5
1. Theme for Great Cities
2. She's a River
3. Walk Between Worlds
SIDE 6
1. Hypnotised
2. Someone Somewhere in Summertime
3. See the Lights
SIDE 7
1. All the Things She Said
2. Dolphins
3. Don't You (Forget About Me)
SIDE 8
1. New Gold Dream (81-82-83-84)
2. Once Upon a Time
3. Alive and Kicking
4. Sanctify Yourself