 News
Rare Wham! and Sade lead a pair of new Blank & Jones so80s compilations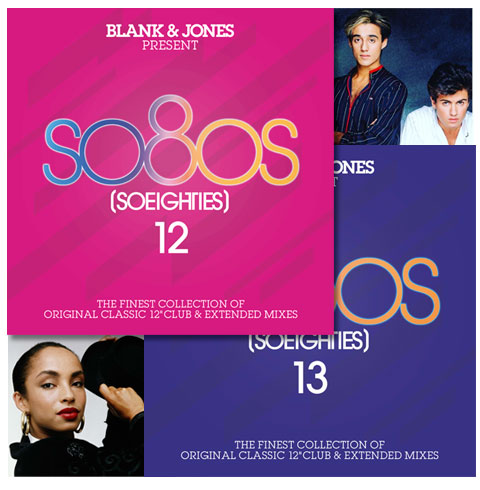 Eighties pop curators Blank & Jones will next month deliver over four-and-a-half hours of rare and sought-after 1980s remixes via two new volumes of their now well established 'so80s' compilations. Sets numbered 12 and 13 will be released simultaneously and are both 2CD packages. Fans can look forward to rare versions of tracks from the likes of Wham!, Sade, New Order, Visage, Billy Joel, Sheena Easton, Roxette, The Human League, Prefab Sprout and more.

so80s 12 starts extremely strongly with one of those tracks that has been on many a Wham! fans' wish-list for years; the studio version of 'Blue (Armed With Love)'. Originally issued as the B-side to 'Club Tropicana', the song rose to prominence when it was included in the setlist for Wham!'s 1985 tour of China and after its inclusion on 1986 career summary The Final. Crucially though, while vinyl and cassette editions of The Final included the B-side studio version, for some reason (groan) it was left off the CD edition variant. The live version – included on the US compilation Music From The Edge Of Heaven – is more developed, with more lyrics, but frankly, isn't really as satisfying as the studio cut. While it's not entirely new-to-CD (it made an appearance on a 1997 Japan-only 3″ CD single of 'Club Tropicana') this is the first time it has been issued on the format outside of Japan, and it has never appeared on ANY Wham! CD album or compilation.
Another highlight of volume 12 is the 12-inch version of Sade's 1984 single Smooth Operator. This was the band's third single and despite being rather iconic, it peaked at a relatively lowly number 19 in the UK singles chart. This version runs to 8.54 and segues with jazzy instrumental Red Eye. 35 years later this finally gets its CD debut on so80s volume 12.
Further selections include the US remix extended version of Talk Talk's 'Why It's So Hard' (previously only released on the Canadian and Italian 'It's My Mix' vinyl in 1985, with Blank & Jones receiving approval from management just one week before the sad news broke of Mark Hollis' death) and Shep Pettibone's 10-minute Dub version of New Order's 'True Faith'.
Also included on Volume 12 is the extended mix of Womack & Womack's 'Express Myself', the Extended Dance Remix version of Phil Collins & Phil Bailey's UK number one 'Easy Lover' and the Dance Mix of Sheena Easton's 'Strut'.
So80s 13 includes another Sade rarity in the form of the extended mix of 'Never As Good As The First Time'. This highlight from 1985's Promise was a veritable flop when issued as the third single in the UK, but was a top 20 hit in the US. While we wait to hear if Sony will issue CD deluxe editions of Prefab Sprout's back catalogue, Blank & Jones are just getting on with the job and have included the Extended Version of 'When Love Breaks Down'. It's very similar to the original (and not really 'extended') but this version is the original production by Phil Thornally not the one remixed by Thomas Dolby that features on Steve McQueen.
Volume 13 is arguably quirkier with further rare selections that include artists like Dave Lee Roth, Tina Turner, Roxette, Underworld and The Human League.
Both so80s sets come in jewel case packaging and feature 28-page booklets with cover art for the songs included.
So why have Blank & Jones decided to issue two volumes together? The answer lies in economics and practicalities. Compilations, in particular, are hit hard by both streaming playlists and labels putting out their own cookie-cutter multi-disc '80s' sets very cheaply. With CD sales declining, requests for licensing from third parties can be rejected if the label thinks 'it's not worth it' – master research, paperwork, royalty report check and reporting to artists – to license one track for relatively modest sales. But if there are a number of tracks (so in Sony's case there's Wham!, Sade, Prefab Sprout etc.) then they are more likely to want to engage.
The duo from Cologne freely admit that these sets are now effectively a 'hobby' with the aim now being not to lose money, rather than generating loads of income. They have day jobs as artists and producers in their own right and are able to take this approach. No, these aren't as cheap as compilations produced by record labels, but the labels themselves don't have to pay licensing and as we know, the sets are often thrown together with only a fraction of the thought and passion put into these so80s collections. As Now That's What I Call Music once said… Feel the quality!
If we wish to see such thoughtful remix sets continue then let's support their endeavours. I'm am doing this with SDE by offering both volume 12 and volume 13 via the SDE shop. So you can order via this link or by using the buttons below. These will ship week beginning 12 August 2019.
so80s 12 / 2CD set
CD1 71:21
01. Blue (Armed With Love) – WHAM! 3:52
02. Smooth Operator (12" Version) – Sade 8:47
03. Why Is It So Hard? (12" U.S. Remix – Extended Version) – Talk Talk 6:08
04. Why Can't We Live Together (12" Version) – Mike Anthony 6:56
05. Tell Her About It (Special Version) – Billy Joel 5:35
06. This Town (Full Length Version) – Hey! Elastica 3:48
07. Express Myself (Extended Remix) – Womack & Womack 6:44
08. I've Got The Beat (Magic Sticks) (Extended Version) – George Kranz 5:46
09. A.G.N.E.S. (12" Version) – 1000 OHM 6:20
10. Visage (Dance Mix) – Visage 6:02
11. True Dub – New Order 10:43
CD2 75:41
01. Boogie Down (Long Version) – Al Jarreau 6:26
02. Easy Lover (Extended Dance Remix) – Philip Bailey & Phil Collins 6:19
03. 20/20 (Jellybean Remix) – George Benson 9:39
04. Strut (Dance Mix) – Sheena Easton 5:52
05. If I Say Stop, Then Stop! (Sex Mix & Dub) – Georgie Red 10:43
06. T.V. Scene (Sensurround Mix) – Linda Di Franco 7:17
07. Turn Me Loose (12" Version) – Blue Night 7:47
08. Let The Music Play (12" Version) – Sammy Barbot 5:24
09. Wind Him Up (Special Maxi Version) – Saga 5:45
10. Wot (12" Version) – Captain Sensible 5:35
11. Ich will Spaß (Maxi Version) – Markus 4:26
so80s 13 2CD set
CD1 67:39
01. Never As Good As The First Time (Extended Mix) – Sade 5:08
02. Sweet Soft N' Lazy (Special Maxi Version) – Viktor Lazlo 6:06
03. Dangerous (Power Mix) (Long Version) – Roxette 7:03
04. Along Comes A Woman (Dance Remix) – Chicago 6:13
05. War Child (Extended Version) – Blondie 7:58
06. Better Be Good To Me (Extended Version) – Tina Turner 7:44
07. Now That We've Found Love (Paul Hardcastle Remix) – Third World 5:59
08. Out Of The Funk (Original Version) – Dennis Brown 7:21
09. Just Call (Hot Line Mix) – Sherrick 4:19
10. Tell Me What You Want (Extended Version) – Loose Ends 6:11
11. California Girls (Remix) – David Lee Roth 3:09
CD2 68:28
01. Voulez Vous Coucher Avec Moi Ce Soir (Sex Mix / Part 1) – DAF 6:37
02. I Love You Too Much (Fascination! EP Version) – The Human League 3:18
03. Underneath The Radar (12" Remix) – Underworld 8:01
04. Hip Hop Be Bop (Don't Stop) (Special Disconet R.E.M.I.X.) – Man Parrish 7:34
05. Sidewalk Talk (Dance Mix) – Jellybean 6:06
06. This Night (Long Version) – Peter Jacques Band 8:00
07. Imagination (Extended Version) – Avenue 4:57
08. Pour It On (Creamy House Mix) – Mason 8:35
09. It's The First Time (Extended Version) – Loïs Lane 5:38
10. When Love Breaks Down (Extended Version) – Prefab Sprout 4:20
11. Dein Ist Mein Ganzes Herz (12" Version) – Heinz Rudolf Kunze 4:56