 News
Falco / Wiener Blut & Data De Groove reissues
2CD deluxe editions and coloured vinyl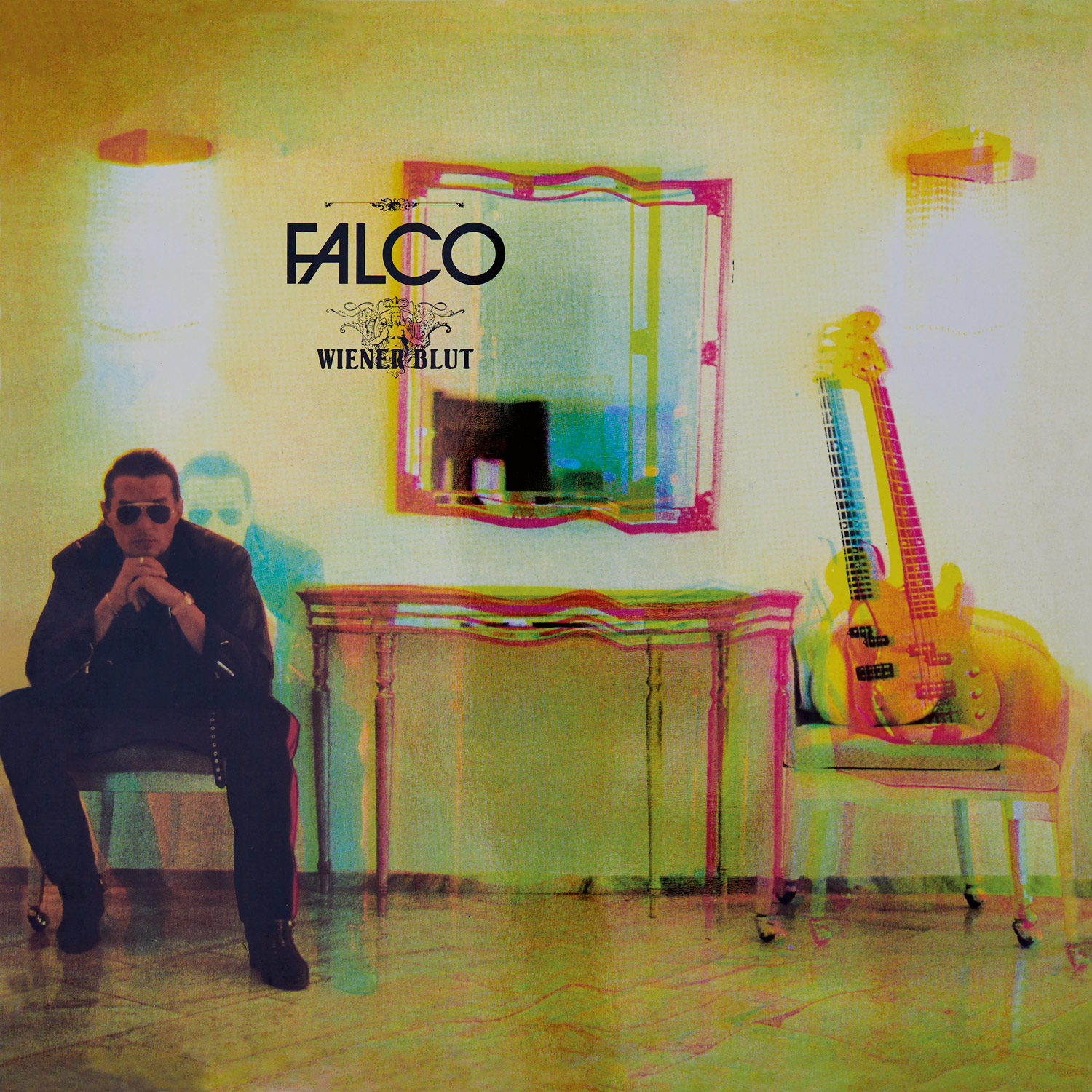 Falco's fifth and six albums, Wiener Blut and Data De Groove, will be reissued as two-CD deluxe editions and coloured vinyl pressings in April.
Wiener Blut was issued in 1988, three years after the international success of Falco 3. The initial plan had been to record songs with a new production team, with a more melodic and commercial musical direction. However, only four songs were ultimately used from these sessions and Falco returned to his former setup with the Bolland brothers (who worked on Falco 3 and Emotional) and produced a further six tracks. The album also features a cover of Steely Dan's 'Do It Again', which was one of four singles. The record did well in Austria, Germany and Switzerland but it's reach didn't go much beyond that.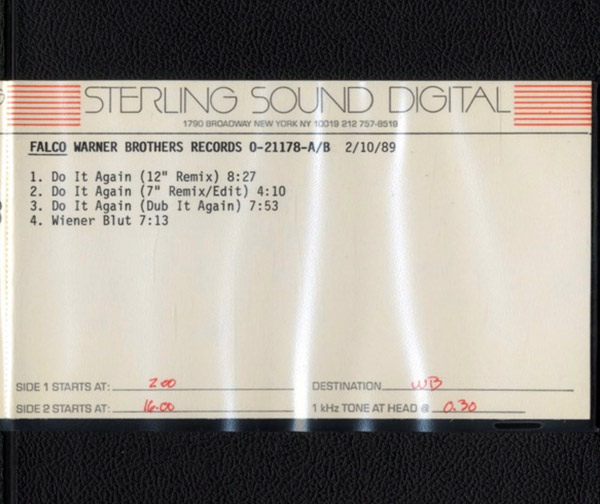 Less than two years later, in May 1990, Data De Groove was released. This saw Falco reunited with producer Robert Ponger who worked on Falco's first two albums and composed 'Der Kommissar'. There were two singles from this record: 'Data De Groove' and 'Charisma Kommando'.
Both albums are now reissued as expanded two CD deluxe editions with all audio taken from the original master tapes. Blank and Jones have worked on these reissues and were delighted to track down the elusive original master tapes of the Shep Pettibone mixes of 'Do It Again', all versions of which are all included on the reissue. Amongst all the mixes on CD are two previously unreleased versions of 'Satellite to Satellite'.
Both 2CD sets include a wealth of remixes, single edits and instrumentals and come with booklets. Both albums are also being issued on limited edition coloured vinyl, although neither is officially available in the UK right now and even beyond that, the availability is a bit sketchy right now. Wiener Blut is pressed on orange vinyl and Data De Groove, blue.
Wiener Blut and Data De Groove are reissued as 2CD deluxe and coloured vinyl editions on 1 April 2022.
Compare prices and pre-order
Falco
wiener blut - 2CD deluxe
Compare prices and pre-order
Falco
Data De Groove 2CD deluxe
Compare prices and pre-order
Falco
Wiener Blut - orange vinyl LP
Compare prices and pre-order
Falco
Data De Groove - blue vinyl LP
Tracklisting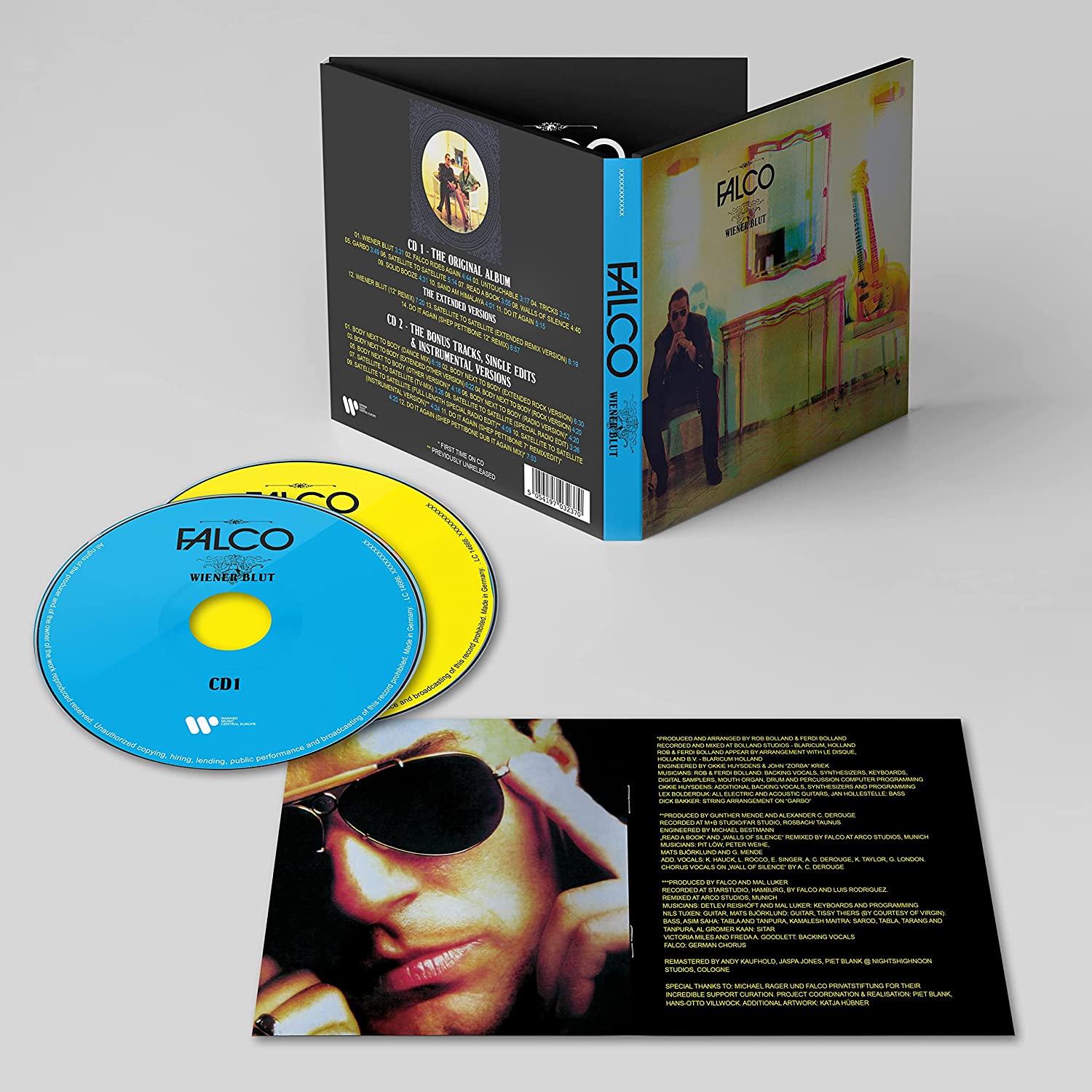 Wiener Blut Falco
/
2CD deluxe
CD 1: Album + Extended Versions

Wiener Blut (2022 Remaster) (03:31)
Falco Rides Again (2022 Remaster) (04:44)
Untouchable (2022 Remaster) (03:17)
Tricks (2022 Remaster)  (03:52)
 Garbo (2022 Remaster) (03:49)
Satellite To Satellite (2022 Remaster) (05:14)
Read A Book (2022 Remaster) (03:55)
Walls Of Silence (2022 Remaster) (04:40)
Solid Booze (2022 Remaster) (04:31)
Sand Am Himalaya (2022 Remaster) (04:01)
Do It Again (2022 Remaster) (05:15)

The Extended Versions

Wiener Blut (12″ Remix) [2022 Remaster] (07:20)
Satellite To Satellite (Extended Remix Version) [2022 Remaster] (08:19)
Do It Again (Shep Pettibone 12″ Remix) [2022 Remaster] (08:57)

CD 2: The bonus tracks, single edits & instrumentals

Body Next To Body (Dance Mix) [2022 Remaster] (06:18)
Body Next To Body (Extended Rock Version) [2022 Remaster] (06:30)
Body Next To Body (Extended Other Version) [2022 Remaster] (06:22)
Body Next To Body (Rock Version) [2022 Remaster] (04:20)
Body Next To Body (Other Version) [2022 Remaster] (04:16)*
Body Next To Body (Radio Version) [2022 Remaster] (04:20)*
Satellite To Satellite (TV-Mix) [2022 Remaster] (03:26)
Satellite To Satellite (Special Radio Edit) [2022 Remaster] (03:26)
Satellite To Satellite (Full Length Special Radio Edit) [2022 Remaster] (04:13)**
Satellite to Satellite (Instrumental Version) [2022 Remaster] (04:23)**
Do It Again (Shep Pettibone 7″ Remix/Edit) [2022 Remaster] (04:10)*
Do It Again (Shep Pettibone Dub It Again Mix) [2022 Remaster] (07:53)*

*First time on CD

** Previously unreleased
Tracklisting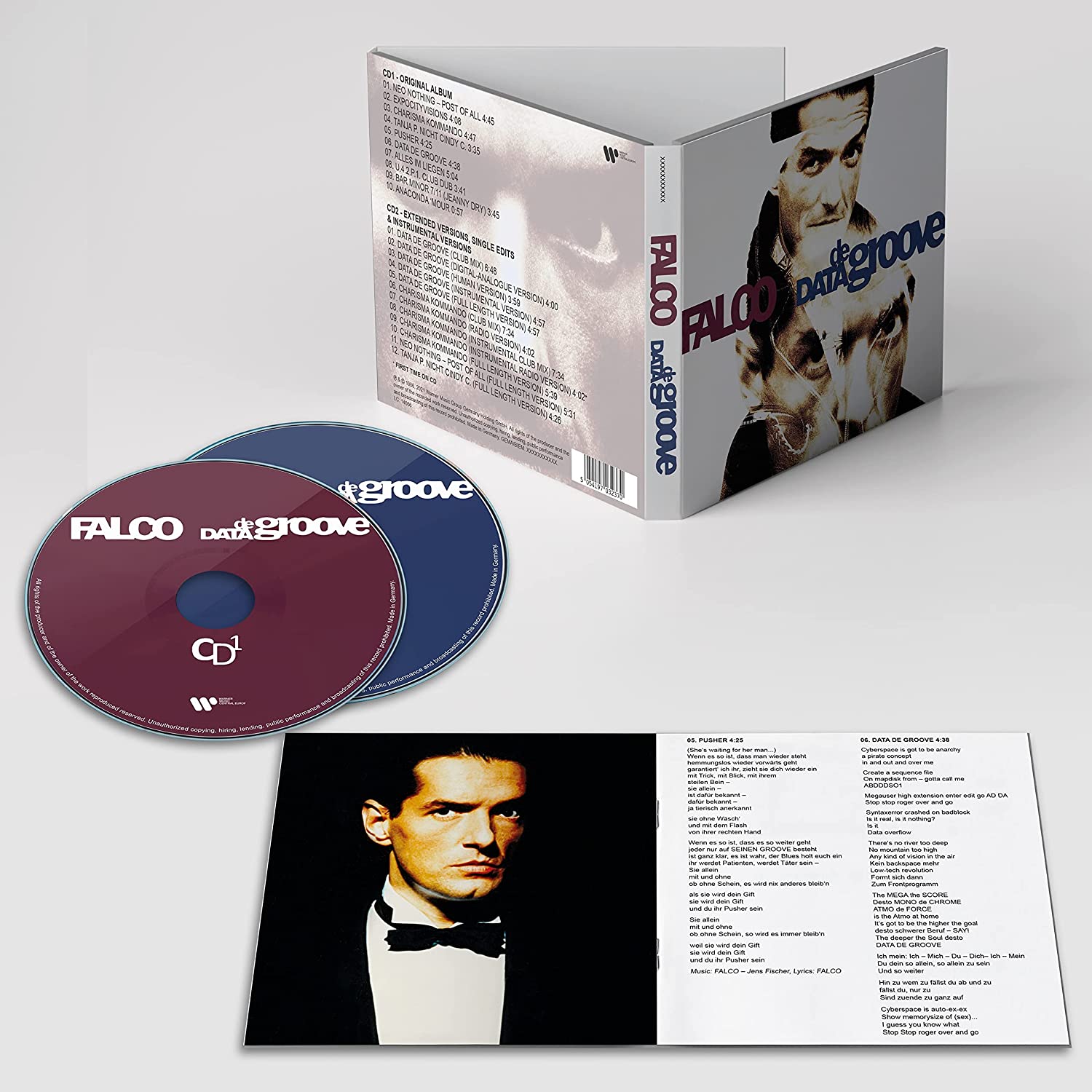 Data De Groove Falco
/
2CD deluxe
CD 1: The Original Album

Neo Nothing – Post Of All (2022 Remaster) (04:45)
Expocityvisions (2022 Remaster) (04:08)
Charisma Kommando (2022 Remaster) (04:47)
Tanja P. Nicht Cindy C. (2022 Remaster) (03:35)
Pusher (2022 Remaster) (04:25)
Data De Groove (2022 Remaster) (04:38)
Alles Im Liegen (2022 Remaster) (05:04)
4.2.P.1 Club Dub (2022 Remaster) (03:41)
Bar Minor 7/11 (Jeanny Dry) (2022 Remaster) (03:45)
Anaconda ´Mour (2022 Remaster) (00:57)

CD 2: The Extended Versions, Single Edits & Instrumentals

Data De Groove – Club Mix (2022 Remaster) (06:48)
Data De Groove – Digital-Analogue Version (2022 Remaster) (04:00)
Data De Groove – Human Version (2022 Remaster) (03:59)
Data De Groove – Instrumental Version (2022 Remaster) (04:57)
Data De Groove – Full Length Version (2022 Remaster) (04:57)
Charisma Kommando – Club Mix (2022 Remaster) (07:34)
Charisma Kommand0 – Radio Version (2022 Remaster) (04:02)
Charisma Kommando – Instrumental Club Mix (2022 Remaster) (07:34)
Charisma Kommando – Instrumental Radio Version (2022 Remaster) (04:02)
Charisma Kommando – Full Length Version (2022 Remaster) (05:39)
11 Neo Nothing – Post Of All Full Length Version (2022 Remaster) (05:31)
Tanja P. Nicht Cindy C. – Full Length Version (2022 Remaster) (04:26)