 News
Roger Waters updates Pink Floyd fans on the 'Animals' box set
Waters compromises while sticking the knife in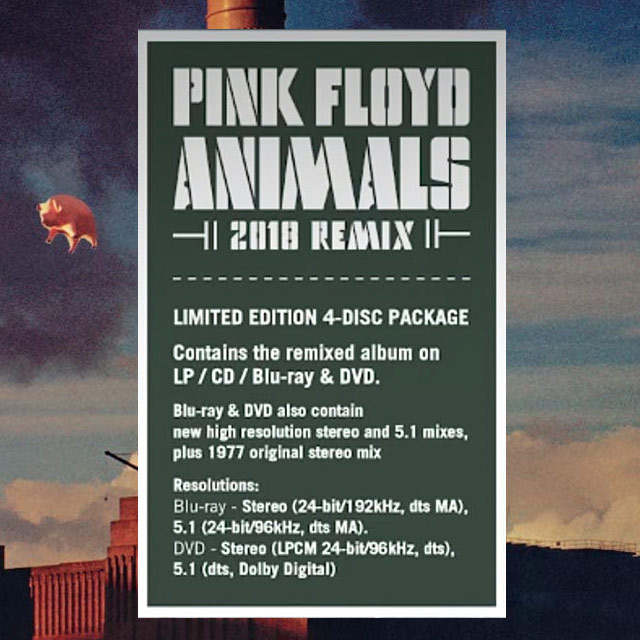 In a typically frank post, Roger Waters has revealed what has held up the planned reissue of Pink Floyd's 1977 album Animals and seems to indicate that the issue is resolved, albeit fans will be concerned that the very act of publishing this post online – and airing some of this inter-band 'dirty laundry' in public – could actually threaten the reissue again.
The good news is that Waters confirms once more that "there are new James Guthrie Stereo and 5.1 mixes" of Animals but then explains that "these mixes have languished unreleased because of a dispute over some sleeve notes that Mark Blake has written for this new release".
According to Waters, David Gilmour vetoed the inclusion of the notes, saying "He does not dispute the veracity of the history described in Mark's notes, but he wants that history to remain secret".
Roger then goes on to say the following: "This is a small part of an ongoing campaign by the Gilmour/Samson camp to claim more credit for Dave on the work he did in Pink Floyd, 1967-1985, than is his due. Yes he was, and is, a jolly good guitarist and singer. But, he has for the last 35 years told a lot of whopping porky pies about who did what in Pink Floyd when I was still in charge. There's a lot of 'we did this' and 'we did that', and 'I did this' and 'I did that'."
The significant element in all this is that Roger Waters states that he is "agreeing to the release of the new Animals remix, with the sleeve notes removed… Sorry, Mark Blake." However Waters has made the complete sleeve notes available on his site. They don't seem particularly controversial, albeit "Roger" gets name-checked a fair amount!
Waters also says he is writing his memoirs and includes a preview where he highlights – and then disputes – an account of how the cash register tape loops on 'Money' were created. This account was given by David Gilmour to Rolling Stone journalist David Fricke, in 1982. Waters literally says Gilmour has "no fucking idea what he's talking about". Eek.
You can read the whole post on Roger's website. The video above is simply a filmed summary of the same points being made. At the end of the video is a still that appears to show a box set sticker, indicating a package which includes vinyl LP, CD, DVD and blu-ray, with all formats including the new James Guthrie stereo mixes and the DVD and blu-ray including the 5.1 surround mixes. No new or archive material is included and the label is headed '2018 Remix'.
What do you make of all this? Roger left the band in the early 1980s and did try to stop the others using the Pink Floyd name, after all? However, he has since admitted that was wrong to do that. Assuming Waters' account of why Animals has been delayed is accurate, is David Gilmour being unnecessarily petty? And is it fair for him to deny Waters access to Pink Floyd channels when Waters was clearly a major contributor to the success of the band and that band is now defined by its back catalogue. On the other hand, what does Waters think he's going to achieve with all this sniping, particularly towards Gilmour's wife Polly Samson?
It's clearly complicated, but go with your gut feeling and give your feedback via the simple SDE poll, below! We will keep you informed of any official news regarding an Animals reissue.
SDE Poll
How do you view this Waters v Gilmour situation?