 News
Rolling Stones reissue half-speed mastered vinyl editions of ten albums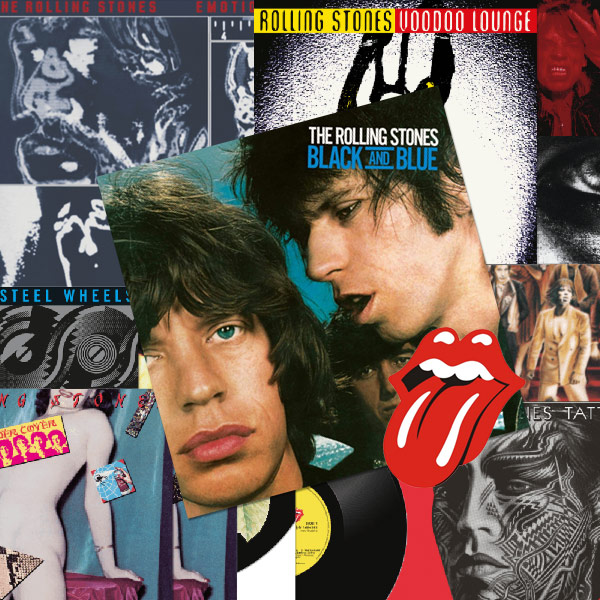 Selection of albums get the half-speed mastered vinyl treatment
The Rolling Stones will reissue ten of their albums as standalone half-speed mastered pressings in May.

The selection includes two albums from the 1970s (It's Only Rock N' Roll, Black and Blue), all their long players from the eighties (Emotional Rescue, Tattoo You, Undercover, Dirty Work and Steel Wheels) and then three of the four studio albums they've issued since then (Voodoo Lounge, Bridges to Babylon and A Bigger Bang).
All the albums are pressed on 180g black vinyl and have been mastered at half-speed at Abbey Road Studios (if you'd like to know more about the half-speed mastering process, then check out this SDE post). The last three albums in this batch are all double albums, hence the slightly higher price.
All of these albums were previously available as part of the Studio Albums 1971-2016 vinyl box that was issued in 2018, but this is the first time they've been available separately, where you can pick and choose.
These will all be issued on 26 June 2020 (was 8 May). Townsend Music are offering all ten albums (13 records in total) in a bundle at a special price.
It's Only Rock N' Roll half-speed mastered vinyl LP
Side A
If You Can't Rock Me
Ain't Too Proud To Beg
It's Only Rock 'n' Roll (But I Like It)
Till The Next Goodbye
Time Waits For No One
Side B
Luxury
Dance Little Sister
If You Really Want To Be My Friend
Short And Curlies
Fingerprint File
Black and Blue half-speed mastered vinyl LP
Side A
Hot Stuff
Hand Of Fate
Cherry Oh Baby
Memory Motel
Side B
Hey Negrita
Melody
Fool To Cry
Crazy Mama
Emotional Rescue half-speed mastered vinyl LP
Side A
Dance (Pt. 1)
Summer Romance
Send It To Me
Let Me Go
Indian Girl
Side B
Where The Boys Go
Down In The Hole
Emotional Rescue
She's So Cold
All About You
Tattoo You half-speed mastered vinyl LP
Side A
Start Me Up
Hang Fire
Slave
Little T&A
Black Limousine
Neighbours
Side B
Worried About You
Tops
Heaven
No Use In Crying
Waiting On A Friend
Undercover half-speed mastered vinyl LP
Side A
Undercover Of The Night
She Was Hot
Tie You Up (The Pain Of Love)
Wanna Hold You
Feel On Baby
Side B
Too Much Blood
Pretty Beat Up
Too Tough
All The Way Down
It Must Be Hell
Dirty Work half-speed mastered vinyl LP
Side A
One Hit (To The Body)
Fight
Harlem Shuffle
Hold Back
Too Rude
Side B
Winning Ugly
Back To Zero
Dirty Work
Had It With You
Sleep Tonight
Key To The Highway
Steel Wheels half-speed mastered vinyl LP
Side A
Sad Sad Sad
Mixed Emotions
Terrifying
Hold On To Your Hat
Hearts For Sale
Blinded By Love
Side B
Rock And A Hard Place
Can't Be Seen
Almost Hear You Sigh
Continental Drift
Break The Spell
Slipping Away
Voodoo Lounge 2LP half-speed mastered vinyl LP
Side A
Love Is Strong
You Got Me Rocking
Sparks Will Fly
Side B
The Worst
New Faces
Moon Is Up
Out Of Tears
Side C
I Go Wild
Brand New Car
Sweethearts Together
Suck On The Jugular
Side D
Blinded By Rainbows
Baby Break It Down
Thru And Thru
Mean Disposition
Bridges to Babylon 2LP half-speed mastered vinyl
Side A
Flip The Switch
Anybody Seen My Baby?
Low Down
Already Over Me
Side B
Gunface
You Don't Have To Mean It
Out Of Control
Side C
Saint Of Me
Might As Well Get Juiced
Always Suffering
Side D
Too Tight
Thief In The Night
How Can I Stop
A Bigger Bang 2LP half-speed mastered vinyl
Side A
Rough Justice
Let Me Down Slow
It Won't Take Long
Rain Fall Down
Side B
Streets Of Love
Back Of My Hand
She Saw Me Coming
Biggest Mistake
Side C
This Place Is Empty
Oh No, Not You Again
Dangerous Beauty
Laugh, I Nearly Died
Side D
Sweet Neo Con
Look What The Cat Dragged In
Driving Too Fast
Infamy