 News
The Rolling Stones / Steel Wheels Live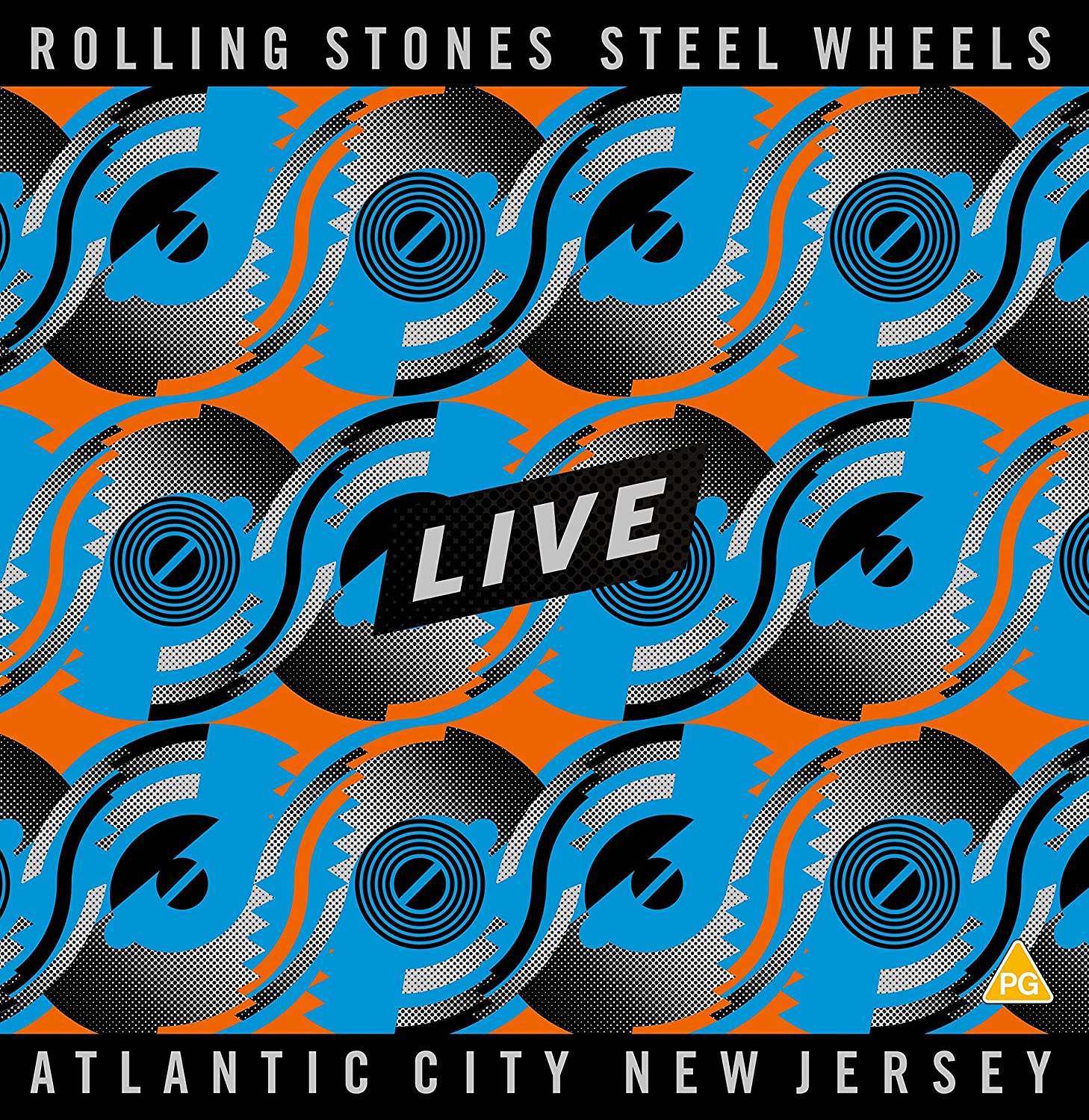 Unreleased 1989 concert film issued on audio and video formats
The Rolling Stones will issue a previously unreleased 1989 concert film Steel Wheels Live – Atlantic City, New Jersey in September across a large number of audio and video formats.

The Steel Wheels Tour (later rebranded the Urban Jungle Tour) kicked off in August 1989 was in support of the band's 19th studio album (in the UK) which was released the same month. It lasted a whole year and the North American leg finished at the Convention Centre in Atlantic City, New Jersey in December 1989.
The performance features the usual hits along with four cuts from the Steel Wheels album and guests on stage include Guns N' Roses' Axl Rose and Izzy Stradlin, Eric Clapton and John Lee Hooker.
This release from Eagle Rock Entertainment has been "restored, remixed and remastered" and there's an incredible amount of physical formats to choose from, including limited edition 4LP 180g coloured vinyl, 2CD+SD-blu-ray and 2CD+DVD combo sets, standalone DVD and blu-ray and non-limited 4LP black vinyl.
The pick of the formats however, is probably the special limited six-disc deluxe version, which includes the Atlantic City performance on DVD, SD-Blu-ray and 2CD; a DVD of their Steel Wheels Tour performance at the famed Tokyo Dome; and Steel Wheels Rare Reels – a CD featuring tracks which didn't feature on the core tour setlist (exclusive to this release).
This limited edition collector's edition comes housed in a 10"x 10" hard slipcase, with a 40-page hardback book and gatefold disc-holder. It's quite reasonably priced, actually.
All DVDs are NTSC, region free and the blu-rays are also all region. The SD-Blu-ray has LPCM Stereo and DTS-HD 5.1 Master Audio. The DVD has Dolby Digital Stereo, Dolby Digital 5.1 Surround Sound and DTS 5.1 Surround Sound.
All formats of Steel Wheels Live will be released on 25 September 2020. The SDE shop is carrying the limited edition 6-disc set ONLY. Order via this link or the button below.
2CD
CD 1
1 Intro
2 Start Me Up
3 Bitch
4 Sad Sad Sad
5 Undercover Of The Night
6 Harlem Shuffle
7 Tumbling Dice
8 Miss You
9 Terrifying
10 Ruby Tuesday
11 Salt Of The Earth (featuring Axl Rose & Izzy Stradlin)
12 Rock And A Hard Place
13 Mixed Emotions
14 Honky Tonk Women
15 Midnight Rambler
CD 2
1 You Can't Always Get What You Want
2 Little Red Rooster (featuring Eric Clapton)
3 Boogie Chillen (featuring Eric Clapton & John Lee Hooker)
4 Can't Be Seen
5 Happy
6 Paint It Black
7 2,000 Light Years From Home
8 Sympathy For The Devil
9 Gimme Shelter
10 It's Only Rock n Roll (But I Like It)
11 Brown Sugar
12 (I Can't Get No) Satisfaction
13 Jumpin' Jack
SD-Blu-ray or DVD
1 Intro
2 Start Me Up
3 Bitch
4 Sad Sad Sad
5 Undercover Of The Night
6 Harlem Shuffle
7 Tumbling Dice
8 Miss You
9 Terrifying
10 Ruby Tuesday
11 Salt Of The Earth (featuring Axl Rose & Izzy Stradlin)
12 Rock And A Hard Place
13 Mixed Emotions
14 Honky Tonk Women
15 Midnight Rambler
16 You Can't Always Get What You Want
17 Little Red Rooster(featuring Eric Clapton)
18 Boogie Chillen (featuring Eric Clapton & John Lee Hooker)
19 Can't Be Seen
20 Happy
21 Paint It Black
22 2,000 Light Years From Home
23 Sympathy For The Devil
24 Gimme Shelter
25 It's Only Rock n Roll (But I Like It)
26 Brown Sugar
27 (I Can't Get No) Satisfaction
28 Jumpin' Jack Flash
Steel Wheels Rare Reels (from 6-disc deluxe)
1 Play with Fire (CNE Stadium, Toronto, On 03/09/89)
2 Dead Flowers (CNE Stadium, Toronto, On 03/09/89)
3 Almost Hear You Sigh (Wembley Stadium, London 06/07/90)
4 I Just Want to Make Love to You (Wembley Stadium, London 06/07/90)
5 Street Fighting Man (Wembley Stadium, London 06/07/90)
Tokyo Dome DVD (from 6-disc deluxe)
1 Intro
2 Start Me Up
3 Bitch
4 SadSadSad
5 Harlem Shuffle
6 Tumbling Dice
7 Miss You
8 Ruby Tuesday
9 Almost Hear You Sigh
10 Rock And A Hard Place
11 Mixed Emotions
12 HonkyTonkWomen
13 Midnight Rambler
14 You Can't Always Get What You Want
15 Can't Be Seen
16 Happy
17 Paint It Black
18 2,000 Light Years From Home
19 Sympathy For The Devil
20 GimmeShelter
21 It's OnlyRock'n'Roll(But I Like It)
22 Brown Sugar
23 (I Can't Get No) Satisfaction
24 Jumpin' Jack Flash