 News
Royal Mint issue David Bowie £5 coin
Limited edition coins celebrate David Bowie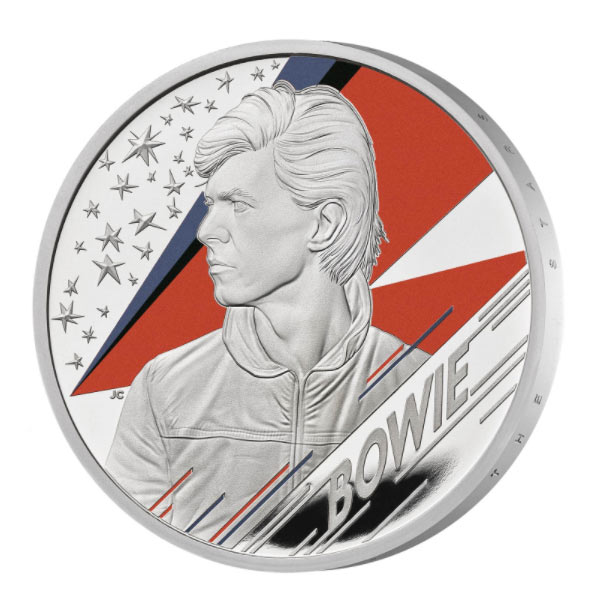 The Royal Mint in the UK have produced a special commemorative David Bowie £5 coin in recognition of his contribution to British music.

The third coin in their Music Legends collection features an image of Berlin-era Bowie against the distinctive Aladdin Sane lightning bolt motif (the design is by artist Jody Clark). The Royal Mint actually recently sent one of these coins into space. It was carried by a balloon to an altitude of 35,656 metres before descending back to Britain! A first, apparently.

David Bowie 2020 £5 Brilliant Uncirculated Coin – Edition 1
There are eight different editions of the coin available from the relatively cheap 'Uncirculated Coin' editions (£13-£15, some of which come with posters) to the – deep breath – £2425 one ounce 'Gold Proof Coin' edition (now sold out).
A 'Half Ounce Silver Proof' edition' at £65 is perhaps a good compromise between the 'basic' version and the expensive luxury of gold and is presented in a unique and attractive acrylic block (see below).
Meanwhile, aone ounce 'Silver Proof' coin is just under £100 and uniquely offers colour printing and is the only coin in the core range to feature edge lettering.
All the various 2020 David Bowie editions (apart from the now sold out 1oz Gold Proof coin) are available via The Royal Mint website. Queen and Elton John are the previous artists that have had commemorative coins issued.
---
Browse the entire David Bowie collection via The Royal Mint website or pick out some highlights below:
The Quarter Ounce Gold Proof coin is limited to 1,300 units.