 News
Rush / Hemispheres 40th anniversary
5.1 mix • 2015 remaster on CD for the first time • Unreleased live audio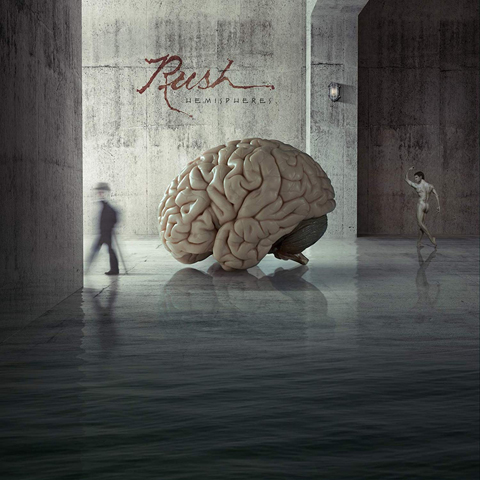 Canadian rock band Rush are to put out a 40th anniversary edition of their 1978 album Hemispheres. The reissue will be available in three physical formats, including a super deluxe edition.

The follow-up to 1977's A Farewell to Kings is being reissued as a 2CD deluxe, a 3LP vinyl edition and a six-disc super deluxe and features new artwork by original album designer Hugh Syme. The box set features the 2015 remaster of the album on CD for the first time and on the other CD a previously unreleased and "newly restored" bonus content consisting of the band's June 1979 Pinkpop Festival performance in the Netherlands. '2112' on this CD is from a different concert (apparently the recording engineer on that day missed the a few minutes of this song!).

The third optical disc in the super deluxe is a blu-ray audio with a 5.1 surround version of the album, newly mixed from the multi-tracks (not a Steven Wilson mix, SW has confirmed). The blu-ray also includes four bonus videos.




The box set also features three vinyl records which effectively repeat the content of the two CDs and offers a 40-page hardcover book with an extensive essay by Rob Bowman. Additionally you get a replica 1979 tour programme, a poster, iron-on patch, VIP pass etc.

The other two physical formats are standalone versions of the two-CD from the box and the 3LP vinyl edition. The vinyl comes with a 24-page booklet and an edited (!) version of the Rob Bowman notes from the super deluxe. It includes h a digital download.



In terms of cost, proceed with caution on the 3LP vinyl since the prices are all over the place. The super deluxe edition doesn't appear to be available via Amazon UK right now, but shipped from the US it comes in at around £125 (including 'import fees deposit') which seems reasonable given that it's about £160 on Amazon Italy.

Hemispheres is reissued on 16 November 2018 via UMe/Anthem/ole label group.


Compare prices and pre-order
Rush
Hemispheres - super deluxe edition
Compare prices and pre-order
Rush
Hemispheres - 3LP vinyl
Compare prices and pre-order
Rush
Hemispheres - 2CD deluxe
HEMISPHERES / Super Deluxe Edition
Disc 1 (CD)
Original Album – Produced by 
Rush and Terry Brown
Cygnus X-1 Book II: Hemispheres

Circumstances

The Trees

La Villa Strangiato
Disc 2 (CD)
Live at Pinkpop Festival – June 4, 1979
A Passage To Bangkok*

Xanadu*

The Trees*

Cygnus X-1 Book II: Hemispheres – The Sphere A Kind Of Dream*

Closer To The Heart*

La Villa Strangiato*

In The Mood*

Drum Solo*

Something For Nothing*
Live in Arizona – November 20, 1978
2112*
Disc 3 (Blu-ray Audio)
96kHz 24-bit 5.1 Surround Mix 
96kHz 24-bit Original Stereo Analog 2015 Remaster
Cygnus X-1 Book II: Hemispheres*

Circumstances*

The Trees*

La Villa Strangiato*
Bonus Promo Videos
48kHz 24-bit Stereo Only
Circumstances (1978 Promo Video)*

The Trees (1978 Promo Video)*

La Villa Strangiato (1978 Promo Video)*

La Villa Strangiato (Live at Pinkpop Festival: 

June 4, 1979

)*
Disc 4 (vinyl LP 1)
Original Album – Produced by Rush and Terry Brown

Side A
Cygnus X-1 Book II: Hemispheres

SIDE B
Circumstances

The Trees

La Villa Strangiato
Disc 5 (vinyl LP 2)

SIDE C
Live at Pinkpop Festival – June 4, 1979
A Passage To Bangkok*

Xanadu*

SIDE D
The Trees*

Cygnus X-1 Book II: Hemispheres – The Sphere A Kind Of Dream*

Closer To The Heart*

La Villa Strangiato*
Disc 6 (vinyl LP 3)

SIDE E
In The Mood*

Drum Solo*

Something For Nothing*

SIDE F
Live in Arizona – November 20, 1978
2112*

*previously unreleased


HEMISPHERES / 2CD Deluxe

CD 1
Original Album – Produced by Rush and Terry Brown
Cygnus X-1 Book II: Hemispheres

Circumstances

The Trees

La Villa Strangiato
CD 2
Live at Pinkpop Festival – June 4, 1979
A Passage To Bangkok*

Xanadu*

The Trees*

Cygnus X-1 Book II: Hemispheres – The Sphere A Kind Of Dream*

Closer To The Heart*

La Villa Strangiato*

In The Mood*

Drum Solo*

Something For Nothing*
Live in Arizona – November 20, 1978
2112*

*Previously unreleased


3-LP VINYL

LP 1 – SIDE A
Original Album – Produced by Rush and Terry Brown
Cygnus X-1 Book II: Hemispheres
LP 1 – SIDE B
Circumstances

The Trees

La Villa Strangiato
LP 2 – SIDE C
Live at Pinkpop Festival – June 4, 1979
A Passage To Bangkok*

Xanadu*
LP 2 – SIDE D
The Trees*

Cygnus X-1 Book II: Hemispheres – The Sphere A Kind Of Dream*

Closer To The Heart*

La Villa Strangiato*
LP 3 – SIDE E
In The Mood*

Drum Solo*

Something For Nothing*
LP 3 – SIDE F
Live in Arizona – November 20, 1978
2112*