 News
Rush / Moving Pictures 40th anniversary
Rush's biggest selling album is reissued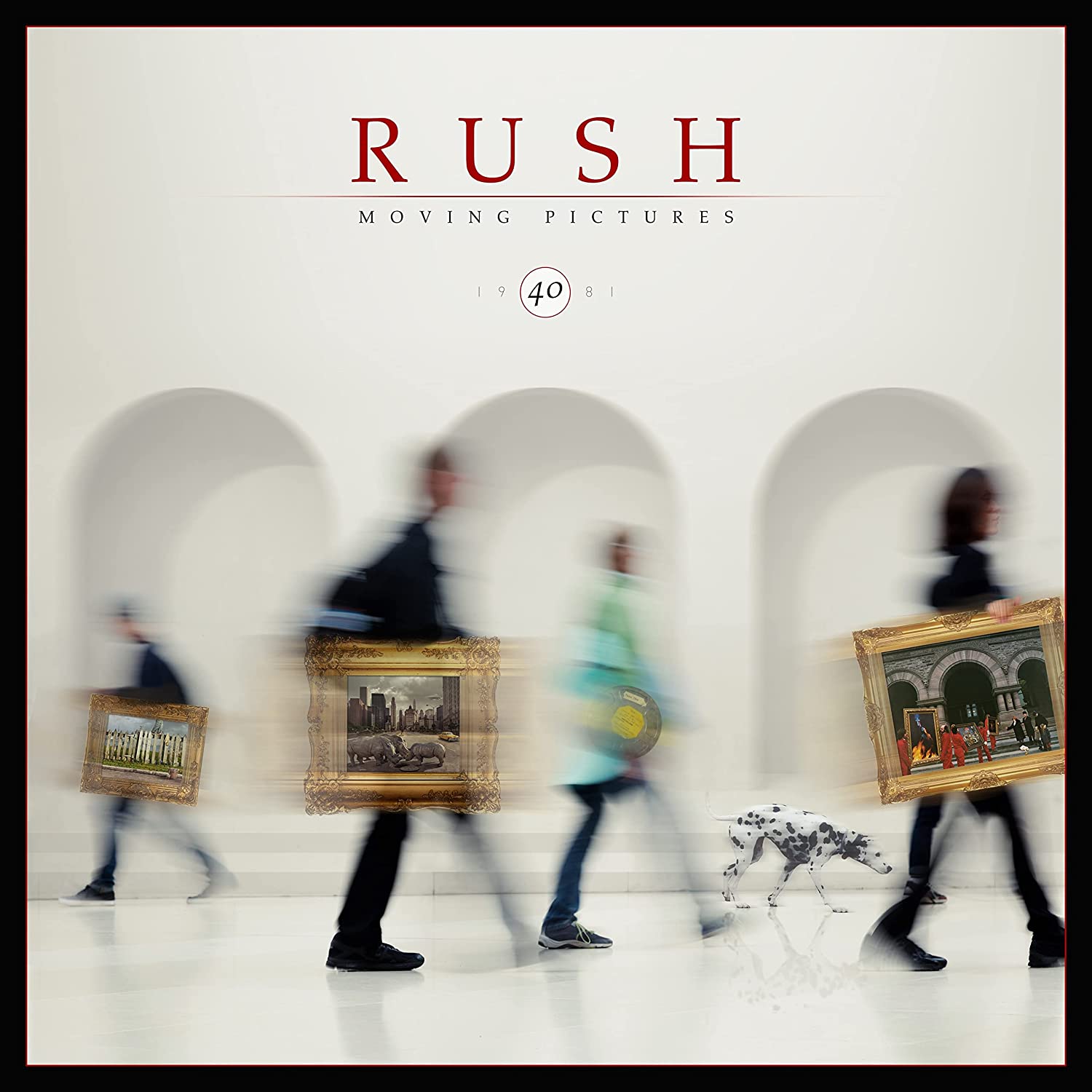 Rush's 1981 album Moving Pictures is being reissued for its (belated) 40th anniversary in April.
The album was recorded in Quebec's Le Studio and saw the band continue down the route of shorter, more radio friendly songs. Longtime producer Terry Brown was back for what was the band's eighth studio album.
Moving Pictures features the singles 'Tom Sawyer', 'Limelight' and 'Vital Signs', although they weren't all issued in all territories. As with the previous reissue, Permanent Waves, Moving Pictures 40 boasts revised front cover artwork on the front of the various packages (although the vinyl albums in the box sets retain the original).
The 40th anniversary reissue is available as a 3CD deluxe, a 5LP vinyl box set and a full bells and whistles eight-disc super deluxe which combines CD, vinyl and adds a blu-ray. The sets with CDs include the 2015 remastering on CD for the first time (it was previously only available on vinyl and digital).
The 3CD edition includes this 2015 remastering on disc one, while CDs two and three feature the complete, unreleased Toronto concert from March 25, 1981. The booklet features new Hugh Syme illustrations and sleeve notes by Kim Thayil, Les Claypool, Taylor Hawkins, Bill Kelliher and Neil Sanderson.
The 5LP vinyl version echoes the content of the 3CD set, with the bonus concert across four 180g LPs. These have been half-speed mastered with Direct-To-Metal Mastering. This vinyl set comes with a bigger version of the CD booklet.
Finally, a massive (and expensive) super deluxe edition includes all three CDs, all five vinyl records and a blu-ray audio with a Dolby Atmos and 5.1 surround album mix. The 5.1 mix is new, so not the same as what was on the 2011 CD+DVD reissue. The blu-ray also includes a brand new video for 'YYZ' and three more videos.
There is a lot of extra 'stuff' in this super deluxe which, depending on your point of view, is either price-inflating tat or cool items of memorabilia. These include a book, a model car, drumsticks, posters, plectrums and more.
Moving Pictures 40 will be released on 29 April 2022 (was 15 April), via UMC/Mercury.
Track listing
Blu-ray Audio: (Dolby Atmos* / Dolby TrueHD 5.1* / DTS-HD Master Audio* / PCM Stereo)
1 Tom Sawyer
2 Red Barchetta
3 YYZ
4 Limelight
5 The Camera Eye
6 Witch Hunt
7 Vital Signs

Blu-ray Video: (Dolby TrueHD 5.1* / DTS-HD Master Audio* / PCM Stereo)
1 Tom Sawyer
2 Limelight
3 Vital Signs
4 YYZ*

CD 1 – Moving Pictures (2015 Remaster on CD for First Time)
1 Tom Sawyer
2 Red Barchetta
3 YYZ
4 Limelight
5 The Camera Eye
6 Witch Hunt
7 Vital Signs

CD 2 – Live In YYZ 1981*
1 2112 – Overture
2 2112 – The Temples Of Syrinx
3 Freewill
4 Limelight
5 Cygnus X-1 Book II: Hemispheres – Prelude
6 Beneath, Between & Behind
7 The Camera Eye
8 YYZ
9 Broon's Bane
10 The Trees
11 Xanadu

CD 3 – Live In YYZ 1981 (continued)*
1 The Spirit Of Radio
2 Red Barchetta
3 Closer To The Heart
4 Tom Sawyer
5 Vital Signs
6 Natural Science
7 Working Man / Cygnus X-1 Book II: Hemispheres – Armageddon: The Battle Of Heart And Mind / By-Tor & The Snow Dog / In The End / In The Mood / 2112 – Grand Finale
8 La Villa Strangiato

LP 1 – Moving Pictures (DMM Half-Speed Mastering)
1 Tom Sawyer (Side A)
2 Red Barchetta (Side A)
3 YYZ (Side A)
4 Limelight (Side A)
5 The Camera Eye (Side B)
6 Witch Hunt (Side B)
7 Vital Signs (Side B)

LP 2 – Live in YYZ 1981* (DMM Half-Speed Mastering)
1 2112 – Overture (Side A)
2 2112 – The Temples Of Syrinx (Side A)
3 Freewill (Side A)
4 Limelight (Side A)
5 Cygnus X-1 Book II: Hemispheres – Prelude (Side B)
6 Beneath, Between & Behind (Side B)
7 The Camera Eye (Side B)

LP 3 – Live in YYZ 1981* (DMM Half-Speed Mastering – continued)
1 YYZ (Side A)
2 Broon's Bane (Side A)
3 The Trees (Side A)
4 Xanadu (Side B)
5 The Spirit Of Radio (Side B)

LP 4 – Live in YYZ 1981* (DMM Half-Speed Mastering – continued)
1 Red Barchetta (Side A)
2 Closer To The Heart (Side A)
3 Tom Sawyer (Side A)
4 Vital Signs (Side B)
5 Natural Science (Side B

LP 5 – Live in YYZ 1981* (DMM Half-Speed Mastering – continued)
1 Working Man / Cygnus X-1 Book II: Hemispheres – Armageddon: The Battle Of Heart And Mind / By-Tor & The Snow Dog / In The End / In The Mood / 2112 – Grand Finale (Side A)
2 La Villa Strangiato (Side B)