 News
Saint Etienne's 'Foxbase Alpha' box set also available as a signed edition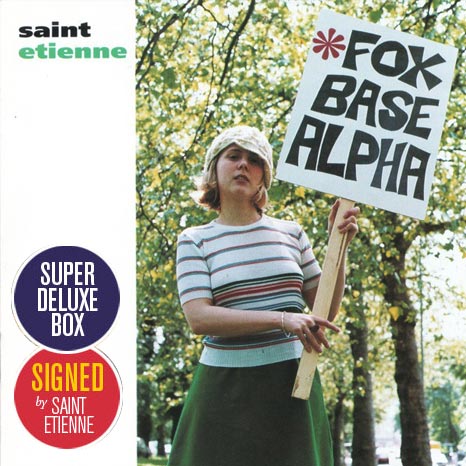 As some of you will be aware, Saint Etienne are reissuing their 1994 album Tiger Bay and the SDE shop has been lucky enough to be able to offer fans signed copies. In total, there will only be just over a couple of hundred signed copies available and they're almost sold out.
However, I feel duty bound to let you know that the band are also going to sign some copies of the 25th anniversary box set of their first album Foxbase Alpha at the same time they do Tiger Bay. This will be happening next week, so you have today and the weekend to get an order in for a SIGNED copy of this Foxbase Alpha box set because no new orders will be taken once we get to Monday 6 May.

In recognition of the fact that some of you have already pre-ordered Tiger Bay, we are offering a postage discount to all territories for this specific product (use the code FOXFREE) at the SDE shop checkout. This effectively gives you free (2nd class) UK shipping, for example.
Signed editions of both products are exclusive to SDE and you can order them by heading over the the shop or by using the buttons below. Use this link to take you to the product page and automatically get the postage discount applied when you check out. Full content details on the Foxbase Alpha box set are listed below. These will ship no later than 17 May 2019.
3LP +7″ large format box, exclusively signed by the band
The super deluxe 25th anniversary edition of Saint Etienne's 1991 debut contains:
The original album remastered and cut onto two twelve inch 45rpm discs for higher fidelity, housed in an exclusive gatefold version of the original sleeve.
'Foxbase Alpha – Remains Of The Day', an exclusive album that gathers together ten rare 'Foxbase Alpha'-era recordings most of which are appearing on vinyl for the first time.
An exclusive one-sided seven-inch featuring the original, previously unreleased version of 'Kiss and Make Up', featuring 'Only Love Can Break Your Heart singer Moira Lambert.
A perfect bound, 12″ square, 28-page book featuring many unseen photographs and artefacts from the era, plus a new interview with Bob Stanley by the Guardian's Michael Hann.
Three 10″ x 8″ black and white portraits of the group
A perforated sheet of Foxbase Alpha trading cards
Exact reproductions of the original album press release and biography.
A digital download code for all of the music.
This box is exclusively SIGNED by Sarah Cracknell, Bob Stanley and Pete Wiggs.