 News
Sam Brown / 43 Minutes remastered
Remastered • Signed for SDE readers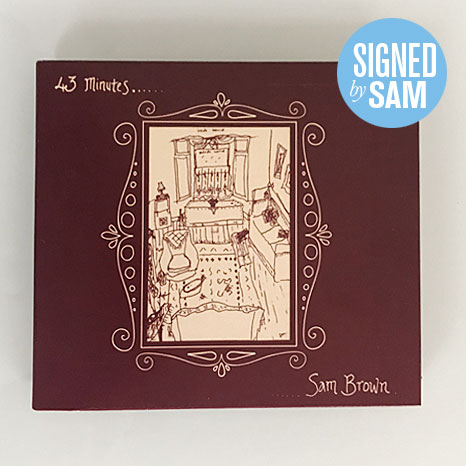 Sam Brown's third album 43 Minutes has been remastered and reissued on CD and Sam has agreed to sign a limited number of copies especially for SDE readers!

The album was issued in 1992 and came at the end of a turbulent period for the singer/songwriter with the death of Sam's mother (Vicki Brown), leaving her record label A&M (43 Minutes was issued on her own label) and Sam retreating to a farm house in Scotland to bring up her young family.

Less poppy than its predecessors, 43 Minutes is thematically more consistent, dealing with themes of love, life and loss and there's some very beautiful music on it. It rather came and went within a blink of an eye at the time, although a single 'Fear Of Life' was issued and a video was made (featuring a heavily pregnant Sam!).

The long list of musicians that contribute include Herbie Flowers, Tony Newman, Jody Linscott, Pete Brown, Joe Brown, Paul Bangash, Julian Stringle, Margo Buchanan and Danny Schogger.



Like most of what came before, the album was produced Sam's brother Pete Brown and Pete himself remastered it in 2018 for this new CD release. The album is yet to be issued on vinyl and also isn't available on any streaming platforms.

As with the A&M Years box set that I curated back in 2016, Sam has agreed to sign a limited quantity of the newly remastered 43 Minutes CD especially for SDE readers and these are available to pre-order direct from the SDE shop using this link or the button below. They will ship in a few weeks..on or around 28 February 2019.

Note: The CD is presented as a digipack with slightly updated artwork and folded lyric sheet insert. Sam will sign the front cover.
<![CDATA[
/**/
]]>
Come Into My World

Into The Night

In The Rain

Fear of Life

The Morning Song

You Are The World

See This Evil

Your Time Is Your Own

One Candle

Letting Go

Sleep Like A Baby