 News
Shakespears Sister's Hormonally Yours is the next SDE-exclusive blu-ray audio
#4 in the ongoing SDE Surround Series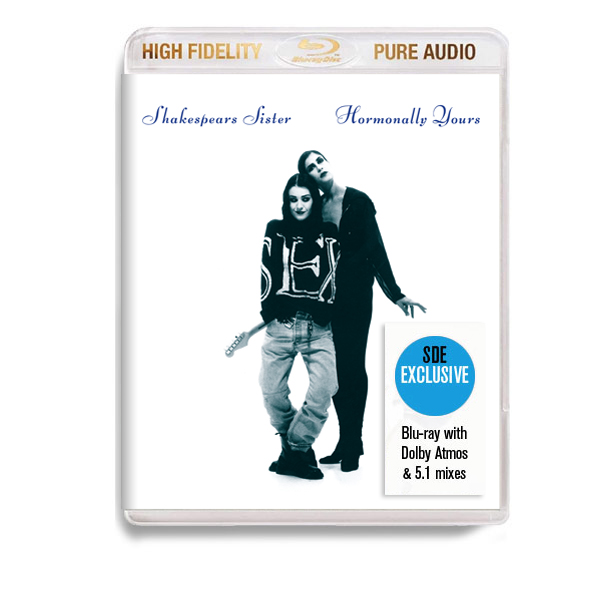 In January this year, SDE launched the SDE Surround Series, a long-term collaborative initiative that involves us partnering with like-minded labels to bring you exclusive physical blu-ray audio editions of albums with spatial audio mixes (Dolby Atmos, 5.1 etc.). So far we have delivered a trio of new albums: Tears For Fears' The Tipping Point (via Concord Records), xPropaganda's The Heart Is Strange (via UMC/ZTT) and Gilbert O'Sullivan's latest album Driven (released today!)
Your enthusiasm and support for this venture has allowed us to continue and today I am thrilled to announce the first album reissue – #4 in the SDE Surround Series – which is Shakespears Sister's 1992 album Hormonally Yours!
This is a record that will need no introduction. It went double-platinum in Britain and Siobhan Fahey and Marcella Detroit enjoyed incredible success with the number one single Stay, which took up residence at the top of the UK chart for eight full weeks in February/March/April of 1992! The song connected with music fans around the globe and it reached #4 in America and was a top ten single in Europe, Canada, Australia and New Zealand and beyond.
Of course, the album is so much more than just that one song and there was further chart success in the UK as 'I Don't Care' followed 'Stay' into the UK top 10 and 'Hello (Turn Your Radio On)' was a top 20 single in November 1992.
The SDE-exclusive blu-ray audio of Hormonally Yours will feature the following audio streams:
Dolby Atmos Mix
5.1 Surround Mix (DTS HD Master Audio)
Hi-res Stereo Mix (96/24)
The two spatial audio mixes have been created by Grammy-winning mixer, engineer and producer Caesar Edmunds in association with the original album's producer Alan Moulder (acting as executive mixer).
This will be the only way to enjoy these mixes via a physical product and to 'hold the music in your hands'.
Reasons you should own this blu-ray:
It's the only way to enjoy these spatial audio mixes of

Hormonally Yours

via a

physical product
The DTS HD 5.1 mix of the album is totally exclusive
You don't have to subscribe to a streaming service like Tidal or Apple Music to hear the spatial audio mixes
It's yours to keep forever. You own the product, you are not renting it from a 'DSP' (digital service provider)
You love 'Holding the Music in Your Hands', so here's your chance!
The blu-ray audio is a great format for audio and you don't want to see it die off
Supporting SDE with these initiatives is indeed leading to similar collaborations with labels/artists and we are keen to bring your more in 2022
Hormonally Yours on SDE-exclusive blu-ray will be released on 30 September 2022 in collaboration with London Records. Pre-order the SDE-exclusive blu-ray by using this link to the SDE shop or the button below.
The pre-order window for this limited edition blu-ray audio opens today and will close in 7 days' time. You will not be able to order this product after the morning of 29 July 2022. This is a one-time production run and numbers manufactured will be published at a later date, so you will know how limited this physical product is.
TECHNICAL NOTES: This blu-ray audio requires a blu-ray player. Decoding the Dolby Atmos mix requires a Dolby Atmos-certified soundbar or a Dolby Atmos-compatible AV Receiver/Amp. The Dolby Atmos mix will 'fold down' to 5.1 or stereo if a Dolby Atmos decoder is not detected.
EU SHIPPING NOTES: If you are ordering from the EU please be aware that that goods may be subject to import VAT when they arrive from the UK. The prices the SDE shop charge you do not include VAT.
Tracklisting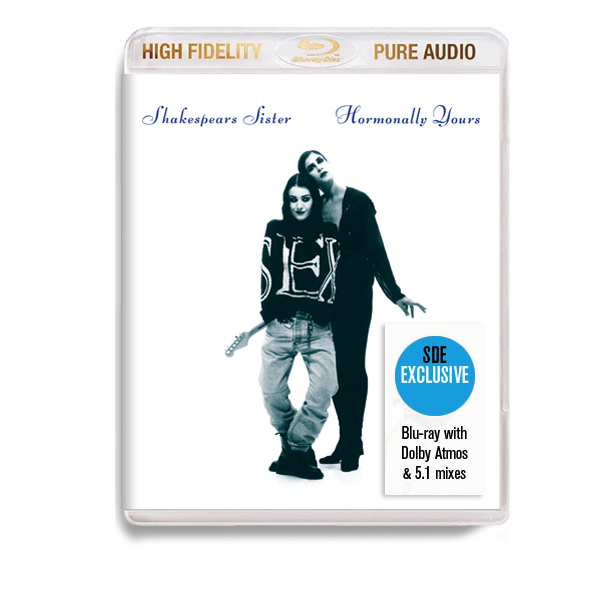 Hormonally Yours Shakespears Sister
/
Dolby Atmos Mix

Goodbye Cruel World 4:05

I Don't Care 4:15

My 16th Apology 4:16

Are We in Love Yet 3:45

Emotional Thing 3:48

Stay 3:48

Black Sky 4:08

The Trouble with Andre 4:38

Moonchild 4:27

Catwoman 3:59

Let Me Entertain You 4:44

Hello (Turn Your Radio On) 4:12

HD-Master Audio 5.1 Mix

Goodbye Cruel World 4:05

I Don't Care 4:15

My 16th Apology 4:16

Are We in Love Yet 3:45

Emotional Thing 3:48

Stay 3:48

Black Sky 4:08

The Trouble with Andre 4:38

Moonchild 4:27

Catwoman 3:59

Let Me Entertain You 4:44

Hello (Turn Your Radio On) 4:12

Hi-res Stereo Mix (96/24)

Goodbye Cruel World 4:05

I Don't Care 4:15

My 16th Apology 4:16

Are We in Love Yet 3:45

Emotional Thing 3:48

Stay 3:48

Black Sky 4:08

The Trouble with Andre 4:38

Moonchild 4:27

Catwoman 3:59

Let Me Entertain You 4:44

Hello (Turn Your Radio On) 4:12