 News
Simple Minds / Rejunvenation 2001-2014 box issued on CD
7CD collection • Bonus tracks • DVD with promos • Large format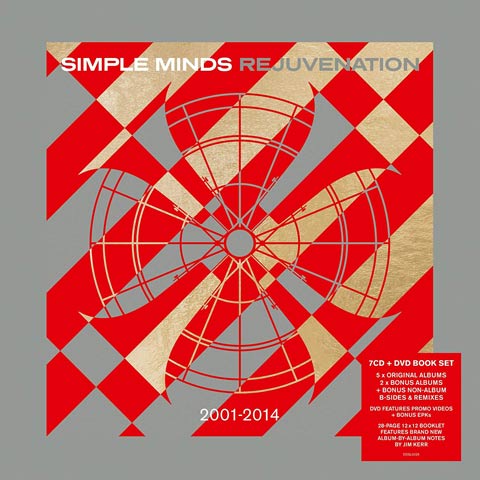 Simple Minds' Rejuvenation 2001-2014 box was originally issued on vinyl last year, but in March comes to CD as a large format 7CD+DVD package.

This set contains the same five albums – Neon Lights (2001), Cry (2002), Black and White 050505(2005), Graffiti Soul (2009) and Big Music (2014) – but this time they all feature bonus tracks. Additionally you now get including the rare album of covers Searching For The Lost Boys (now including a cover of T. Rex's 'Children Of The Revolution').

Big Music actually gets its own bonus CD, which includes most of the tracks on the original two-CD deluxe along with some additional remixes of Big Music album tracks. '(Get A) Grip (On Yourself)', with The Stranglers, also features on this disc.

The DVD includes promo videos, interviews and behind the scenes footage and this comes with a 12 x 12″ book of photos with album-by-album notes written by Jim Kerr.

The 7CD+DVD edition of Rejuvenation 2001-2014 will be released on 29 March 2019.


Compare prices and pre-order
Simple Minds
Rejuvenation 7CD+DVD box set
You might also like…
Compare prices and pre-order
Simple Minds
Rejuvenation 6LP coloured vinyl box
CD 1

NEON LIGHTS
1. Gloria
2. The Man Who Sold The World
3. Homosapien
4. Dancing Barefoot
5. Neon Lights
6. Hello I Love You
7. Bring On the Dancing Horses
8. The Needle And The Damage Done
9. For Your Pleasure
10. All Tomorrow's Parties
BONUS TRACKS
11. Being Boiled
12. Love Will Tear Us Apart
13. The Man Who Sold The World [White
Spaces Main Mix]
14. Homosapien [Vince Clarke Mix]
CD 2

CRY
1. Cry
2. Spaceface
3. New Sunshine Morning
4. One Step Closer
5. Face In The Sun
6. Disconnected
7. Lazy Lately
8. Sugar
9. Sleeping Girl
10. Cry Again
11. Slave Nation
12. The Floating World
BONUS TRACKS
13. Lead The Blind
14. For What It's Worth
15. The Garden
16. New Sunrise
17. Where Is The Max?
CD 3

BLACK & WHITE 050505
1. Stay Visible
2. Home
3. Stranger
4. Different World (Taormina.me)
5. Underneath The Ice
6. The Jeweller Part 2
7. A Life Shot In Black And White
8. Kiss The Ground
9. Dolphins
BONUS TRACKS
10. Too Much Television
12. Bird On A Wire
13. Mighty Joe Moon
CD 4

GRAFFITI SOUL
1. Moscow Underground
2. Rockets
3. Stars Will Lead The Way
4. Light Travels
5. Kiss And Fly
6. Graffiti Soul
7. Blood Type O
8. This Is It
BONUS TRACK
9. Shadows And Light  
CD 5

SEARCHING FOR THE LOST BOYS
1. Rockin' In The Free World
2. A Song From Under The Floorboards
3. Christine
4. (Get A) Grip (On Yourself)
5. Let The Day Begin
6. Peace, Love And Understanding
7. Teardrop
8. Whiskey In The Jar
9. Sloop John B
BONUS TRACK
10. Children Of The Revolution
CD 6

BIG MUSIC
1. Blindfolded
2. Midnight Walking
3. Honest Town
4. Big Music
5. Human
6. Blood Diamonds
7. Let The Day Begin
8. Concrete And Cherry Blossom
9. Imagination
10. Kill Or Cure
11. Broken Glass Park
12. Spirited Away
13. Blindfolded [Reprise]
CD 7
BIG MUSIC BONUS CD
1. Swimming Towards The Sun
2. Bittersweet
3. Liaison
4. Riders On The Storm
5. Dancing Barefoot
1. Swimming Towards The Sun
2. Bitter Sweet
3. Liasion
4. Riders On The Storm
5. Dancing Barefoot
6. Blindfolded (Original)
BONUS TRACK
6. (Get A) Grip (On Yourself) [single version] (with The Stranglers)
THE JOHNSON SOMERSET REMIXES
7. Blindfolded [Johnson Somerset Remix]
8. Midnight Walking [Johnson Somerset Remix]
9. Honest Town [Johnson Somerset Remix]
10. Big Music [Johnson Somerset Remix]
DVD

PROMO VIDEOS
1. Dancing Barefoot
2. Cry
3. Home
4. Rockets
5. Stars Will Lead The Way
6. This Is It [clip]
7. Blindfolded
8. Honest Town
9. Let The Day Begin
10. Midnight Walking
BONUS FEATURES
1. Neon Lights EPK
2. Black And White 050505 EPK
3. Black And White 050505 Interview
4. Graffiti Soul EPK
5. Big Music: Behind The Scenes
6. Big Music: Band interviews
7. Big Music Clip Medley: Human / Let The Day Begin / Midnight Walking