 News
Stephen Duffy / I Love My Friends deluxe vinyl and CD reissue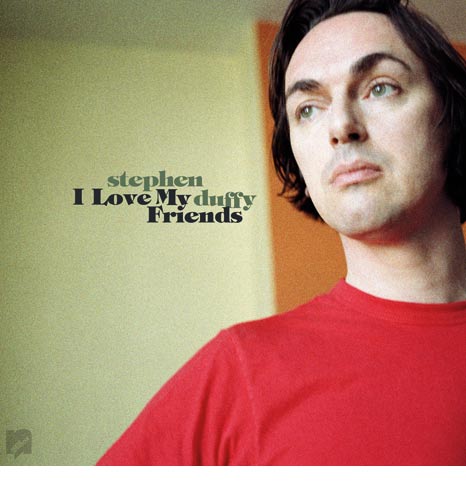 LP+7″ • 2CD set includes unreleased demos • SIGNED sets available
Stephen Duffy's 1997 album I Love My Friends will be reissued in May by Pete Paphides' new label Needle Mythology on vinyl and double CD.

The Stephen Street-produced album is remastered and revised, with this new edition restoring Duffy's original track listing and running order which was compromised at the time courtesy of label interference.
The two Andy Partridge-produced songs that were grafted onto the album fairly late in the day ('You Are' and 'What If I Fall In Love With You') are demoted to a seven-inch single (included with the new vinyl LP) to allow room for 'Mao Badge' and 'In The Evening Of Her Day'.
A two-CD edition of the album appends 'You Are' and 'What If I Fall In Love With You' as bonus tracks and includes Blown Away: Selected Demos Volume 1 – a bonus CD of 12 demos – almost all of them previously unreleased.
1980's pop fans remember Stephen Duffy (then Stephen 'Tin Tin' Duffy) for his song 'Kiss Me', which was a sizeable hit (third time of asking) in 1985. After a couple of albums and one more hit of note ('Icing On The Cake') Duffy went in a different direction forming folk-rock band The Lilac Time, with his brother Nick. In the early nineties Duffy resumed his solo aspirations and would release three strong pop/rock albums that spanned the beginning, middle and end of the Britpop period. I Love My Friends was the third in that series. The following decade would see Stephen collaborate with Robbie Williams, co-writing and co-producing his 2005 album Intensive Care and acting as musical director for one of his world tours.
The 2CD edition of 'I Love My Friends' features a disc of demos
For the 2019 reissue, I Love My Friends is presented as a gatefold vinyl package, with the album pressed onto 180g black vinyl. It comes with the bonus, two-track, seven-inch single. It features new artwork overseen by Duffy and designer James Gosling and sleeve notes from Stephen Duffy himself. Full lyrics for all the songs are included on the printed inner sleeve.
The CD edition is packaged as a 'mini-LP CD' vinyl replica and it should be noted that the demos on the 2CD set will not be available on any streaming platforms.
The vinyl LP+7″ and 2CD sets are released on 10 May 2019. Note that the vinyl doesn't include a download code. A limited number of SIGNED editions of both formats are exclusive to the SDE shop. Order via this  link or simply use the buttons below. Ian Broudie's 2004 solo album 'Tales Told' gets the same treatment.
I Love My Friends deluxe LP + 7″ single
Side A
1. Tune In
2. The Deal
3. Eucharist
4. Mao Badge
5. Lovers' Beware
6. In The Evening Of Her Day
Side B
1. Holding Hands With Grace
2. The Postcard
3. Seventeen
4. Twenty Three
5. Autopsy
6. She Belongs To All
7. One Day One Of These Fucks Will Change Your Life
7″ single
Side A / You Are
Side B / What If I Fell In Love With You
I Love My Friends 2CD edition
CD 1 / The album as originally conceived
1. Tune In
2. The Deal
3. Eucharist
4. Mao Badge
5. Lovers' Beware
6. In The Evening Of Her Day
7. Holding Hands With Grace
8. The Postcard
9. Seventeen
10. Twenty Three
11. Autopsy
12. She Belongs To All
13. One Day One Of These Fucks Will Change Your Life
Bonus tracks
14. You Are
15. What If I Fell In Love With You
CD 2 /  Blown Away: Selected Demos Volume 1
1. Night Thoughts
2. Blown Away
3. The Whole Earth Singing
4. C'est La Vie, C'est La Guerre
5. Go
6. Suburban Symphony
7. Another Golden Shot
8. The Waitresses Story
9. An Ear For Silent Voices
10. The Girl Of The Year
11. Lupin
12. We Continue For Australasia