 News
Steve Hillage 22CD megabox available with exclusive SDE signed print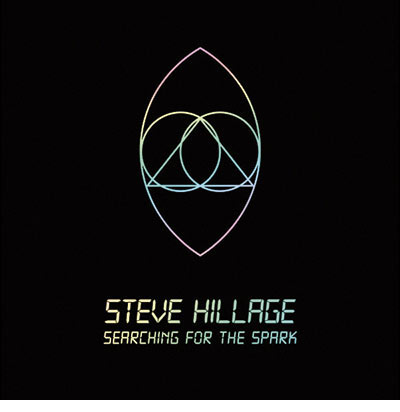 Steve Hillage has signed 100 photographs to be given away exclusively with his impressive box set Searching For The Spark.

The English musician is associated with the Canterbury scene of the late '60s / early '70s and formed short-lived outfit Khan; worked with Kevin Ayers for a while; was a member of Gong and then went on to release a series of solo albums in the late 1970s, including Fish Rising, L, Motivation Radio and Green. 
The 22CD box set (it contains no vinyl) is enormous, weighing in at nearly five kilograms, thanks, in part, to the inclusion of a hefty 188-page hardcover book, written and assembled by Steve Hillage and Gong family expert Jonny Greene, the book contains hundreds of rare and previously unseen photographs and cuttings. It's limited to 2500 copies worldwide and was first released in late 2016.
The SDE-exclusive signed photo comes with every box set ordered via the SDE shop and also features the autograph of Steve's creative partner Miquette Giraudy. You can place an SDE shop order via this link, or use the button below. These are in stock and ready to ship.
CD 1 – Arzachel – Arzachel (1969):
1. Garden Of Earthly Delights [02:48]
2. Azathoth [04:26]
3. Soul Thing [04:32]
4. Leg [05:49]
5. Clean Innocent Fun [10:34]
6. Metempsychosis [16:58]
CD 2 – Khan: Space Shanty (1972):
1. Space Shanty [08:59]
2. Stranded [06:35]
3. Mixed Up Man Of The Mountains [07:14]
4. Driving To Amsterdam [09:22]
5. Stargazers [05:32]
6. Hollow Stone [08:16]
Bonus Tracks:
7. Break the Chains [03:31]
8. Mixed Up Man of the Mountains [04:28]
CD 3 – Fish Rising (1975):
1. Solar Musick Suite [16:55]
2. Fish [01:23]
3. Meditation Of The Snake [03:10]
4. The Salmon Song [08:45]
5. Aftaglid [14:46]
Bonus Tracks:
6. Pentagrammaspin (2006 Remix) [07:46]
7. Aftaglid (Power Trio Backing Track) [13:00]
CD 4 – L (1976):
1. Hurdy Gurdy Man [06:32]
2. Hurdy Gurdy Glissando [08:54]
3. Electrick Gypsies [06:54]
4. Om Nama Shivaya [03:33]
5. Lunar Musick Suite [11:59]
6. It's All Too Much [06:26]
Bonus Tracks:
7. Eight Miles High (Backing Track) [04:34]
8. Maui (Early Version of 'Palm Trees') [04:41]
9. Shimmer [03:50]
CD 5 – Motivation Radio (1977):
1. Hello Dawn [02:48]
2. Motivation [04:07]
3. Light In The Sky [04:12]
4. Radio [06:13]
5. Wait One Moment [03:25]
6. Saucer Surfing [04:28]
7. Searching For The Spark [05:35]
8. Octave Doctors [03:38]
9. Not Fade Away (Glid Forever) [04:00]
Bonus Tracks:
10. Leylines To Glassdom (T.O.N.T.O. Version) [02:50]
11. The Salmon Song (Power Trio Backing Track) [09:12]
12. The Golden Vibe (Alternate Mix) [02:50]
CD 6 – Green (1978):
1. Sea Nature [06:42]
2. Ether Ships [05:07]
3. Musik Of The Trees [04:54]
4. Palm Trees (Love Guitar) [05:21]
5. Unidentified (Flying Being) [04:31]
6. U.F.O. Over Paris [03:10]
7. Leylines To Glassdom [04:07]
8. Crystal City [03:36]
9. Activation Meditation [01:03]
10. The Glorious Om Riff [07:53]
Bonus Tracks:
11. Unidentified (Flying Being) [Live at Glastonbury 1979] [04:54]
12. Not Fade Away (Glid Forever) [Live at The Rainbow Theatre 1977] [07:28]
13. Octave Doctors [Live at Glastonbury 1979] [03:40]
14. Meditation Of The Snake (Alternative Mix) [03:17]
CD 7 – Live Herald (1978):
1. The Salmon Song [Live at The Rainbow Theatre March 1977] [07:38]
2. The Dervish Riff [Live at The Rainbow Theatre March 1977] [04:24]
3. Castle In The Clouds/Hurdy Gurdy Man [Live at The Rainbow Theatre March 1977] [07:00]
4. Light In The Sky [Live at Oxford Poly May 1978] [05:16]
5. Seaching For The Spark [Live at The Marquee Club August 1978] [11:15]
6. Electrick Gypsies Solar Music Suite [Live at The Rainbow Theatre November 1977] [06:00]
7. Radiom/Lunar Musick Suite/Mediation Of The Dragon [Live at The Rainbow Theatre March 1977] [15:23]
8. It's All Too Much/The Golden Vibe [Live at Oxford Poly May 1978] [07:17]
Bonus Tracks:
9. Solar Music Suite [Live at The Rainbow Theatre March 1977] [14:37]
CD 8 – Rainbow Dome Music (1979):
1. Garden Of Paradise [23:15]
2. Four Ever Rainbow [20:30]
CD 9 – Studio Herald (1978) / Open (1979) :
Studio Herald:
1. Talking To The Sun [06:00]
2. 1988 Aktivator [02:29]
3. New Age Synthesis (Unzipping The Zype) [08:52]
4. Healing Feeling [06:07]
Open:
5. Earthrise [08:35]
6. Open [05:17]
7. Definite Activity [04:44]
8. Getting Better [02:59]
9. Day After Day [06:19]
10. Getting In Tune [03:16]
11. Don't Dither Do It [05:06]
12. The Fire Inside [06:18]
Bonus Tracks:
13. Don't Dither Do It (1974 Power Trio Backing Track) [04:47]
14. Four Ever Rainbow (Part 3 Alternative Mix) [08:55]
CD 10 – For To Next / And Not Or (1983):
For To Next:
1. These Unchartered Lands [05:39]
2. Kamikaze Eyes [04:50]
3. Alone [05:22]
4. Anthems For The Blind [04:30]
5. Bright Future [05:08]
6. Frame By Frame [05:53]
7. Waiting [05:24]
8. Glory [06:28]
And Not Or:
9. Before The Storm [07:07]
10. Red Admiral [06:12]
11. Serotonin [05:37]
12. And Not Or [06:27]
13. Knights Templar [04:33]
14. Still Golden [05:54]
CD 11 – System 7 – System 7 (1991):
1. Sunburst [07:25]
2. Freedom Fighters [05:21]
3. Habibi [06:10]
4. Altitude [05:59]
5. Bon Humeur [07:27]
6. Fractal Liaison [02:10]
7. Dog [05:53]
8. Thunderdog [02:26]
9. Listen [06:24]
10. Strange Quotations [06:36]
11. Miracle [07:09]
12. Over And Out [03:28]
CD 12:
1. The Salmon Song [BBC Radio 1 in Concert 1976] [09:14]
2. Hurdy Gurdy Glissando [BBC Radio 1 in Concert 1976] [12:31]
3. Meditation Of The Dragon [BBC Radio 1 in Concert 1976] [07:40]
4. It's All Too Much [BBC Radio 1 in Concert 1976] [09:52]
5. Encore: Not Fade Away (Glid Forever) [BBC Radio 1 in Concert 1976] [10:09]
Bonus Tracks
6. Aftaglid [Live at The Rainbow Theatre March 1977] [06:41]
7. Electrick Gypsies [Live at The Rainbow Theatre March
1977] [06:00]
8. Not Fade Away (Glid Forever) [Live at The Rainbow Theatre
March 1977] [08:05]
CD 13:
1. Electrick Gypsies [BBC Radio 1 in Concert 1979] [06:04]
2. New Age Synthesis (Unzipping The Zype) [BBC Radio 1 in
Concert 1979] [08:33]
3. Light In The Sky [BBC Radio 1 in Concert 1979] [05:12]
4. Unidentified (Flying Being) [BBC Radio 1 in Concert 1979] [07:56]
5. Radio [BBC Radio 1 in Concert 1979] [10:15]
6. 1988 Aktivator [BBC Radio 1 in Concert 1979] [02:32]
7. Crystal City [BBC Radio 1 in Concert 1979] [04:32]
8. The Glorious Om Riff [BBC Radio 1 in Concert 1979] [07:03]
9. It's All Too Much [BBC Radio 1 in Concert 1979] [07:02]
CD 14 – Live At Deeply Vale, July 1978:
1. Saucer Surfing [Live at Deeply Vale Festival July 1978] [07:51]
2. Searching For The Spark [Live at Deeply Vale Festival July
1978] [10:29]
3. Octave Doctors [Live at Deeply Vale Festival July 1978] [04:20]
4. The Salmon Song [Live at Deeply Vale Festival July 1978] [10:23]
5. Crystal City [Live at Deeply Vale Festival July 1978] [05:00]
6. Radio [Live at Deeply Vale Festival July 1978] [07:17]
7. Palm Trees [Live at Deeply Vale Festival July 1978] [05:37]
8. Light In The Sky [Live at Deeply Vale Festival July 1978] [05:04]
9. Hurdy Gurdy Man [Live at Deeply Vale Festival July 1978] [07:26]
10. Lunar Musick Suite [Live at Deeply Vale Festival July 1978] [03:58]
11. Sun Song (Reprise) [Live at Deeply Vale Festival July 1978] [01:30]
12. Activation Meditation [Live at Deeply Vale Festival July 1978] [04:11]
13. The Glorious Om Riff [Live at Deeply Vale Festival July 1978] [04:48]
CD 15 – Live At The Brighton Dome, November 1977:
1. Octave Doctors [Live at the Brighton Dome, November 1977] [04:06]
2. It's All Too Much [Live at the Brighton Dome, November 1977] [06:30]
3. Light In The Sky [Live at the Brighton Dome, November 1977] [04:27]
4. Radio [Live at the Brighton Dome, November 1977] [07:01]
5. Aftaglid [Live at the Brighton Dome, November 1977] [05:07]
6. Electrick Gypsies [Live at the Brighton Dome, November 1977] [05:47]
7. The Salmon Song [Live at the Brighton Dome, November 1977] [03:08]
8. Solar Musick Suite (Part 2) [Live at the Brighton Dome, November 1977] [06:41]
9. Motivation [Live at the Brighton Dome, November 1977] [06:47]
10. Saucer Surfing [Live at the Brighton Dome, November 1977] [07:38]
11. Searching For The Spark [Live at the Brighton Dome, November 1977] [14:43]
12. Hurdy Gurdy Man [Live at the Brighton Dome, November 1977] [05:26]
CD 16 – Live In Munich, April 1979:
1. The Salmon Song [Live at Schwabinger Brau, Munich April 1979] [06:28]
2. New Age Synthesis (Unzipping The Zype) [Live at Schwabinger Brau, Munich April 1979] [08:28]
3. Hurdy Gurdy Man [Live at Schwabinger Brau, Munich April 1979] [09:35]
4. Unidentified (Flying Being) [Live at Schwabinger Brau, Munich April 1979] [09:15]
5. The Dervish Riff [Live at Schwabinger Brau, Munich April 1979] [03:23]
6. Hurdy Gurdy Man [Live at Schwabinger Brau, Munich April 1979] [06:24]
7. Motivation [Live at Schwabinger Brau, Munich April 1979] [05:39]
8. 1988 Aktivator [Live at Schwabinger Brau, Munich April 1979] [02:28]
9. Crystal City [Live at Schwabinger Brau, Munich April 1979] [03:18]
10. Activation Meditation [Live at Schwabinger Brau, Munich April 1979] [01:31]
11. The Glorious Om Riff [Live at Schwabinger Brau, Munich April 1979] [06:09]
12. Meditation Of The Dragon [Live at Schwabinger Brau, Munich April 1979] [02:44]
13. It's All Too Much [Live at Schwabinger Brau, Munich April 1979] [07:08]
14. Encore: Electrick Gypsies [Live at Schwabinger Brau, Munich April 1979] [05:21]
CD 17 – Live At The Hammersmith Odeon November 1979:
1. The Fire Inside [Live at the Odeon, Hammersmith November 1979] [05:35]
2. 1988 Aktivator [Live at the Odeon, Hammersmith November 1979] [02:24]
3. Crystal City [Live at the Odeon, Hammersmith November 1979] [03:15]
4. Activation Meditation [Live at the Odeon, Hammersmith November 1979] [00:43]
5. The Glorious OM Riff [Live at the Odeon, Hammersmith November 1979] [06:18]
6. Day After Day [Live at the Odeon, Hammersmith November 1979] [06:13]
7. Getting In Tune [Live at the Odeon, Hammersmith November 1979] [03:41]
8. Palm Trees [Live at the Odeon, Hammersmith November 1979] [04:51]
9. New Age Synthesis (Unzipping The Zype) [Live at the Odeon, Hammersmith November 1979] [08:30]
10. Healing Feeling [Live at the Odeon, Hammersmith November 1979] [02:15]
11. Open [Live at the Odeon, Hammersmith November 1979] [07:17]
12. Saucer Surfing [Live at the Odeon, Hammersmith November 1979] [06:51]
13. Searching For The Spark [Live at the Odeon, Hammersmith November 1979] [06:17]
14. It's All Too Much [Live at the Odeon, Hammersmith November 1979] [05:48]
15. Encore: The Salmon Song [Live at the Odeon, Hammersmith November 1979] [06:36]
CD 18 – Live At The Gong Family Unconvention, November 2006:
1. Hello Dawn [Live at the Gong Family Unconvention November 2006] [03:45]
2. It's All Too Much [Live at the Gong Family Unconvention November 2006] [05:57]
3. Aftaglid [Live at the Gong Family Unconvention November 2006] [08:44]
4. Solar Musick Suite Part 1 [Live at the Gong Family Unconvention November 2006] [11:53]
5. The Salmon Song [Live at the Gong Family Unconvention November 2006] [07:41]
6. These Unchartered Lands [Live at the Gong Family Unconvention November 2006] [10:58]
Bonus Tracks
7. Palm Trees [Live at the Sonesta Koepelkerk December 1979] [04:50]
8. New Age Synthesis (Unzipping The Zype) [Live at the Sonesta Koepelkerk December 1979] [08:15]
9. Healing Feeling [Live at the Sonesta Koepelkerk December 1979] [02:04]
10. Solar Musick Suite (Early Version) [Live with Gong at Hammersmith Palais October 1974] [08:32]
CD 19 – Sparks Volume 1:
1. Goblin [1970 Demo made in Canterbury] [06:17]
2. Escape Of The Space Pirates [1971 Khan Demo and Early Versions] [01:35]
3. Hollow Stone (Acoustic Demo) [1971 Khan Demo and Early Versions] [06:50]
4. Stargazers (Guitar Demo) [1971 Khan Demo and Early Versions] [06:04]
5. Canterbury Sunrise [1972 Rehearsal Recording from Khan Mk II with Dave Stewart] [08:16]
6. Madman's Rap [1972 Rehearsal Recording from Khan Mk II with Dave Stewart] [04:00]
7. Wiring Out The Ground Loosely Now [1972 Rehearsal Recording from Khan Mk II with Dave Stewart] [03:21]
8. Five Piece [1972 Rehearsal Recording from Khan Mk II with Dave Stewart] [04:46]
9. The Dervish Riff [1973 at the Gong House, Sens – a Cappella Echo Guitar Recording] [01:49]
10. The Golden Vibe [1973 at the Gong House, Sens – a Cappella Echo Guitar Recording] [03:39]
11. Water Trip [1973 at the Gong House, Sens – a Cappella Echo Guitar Recording] [01:52]
12. Leyline Drips [1973 at the Gong House, Sens – a Cappella Echo Guitar Recording] [05:11]
13. Pre-Glid [1973 at the Gong House, Sens – a Cappella Echo Guitar Recording] [02:28]
14. Hanging Lead [1973 at the Gong House, Sens – a Cappella Echo Guitar Recording] [04:35]
15. Melting Leadatron [1973 at the Gong House, Sens – a Cappella Echo Guitar Recording] [04:51]
CD 20 – Sparks Volume 2:
1. Don't Dither Do It [1974 Pre-Fish Rising Home Demo] [02:40]
2. All The Time In The World [1974 Pre-Fish Rising Home Demo] [03:44]
3. Beginning To See The Light [September 1974 Fish Rising Sessions and Additional Tracks] [06:04]
4. Fish [September 1974 Fish Rising Sessions and Additional Tracks] [01:07]
5. Light In The Sky [September 1974 Fish Rising Sessions and Additional Tracks] [07:25]
6. Electrick Gypsies [September 1974 Fish Rising Sessions and Additional Tracks] [05:20]
7. Aftaglid (Tambura Backing Track Mix) [September 1974 Fish Rising Sessions and Additional Tracks] [12:42]
8. Pentagrammaspin [September 1974 Fish Rising Sessions and Additional Tracks] [06:21]
9. Hurdy Gurdy Man (Early Version) [1976 L Demo in the Chicken Loft] [04:08]
10. It's All Too Much [1976 L Demo in the Chicken Loft] [05:58]
11. Om Nama Shivaya [1976 L Demo in the Chicken Loft] [03:31]
12. Electrick Gypsies [1976 L Demo in the Chicken Loft] [04:26]
13. Hurdy Gurdy Glissando [1976 L Demo in the Chicken Loft] [08:00]
14. Lunar Musick Suite (Part 2) [1976 L Demo in the Chicken Loft] [08:28]
CD 21 – Sparks Volume 3:
1. Hurdy Gurdy Glissando (Gliss a Cappella) [1976 Rough from Todd Rundgren's Studio] [01:56]
2. Hurdy Gurdy Man (Backing Track First Take) [1976 Rough from Todd Rundgren's Studio] [06:20]
3. Light In The Sky [Spring 1977 Red Demo] [03:42]
4. Radio [Spring 1977 Red Demo] [04:10]
5. Searching for The Spark [Spring 1977 Red Demo] [06:01]
6. Saucer Surfing [Spring 1977 Red Demo] [03:59]
7. Hello Dawn [Spring 1977 Red Demo] [02:54]
8. Not Fade Away (Glid Forever) [Spring 1977 Red Demo] [05:48]
9. Don't Dither Do It [Spring 1977 Red Demo] [01:47]
10. Sea Nature [Spring 1977 Green Demo] [03:08]
11. Ether Ships [Spring 1977 Green Demo] [02:45]
12. Unidentified (Om Orgoniser) [Spring 1977 Green Demo] [01:49]
13. Leylines To Glassdom [Spring 1977 Green Demo] [03:46]
14. Musick Of The Trees [Spring 1977 Green Demo] [05:29]
15. Beginning To See The Light [Spring 1977 Green Demo] [03:55]
16. Healing Feeling [Spring 1977 Green Demo] [01:42]
17. The Fire Inside [Summer 1979 Open Demo at Crofton Cottage] [05:08]
18. Getting In Tune [Summer 1979 Open Demo at Crofton Cottage] [03:08]
19. Give It Some Heft [Summer 1979 Open Demo at Crofton Cottage] [04:03]
20. The Snakecharmers Ball [Summer 1979 Open Demo at Crofton Cottage] [02:07]
CD 22 – Sparks Volume 4:
1. Time Lines [1983 Single B-Side (Studio Pre-Mix)] [06:16]
2. Before The World Was Made [1983 Single B-Side (Studio PreMix)] [03:36]
3. Explosion [1980-82 Unfinished Track] [03:56]
4. Rescue Mission [1980-82 Unfinished Track] [04:23]
5. Infomaniac [1980-82 Unfinished Track] [02:39]
6. Forgotten Pleasure [1980-82 Unfinished Track] [03:35]
7. No Fret [1980-82 Unfinished Track] [05:23]
8. Never Let You Go [1980-82 Unfinished Track] [04:22]
9. Everest [1980-82 Unfinished Track] [05:43]
10. Congo Glide [1980-82 Unfinished Track] [02:46]
11. Bird's Eye View [1980-82 Unfinished Track] [02:24]
12. Crystaline [1980-82 Unfinished Track] [03:05]
13. The Aperture [1980-82 Unfinished Track] [02:15]
14. Set The Controls To The Heart Of The Sun [1989-90 System 7 Demo] [01:36]
15. Spanish Castle Magic [1989-90 System 7 Demo] [02:43]
16. Bon Humeur (Demo) [1989-90 System 7 Demo] [03:17]
17. Strange Quotations (Demo) [1989-90 System 7 Demo] [02:16]
18. Floating World [1989-90 System 7 Demo] [03:21]
19. Work It Out [1989-90 System 7 Demo] [02:52]
20. Glid [1989-90 System 7 Demo] [01:58]
21. Future Fifths [1989-90 System 7 Demo] [05:41]