 News
Suede / Studio Albums 93 to 16 / Limited coloured vinyl box set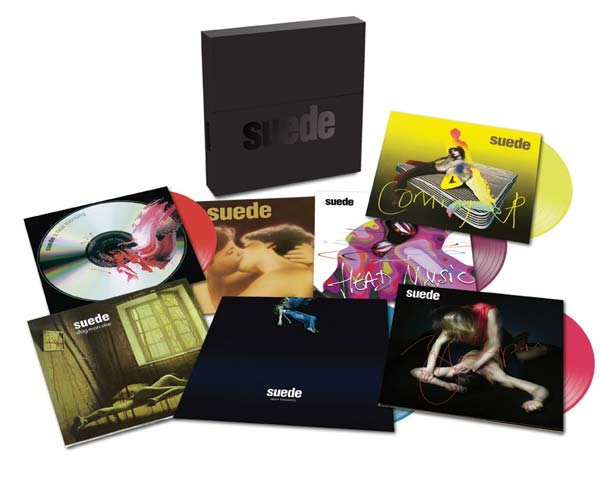 10LP vinyl box • Coloured vinyl sold out
Demon Music will release Studio Albums 93 to 16 a new 10LP Suede box set that brings together Suede's five original studio albums and Bloodsports and Night Thoughts from 2013 and 2016. Fans who get in early can secure a limited coloured vinyl version.

The albums in the set are as follows Suede, Dog Man Star (2LP gatefold), Coming Up, Head Music (2LP), A New Morning, Bloodsports (single LP with gatefold sleeve) and Night Thoughts (2LP gatefold).
In the coloured vinyl box (which is exclusively available via Amazon UK) the colours for each album are as follows: Suede – Brown, Dog Man Star – Green, Coming Up – Yellow, Head Music – Purple, A New Morning – Red, Bloodsports – pink/red, Night Thoughts – Blue. The coloured vinyl is a limited edition of 1000 units.
Demon's previous Suede vinyl box, 2013's The Vinyl Collection, went out of print very quickly and now commands ludicrous prices.
Studio Albums 93 to 16 will be released on 2 November 2018. Coloured vinyl now sold out but black vinyl edition still available.
Compare prices and pre-order
Suede
Studio Albums 93 - 16 [VINYL]
SUEDE
SIDE 1
1. So Young
2. Animal Nitrate
3. She's Not Dead
4. Moving
5. Pantomime Horse
SIDE 2
1. The Drowners
2. Sleeping Pills
3. Breakdown
4. Metal Mickey
5. Animal Lover
6. The Next Life
DOG MAN STAR
SIDE 1
1. Introducing The Band
2. We Are The Pigs
3. Heroine
4. The Wild Ones
SIDE 2
1. Daddy's Speeding
2. The Power
3. New Generation
SIDE 3
1. This Hollywood Life
2. The 2 Of Us
3. Black Or Blue
SIDE 4
1. The Asphalt World
2. Still Life
COMING UP
SIDE 1
1. Trash
2. Filmstar
3. Lazy
4. By The Sea
5. She
SIDE 2
1. Beautiful Ones
2. Star Crazy
3. Picnic By The Motorway
4. The Chemistry Between Us
5. Saturday Night
HEAD MUSIC
SIDE 1
1. Electricity
2. Savoir Faire
3. Can't Get Enough
SIDE 2
1. Everything Will Flow
2. Down
3. She's In Fashion
SIDE 3
1. Asbestos
2. Head Music
3. Elephant Man
SIDE 4
1. Hi-Fi
2. Indian Strings
3. He's Gone
4. Crack In The Union Jack
A NEW MORNING
SIDE 1
1. Positivity
2. Obsessions
3. Lonely Girls
4. Lost In TV
5. Beautiful Loser
6. Streetlife
SIDE 2
1. Astrogirl
2. Untitled
3. …Morning
4. One Hit To The Body
5. When The Rain Falls
6. Oceans
BLOODSPORTS
SIDE 1
1. Barriers
2. Snowblind
3. It Starts And Ends With You
4. Sabotage
5. For The Strangers
SIDE 2
1. Hit Me
2. Sometimes I Feel I'll Float Away
3. What Are You Not Telling Me?
4. Always
5. Faultlines
NIGHT THOUGHTS
SIDE 1
1. When You Are Young
2. Outsiders
3. No Tomorrow
SIDE 2
1. Pale Snow
2. I Don't Know How To Reach You
3. What I'm Trying To Tell You
SIDE 3
1. Tight Rope
2. Learning To Be
3. Like Kids
SIDE 4
1. I Can't Give Her What She Wants
2. When You Were Young
3. The Fur And The Feathers