 News
Supergrass / Live On Other Planets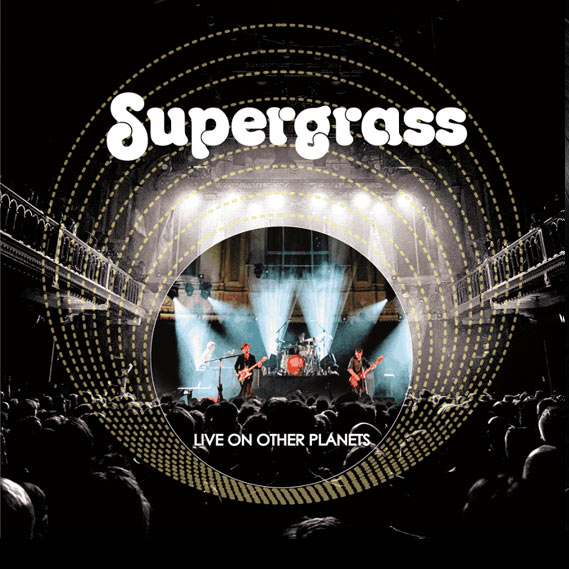 Live album of the reunion tour • Signed vinyl
Supergrass celebrate their acclaimed 2020 reunion tour – and 25th anniversary – with Live On Other Planets, a new live album.

The 20-track collection features recordings drawn from this year's tour and has been mixed by longtime collaborator John Cornfield, who worked on the first three studio albums.
Frontman Gaz Coombes had this to say about the tour and the live album:
The tour we did right before lockdown was amazing, we thought it'd be great to capture those gigs on record and to say thank you to the fans who were there. All proceeds from the sale of this record will go towards helping and highlighting the struggle consistently being faced by grassroots music venues. We'd like to give a little back to the live music scene that has given us so much over the years.
As Gaz says, all proceeds are being donated to #SaveOurVenues and this live document will be available as a SIGNED 2LP 180g black vinyl package or as a 3CD set. The CD edition has the draw of a bonus disc: 'Bully For You' – Supergrass Live At The Bullingdon Arms 21st August 2020.
Live On Other Planets is being released on the band's own label (Supergrass Records) and  can be pre-ordered exclusively from their online store. It is released on 27 November 2020.
Browse the band's store for vinyl, CD and special bundles
Specific official store products:
Live On Other Planets 3CD set
CD 1
1. In It For The Money
2. Richard III
3. Mary
4. Moving
5. Seen The Light
6. Going Out
7. Late In The Day
8. Rebel In You
9. Low C
CD 2
1. Grace
2. Hollow Little Reign
3. She's So Loose
4. Fin
5. Time
6. Alright
7. Sun Hits The Sky
8. Lenny
9. Pumping On Your Stereo
10. Bad Blood
11. Caught By The Fuzz
Bonus CD 'Bully For You' – Supergrass Live at the Bullingdon Arms, 21st August 2020.
1. Caught By The Fuzz
2. Richard III
3. Mary
4. Moving
5. St. Petersburg
6. Grace
7. Pumping On Your Stereo
8. Strange Ones
9. Alright
10. Sun Hits The Sky
11. Lenny
Live On Other Planets 2LP vinyl
LP 1 – Side 1
1. In It For The Money
2. Richard III
3. Mary
4. Moving
5. Seen The Light
LP 1 – Side 2
1. Going Out
2. Late In The Day
3. Rebel In You
4. Low C
LP 2 – Side 1
1. Grace
2. Hollow Little Reign
3. She's So Loose
4. Fin
5. Time
6. Alright
LP 2 – Side 2
1. Sun Hits The Sky
2. Lenny
3. Pumping On Your Stereo
4. Bad Blood
5. Caught By The Fuzz