 News
Suzi Quatro / The Rock Box 1973-1979: The Complete Recordings
7CD+DVD box set • Limited quantity signed by Suzi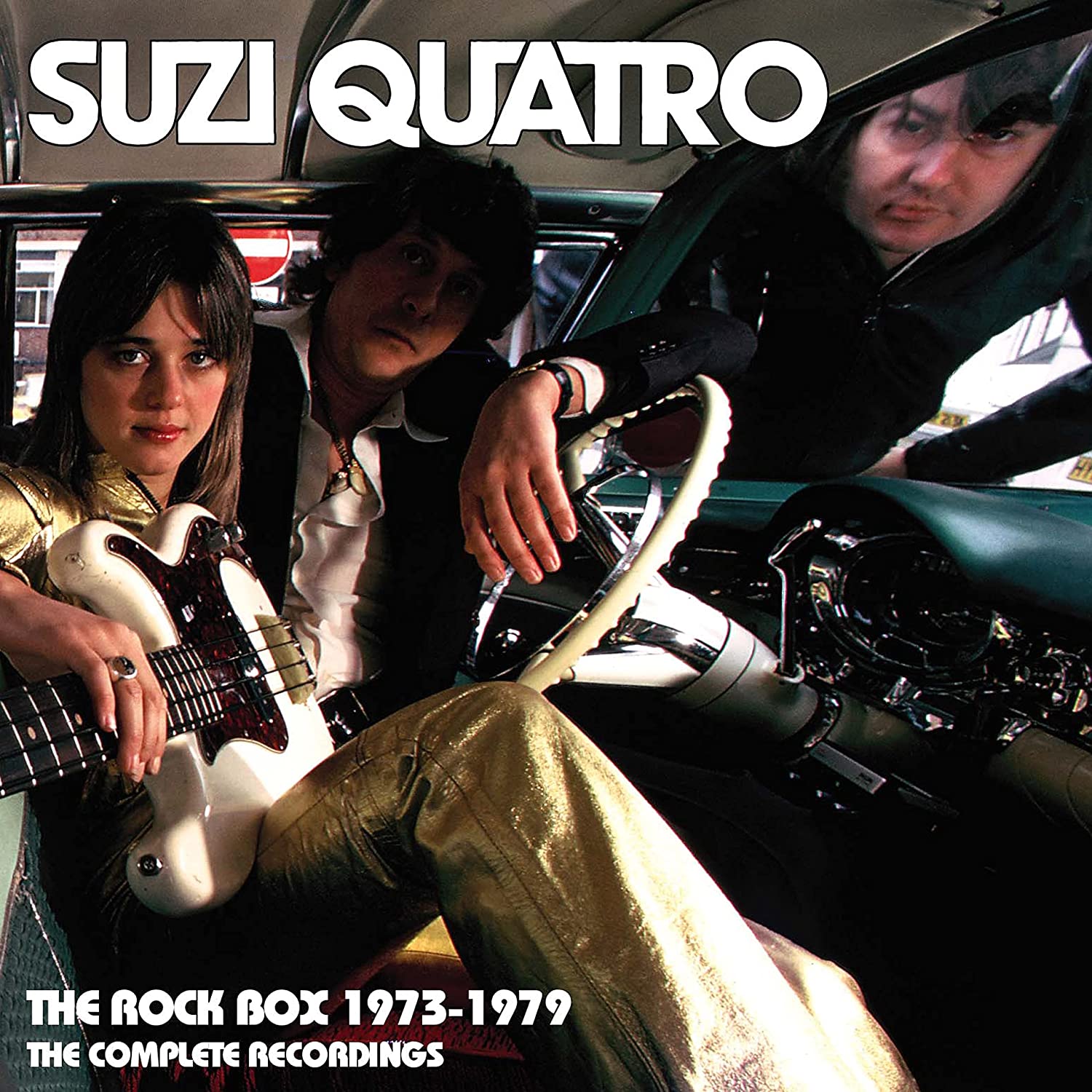 In April Chrysalis Records will issue The Rock Box 1973-1979: The Complete Recordings, a 7CD+DVD collection of Suzi Quatro's '70s output. Featuring six studio albums, a live album and a DVD with promos and rare footage.
Hailing from Detroit, Suzi Quatro learnt her chops in a series of groups including the Pleasure Seekers, an all-female line-up which also featured two of her sisters. Then in 1971, while in the band Cradle, she was spotted by producer Mickie Most. Impressed by her skills as a bass player and singer and her onstage attitude, Most signed her to his recently launched label, RAK Records.
The studio albums in this box are the RAK recordings, as follows: Suzi Quatro (1973), Quatro (1974), Your Mamma Won't Like Me (1975), Aggro-Phobia (1977) If You Knew Suzi (1978) and Suzi…and Other Four Letter Words (1979).
During this period Quatro had eight top 30 UK hit singles, including two number ones ('Can The Can' and 'Devil Gate Drive'). She also enjoyed some success in America, notably with the If You Knew Suzi album. This was largely down to having a top 10 hit in America, the Mike Chapman and Nicky Chinn-penned 'Stumblin' In', which was a duet with Smokie's Chris Norman. Initially a non-album single it was soon added to later pressings of the 1978 long-player.
Most of the albums in The Rock Box include bonus tracks and a few previously unreleased cuts and this also comes with the 1977 live album Live and Kickin'. The DVD features promo videos, Top of the Pops appearances and a Live in Japan concert from 1975.
This package includes a 56-page booklet with exclusive personal recollections from both Suzi and guitarist and co-writer Len Tuckey, as well as a biography written by The Guardian's Dave Simpson
The Rock Box 1973-1979: The Complete Recordings will be released on 15 April 2022. Amazon in the UK have an exclusive, limited signed edition (Suzi has signed the booklet in the box).
Compare prices and pre-order
Suzi Quatro
The Rock Box 1973-1979 - exclusive signed 7CD+DVD box set
Compare prices and pre-order
Suzi Quatro
The Rock Box 1973-1979 - standard 7CD+DVD box set
Tracklisting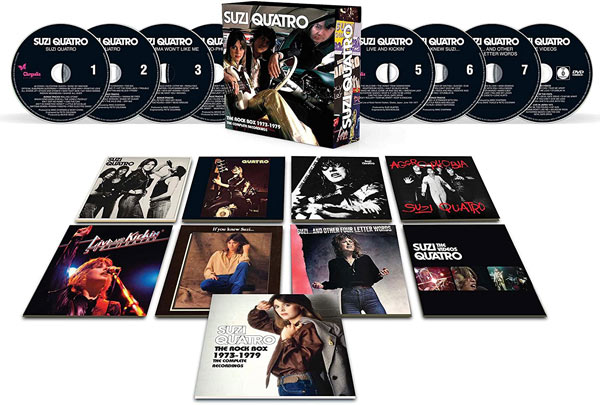 The Rock Box 1973-1979: The Complete Recordings Suzi Quatro
/
7CD+DVD box set
CD 1 – Suzi Quatro

48 Crash
Glycerine Queen
Shine My Machine
Official Suburbian Superman
I Wanna Be Your Man
Primitive Love
All Shook Up
Sticks And Stones
Skin Tight Skin
Get Back Mamma
Rockin' Moonbeam
Shakin' All Over

Bonus tracks

Rolling Stone
Brain Confusion (For All The Lonely People)
Ain't Got No Home
Can The Can
Ain't Ya Somethin' Honey
Little Bitch Blue
Daytona Demon
Roman Fingers
Free Electric Band [Studio Take]*

CD 2 – Quatro

The Wild One
Keep a-Knockin'
Too Big
Klondyke Kate
Savage Silk
Move It
Hit The Road Jack
Trouble
Cat Size
A Shot Of Rhythm And Blues
Friday

Bonus tracks

Devil Gate Drive
In The Morning
I Wanna Be Free
The Wild One [Single Version]
Shake My Sugar
Angel Flight
The Wild One [Dry Mix]*

CD 3 – Your Mamma Won't Like Me

I Bit Off More Than I Could Chew
Strip Me
Paralysed
Prisoner Of Your Imagination
Your Mamma Won't Like Me
Can't Trust Love
New Day Woman
Fever
You Can Make Me Want You
Michael

Bonus tracks

Peter, Peter
Red Hot Rosie
I May Be Too Young
Don't Mess Around

CD 4 – Aggro-Phobia

Heartbreak Hotel
Don't Break My Heart
Make Me Smile (Come Up And See Me)
What's It Like To Be Loved
Tear Me Apart
The Honky Tonk Downstairs
Half As Much As Me
Close The Door
American Lady
Wake Up Little Susie

Bonus tracks

Tear Me Apart [Int. Single Version]
Close Enough To Rock 'N' Roll
Same As I Do
Roxy Roller
I'll Grow On You
Kids Of Tragedy
Miss America [Early Version Of American Lady]
Half As Much As Me [Montreux Version]*
Tear Me Apart [Single Version]

CD 5 – Live and Kickin'

The Wild One
The Honky Tonk Downstairs
Heartbreak Hotel
Half As Much As Me
Cat Size • Make Me Smile (Come Up And See Me)
American Lady
Glycerine Queen
What's It Like To Be Loved
Can The Can
Devil Gate Drive
Roxy Roller
Tear Me Apart
Keep a- Knockin'

CD 6 – If You Knew Suzi…

Don't Change My Luck
Tired Of Waiting
Suicide
Evie
The Race Is On
If You Can't Give Me Love
Breakdown
Non-Citizen
Rock And Roll Hoochie Koo
Wiser Than You
Stumblin' In

Bonus tracks

Cream Dream
A Stranger With You
Sweet Little Rock And Roller*
Born To Run
Sweet Nothings

CD 7 – Suzi… and Other Four Letter Words

I've Never Been In Love
Mind Demons
She's In Love With You
Hollywood
Four Letter Words
Mama's Boy
Starlight Lady
You Are My Lover
Space Cadets
Love Hurts

DVD

Promos

48 Crash
Can The Can
Tear Me Apart
If You Can't Give Me Love
Stumblin' In

Top of the Pops

Can The Can
The Wild One
Devil Gate Drive
Tear Me Apart
Roxy Roller
If You Can't Give Me Love
The Race Is On
She's In Love With You

Live in Japan

I May Be Too Young
Cat Size
Your Mamma Won't Like Me
Jailhouse Rock
Glycerine Queen
Can The Can
Devil Gate Drive