 News
Tanita Tikaram / To Drink The Rainbow: An Anthology 1988-2019
Newly curated compilation • Signed vinyl and CD editions available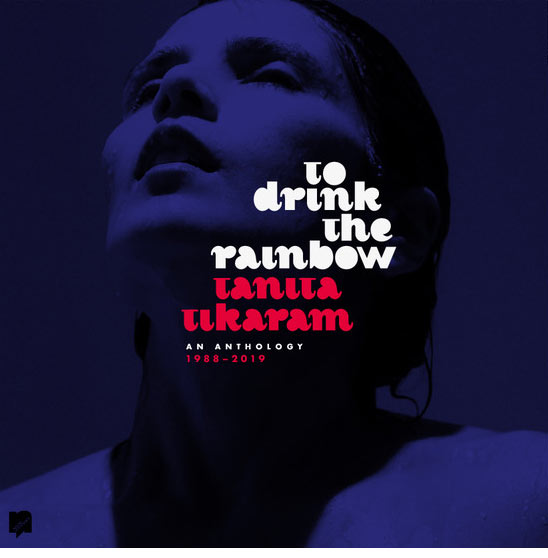 Pete Paphides' new record label Needle Mythology delivers its third release next month, a Tanita Tikaram anthology called To Drink The Rainbow: An Anthology 1988-2019.

This new collection – curated by Paphides himself (with input from Tanita) – delivers 14 tracks, spanning nine albums over a 30 year period. The writer and broadcaster has long been a fan and had this to say about the singer-songwriter who recently celebrated her 50th birthday:
"Tanita is best-known for 'Twist In My Sobriety', but in the ensuing decades, she's amassed an incredible body of work. As she's matured, her curiosity and enthusiasm have helped shape a very different artist to the teenage Virginia Woolf obsessive a lot of people remember from those early Top of the Pops appearances. No-one else sounds like her; and when it comes to direct, emotionally disarming melodies, she's one of my all-time favourites."

The collection all but ignores the first two albums (an acoustic version of 'Valentine Heart' is one of two bonus tracks) and concentrates on what is likely to be less familiar material, including a trio of songs from 2005's Sentimental, a couple from 1992's Eleven Kinds Of Loneliness and the brilliant 'The Way You Move' from Tanita Tikaram's most recent studio album, 2016's Closer To The People. Eight tracks are previously unreleased on vinyl.




As with the previous Stephen Duffy and Ian Broudie releases, the vinyl edition of To Drink The Rainbow will be a gatefold package and comes with a bonus seven-inch single (with the two extra tracks). The CD comes as a 'vinyl replica' package with the same bonus tracks appended.

Miles Showell has mastered this collection at Abbey Road Studios, with the vinyl pressed at the old EMI plant in Hayes Middlesex, now operated by Vinyl Factory.

Both formats are available exclusively via the Needle Mythology store with SIGNED elements. The vinyl comes with a signed lyric sheet while the CD edition is supply with a signed postcard. Various bundles are also available via this official store.

To Drink The Rainbow: An Anthology 1988-2019 is released on 27 September 2019. Full track listing is below with SDE's annotations as to where the tracks come from.
To Drink The Rainbow: An Anthology 1988-2019 vinyl LP + 7″ single
Side 1

1. My Love (Acoustic) (original version from 2005's Sentimental)
2. Play Me Again (from 2005's Sentimental)
3. Cool Waters (from 2016's Closer to the People)
4. Only The Ones We Love (from 1991's Everybody's Angel)
5. Trouble (from 1992's Eleven Kinds Of Loneliness)
6. And I Think Of You (E Penso A Te) (from 1996's The Best of Tanita Tikaram)

Side 2 

1. The Way You Move (from 2016's Closer to the People)
2. Love Is Just A Word (from 2005's Sentimental)
3. Amore Si (from 1998's The Cappuccino Songs)
4. To Drink The Rainbow (Acoustic) (original from 1992's Eleven Kinds Of Loneliness)
5. Can't Go Back (from 2012's Can't Go Back)
6. Every Day Is New (from 2005's Sentimental)
7" Single
A. Glass Train Love (L.A. Version) (original version from 2016's Closer to the People)
B. Valentine Heart (Acoustic) (original version from 1988's Ancient Heart)
To Drink The Rainbow: An Anthology 1988-2019 CD edition

1. My Love (Acoustic)
2. Play Me Again
3. Cool Waters
4. Only The Ones We Love
5. Trouble
6. And I Think Of You (E Penso A Te)
7. The Way You Move
8. Love Is Just A Word
9. Amore Si
10. To Drink The Rainbow (Acoustic)
11. Can't Go Back
12. Every Day Is New
13. Glass Love Train (L.A. Version)
14. Valentine Heart (Acoustic)