 News
Tears For Fears: box sets available again + SDE booklet & vinyl pic disc
The Hurting and Songs From The Big Chair boxes back in print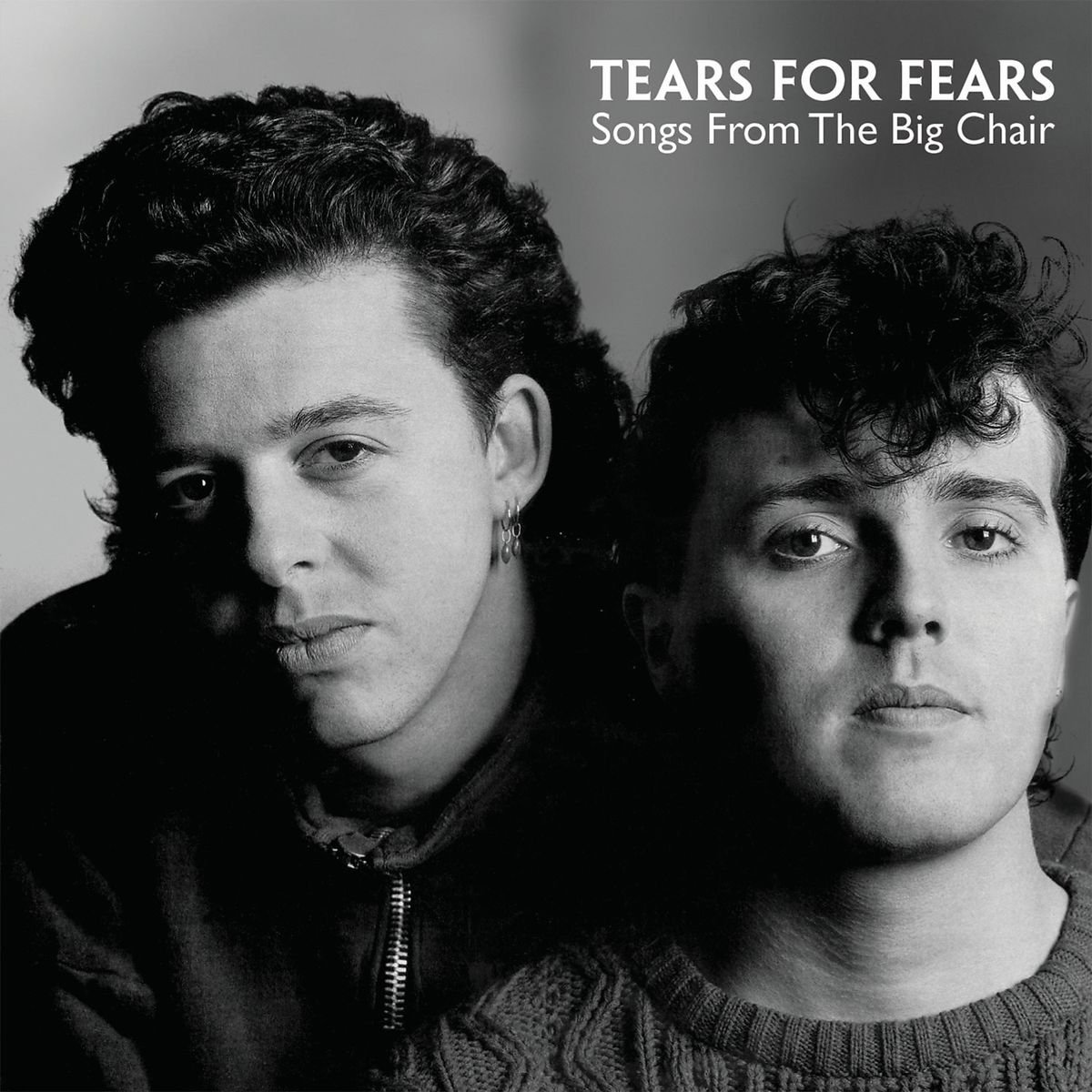 Universal Music Catalogue are making the super deluxe edition box sets of Tears For Fears' first two albums The Hurting and Songs From The Big Chair available again. Additionally, a Songs From The Big Chair vinyl picture disc will be released to mark the 35th anniversary and SDE will publish a special celebratory booklet: How Songs From The Big Chair Ruled the World.

As many readers will know I helped curate both TFF box sets and contributed sleeve notes/interviews for both packages. The Hurting is a 3CD+DVD box set that offers the remastered album, a disc of B-sides and remixes, a CD of rare radio sessions and finally the In My Mind's Eye concert on DVD. It was first issued in October 2013 and comes with two booklets: a reproduction of a tour programme and my notes, which include quotes from interviews with Roland and Curt, conducted at the time.




Originally issued just over a year later, in November 2014, the Songs From The Big Chair super deluxe edition is a bigger offering, featuring four CDs and two DVDs. This set delivers a truly phenomenal amount of audio with every commercially issued b-side and remix of the era included, along with previously unreleased radio sessions and early mixes. The first DVD includes Steven Wilson's 5.1 surround mix (and his stereo mix) while the second brings together the Scenes From The Big Chair documentary, a long interview with producer Chris Hughes, promo videos and TV appearances. Again, this comes with a tour booklet replica and a second booklet with band and producers discussing the album 'in their own words' (interviews edited and conducted by myself). There is also a detailed guide to the bonus material.




New for 2020, is a limited edition 35th anniversary vinyl picture disc of Songs From The Big Chair and we're not done yet, since I'm delighted to announce a sixth in the series of SDE 'keepsake' booklets with a publication that focuses on Tears For Fears' 1985 album and is called How Songs From The Big Chair Ruled The World.

New SDE booklet 'How Songs From The Big Chair Ruled The World' (click to image to enlarge).

The How Songs From The Big Chair Ruled The World booklet features new content by SDE editor Paul Sinclair (me!), pulling on hours of interviews with key members, a new interview with Roland and fresh insight from engineer Dave Bascombe. It explores, in detail, all aspects of the album, including the recording process, the songs, the singles, the marketing, the chart success and the aftermath.

The two box sets, the new vinyl picture disc and SDE booklet will all be released on 13 March 2020 and everything is available to order via the SDE shop, with the booklet exclusive to that channel. If you are wondering about The Seeds of Love and 'the new album', the record label say "new material and further reissues on the horizon"!
<![CDATA[
/**/
]]>
Compare prices and pre-order
Tears for Fears
Songs From The Big Chair - vinyl picture disc
Compare prices and pre-order
Tears For Fears
Songs From The Big Chair - super deluxe box set
Compare prices and pre-order
Tears For Fears
The Hurting - super deluxe edition box set
CD 1 – The Hurting
The Hurting

Mad World

Pale Shelter (You Don't Give Me Love)

Ideas As Opiates

Memories Fade

Suffer The Children

Watch Me Bleed

Change

The Prisoner

Start Of The Breakdown
CD 2 – B-sides and Remixes
Suffer The Children (7″ Version)

Pale Shelter (You Don't Give Me Love)

The Prisoner (B-side)

Ideas As Opiates (B-side)

Change (New Version)

Suffer The Children (Remix)

Pale Shelter (You Don't Give Me Love) (Extended Version)

Mad World (World Remix)

Change (Extended Version)

Pale Shelter (Extended Version)

Suffer The Children (Instrumental)

Change (7″ Edit)

Wino (B-Side)

The Conflict (B-Side)

We Are Broken (B-Side)

Suffer The Children (Promo CD Version)
CD 3 – Live Sessions

Peel Session 01.09.1982
1. Ideas As Opiates

2. Suffer The Children

3. The Prisoner

4. The Hurting
Jensen Session 20.10.1982
5. Memories Fade

6. The Prisoner

7. The Start Of The Breakdown

8. The Hurting

From 'The Way You Are' single
9. Start Of The Breakdown (Live)

10. Change (Live)
CD 4 – DVD – In My Mind's Eye – Live At Hammersmith Odeon
Start Of The Breakdown

Mothers Talk

Pale Shelter

The Working Hour

The Prisoner

Ideas As Opiates

Mad World

We Are Broken

Head Over Heels

Suffer The Children

The Hurting

Memories Fade

Change
Songs From The Big Chair – 4CD+DVD super deluxe edition

DISC ONE – Album with special cassette-only bonus tracks recreated

01. SHOUT : 6:31
02. THE WORKING HOUR : 6:29
03. EVERYBODY WANTS TO RULE THE WORLD : 4:09
04. MOTHERS TALK : 5:04
05. I BELIEVE : 4:54
06. BROKEN : 2:38
07. HEAD OVER HEELS : 5:02
08. LISTEN : 6:54

Bonus tracks

09. THE BIG CHAIR : 3:20
10. EMPIRE BUILDING : 2:41
11. THE MARAUDERS : 4:13
12. BROKEN REVISITED : 5:15
13. THE CONFLICT : 4:02
14. THE WORKING HOUR – Piano Version : 2:08
15. PHARAOHS : 03:42
16. WHEN IN LOVE WITH A BLIND MAN : 2:22
17. SEA SONG : 3:51

DISC TWO – Edited Songs From The Big Chair

01. THE WAY YOU ARE : 4:49
02. MOTHERS TALK – Single Version : 3:53
03. SHOUT – Single Version : 5:58
04. EVERYBODY WANTS TO RULE THE WORLD – Single Version : 4:14
05. HEAD OVER HEELS – Remix : 4:15
06. I BELIEVE (A Soulful Re-Recording) : 4:39
07. EVERYBODY WANTS TO RUN THE WORLD : 4:30
08. THE WAY YOU ARE – Short Version : 4:21
09. MOTHERS TALK – U.S. Remix : 4:14
10. SHOUT – U.S. Single Version : 4:51
11. EVERYBODY WANTS TO RUN THE WORLD – Running Version : 4:30
12. HEAD OVER HEELS – Radio Version : 4.20
13. MOTHERS TALK – Video Version : 4:14
14. SHOUT – Short Version : 4:03
15. LISTEN – Clean Intro : 6:52
15. INTERVIEW WITH CURT & ROLAND : 7:35

DISC THREE – Remixed Songs From The Big Chair (exclusive to box)

01. THE WAY YOU ARE – Extended Version : 7:37
02. MOTHERS TALK – Extended Version : 6:18
03. SHOUT – Extended Remix Version : 7:40
04. EVERYBODY WANTS TO RULE THE WORLD – Extended Version : 5:40
05. BROKEN / HEAD OVER HEELS / BROKEN – Preacher Mix : 8:00
06. MOTHERS TALK – Beat Of The Drum Mix : 8:54
07. SHOUT – U.S. Remix : 8:02
08. EVERYBODY WANTS TO RULE THE WORLD – Urban Mix : 6:06
09. MOTHERS TALK – U.S. Remix alternate : 4:12
10. SHOUT – Dub : 6:49
11. EVERYBODY WANTS TO RULE THE WORLD – Instrumental : 4:21
12. SHOUT – Acappella : 5:02

DISC FOUR – Unreleased Songs From The Big Chair (exclusive to box)

01. HEAD OVER HEELS : 4:14 Richard Skinner Session
02. THE WORKING HOUR : 6:06 Richard Skinner Session
03. BROKEN : 3:19 Richard Skinner Session
04. MOTHERS TALK : 4:05 Live At Massey Hall
05. BROKEN / HEAD OVER HEELS : 5:01 Live At Massey Hall
06. MEMORIES FADE : 6:50 Live At Massey Hall
07. THE WORKING HOUR : 7:31 Live At Massey Hall
08. EVERYBODY WANTS TO RULE THE WORLD : 4:19 Live At Massey Hall
09. SHOUT : 7:50 Live At Massey Hall
10. MOTHERS TALK – Early Mix / Instrumental : 4:39
11. THE WAY YOU ARE – Early Mix : 4:25
12. BROKEN – Early Mix : 5:38
13. SHOUT – Early Mix : 5:08
14. EVERYBODY WANTS TO RULE THE WORLD – Alternate Single Version: 4.20

DISC FIVE (DVD)

5.1 and Stereo mix

SHOUT : 6:32
THE WORKING HOUR : 6:31
EVERYBODY WANTS TO RULE THE WORLD : 4:11
MOTHERS TALK : 5:10
I BELIEVE : 4:54
BROKEN : 2:38
HEAD OVER HEELS : 5:20
LISTEN : 6:49

DISC SIX (DVD)

Documentary

01. SCENES FROM THE BIG CHAIR – Documentary : 1:14:43
02. INTERVIEW WITH PRODUCER CHRIS HUGHES : 35:00
Promos

03. THE WAY YOU ARE – Music Video : 3:57
04. MOTHERS TALK – Alternative UK Video : 4:00
05..MOTHERS TALK – Music Video : 4.49
06. SHOUT – Music Video : 6:31
07. EVERYBODY WANTS TO RULE THE WORLD – Music Video : 4:52
08. HEAD OVER HEELS – Music Video : 4:26
09. I BELIEVE – Music Video : 4:45
10. MOTHERS TALK – US Mix – Music Video : 4:52
11. EVERYBODY WANTS TO RUN THE WORLD – Music Video : 4:52
BBC TV Appearances

03. THE WAY YOU ARE : 4:11 Top Of The Pops
04. MOTHERS TALK : 3:48 Top Of The Pops
05. MOTHERS TALK : 3:51 Top Of The Pops
06. SHOUT : 4:20 Top Of The Pops
07. EVERYBODY WANTS TO RULE THE WORLD : 4:08 Wogan
08. EVERYBODY WANTS TO RULE THE WORLD : 3.35 Top Of The Pops
09. EVERYBODY WANTS TO RULE THE WORLD : 3.45 Top Of The Pops
10. THE WORKING HOUR : 4:28 Wogan