 News
Ten Years After / A Space in Time – next in the SDE Surround Series
Atmos Mix, Quad Mix and more!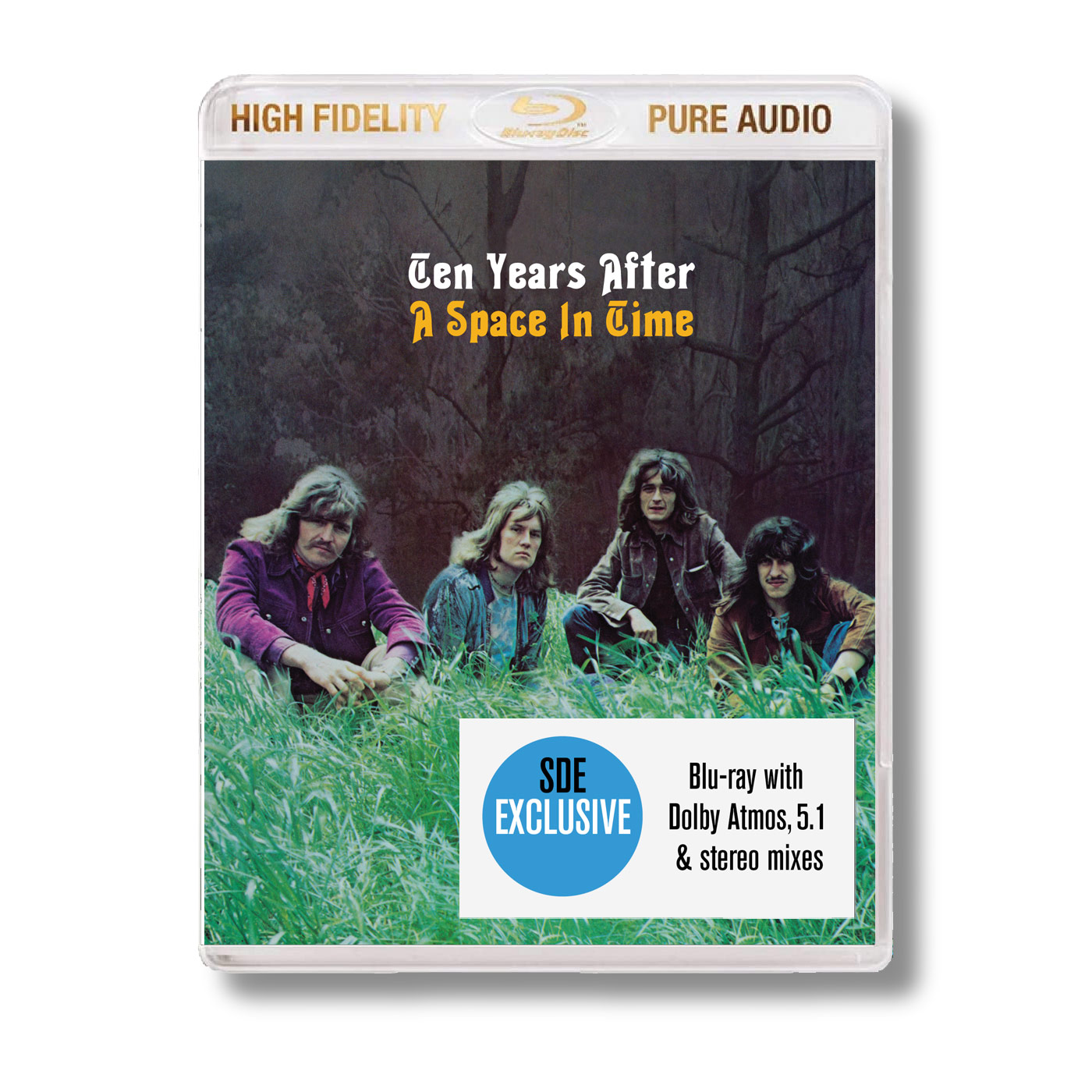 SDE continues to support physical surround sound (quick pre-order link)
A Space in Time, the 1971 album from British rock band Ten Years After, is #7 in the continuing SDE Surround Series of exclusive Blu-ray Audios with Dolby Atmos Mixes.
The 1971 album is being reissued (belatedly) for its 50th anniversary. It was the group's sixth, and best-selling album, featuring their best-known track 'I'd Love To Change The World', which is used regularly on film and TV (most recently in David O. Russell's 2022 film Amsterdam). A Space in Time saw the band taking a more melodic direction from previous releases and showcased the band at their peak.
The Blu-ray Audio is only available via SDE and is packed with great content, as follows:
New Dolby Atmos Mix
5.1 Mix (DTS HD-Master Audio 5.1)
1973 Quad Mix (DTS HD-Master Audio 4.0)
2023 Chris Kimsey Stereo Mix (48/24)

Flat transfer of the Original 1971 Mix

(48/24)
The Quad Mix corrects the channels which were inadvertently switched (front to back) on the 2012 DVD (which came with a vinyl LP). The brand new stereo mix is by original producer/engineer, Chris Kimsey, using transfers from the original two-inch multitrack tapes. Chris' work on the stereo mix was the basis for the new Atmos Mix.
Here's the now traditional reminder as to why this product is highly recommended:
It's the only way to enjoy the Dolby Atmos mix of the album via a physical product
You don't need to sign-up to a streaming service such as Tidal or Apple Music to hear the spatial audio mix
The Atmos Mix on the blu-ray is not compressed due to streaming bandwidth restrictions
You own the product, you are not renting it from a digital service provider
The blu-ray audio is an excellent format for music and you don't want to see it die off
Supporting SDE with these initiatives leads to similar collaborations with labels/artists and we are keen to bring your more in the near future
Be aware, there is no pre-order window – this blu-ray is limited to 1,000 units worldwide. Don't miss out – secure your copy by pre-ordering from the SDE shop using this link or the 'add to cart' button below. This product is not available anywhere else and we ship worldwide (tracked service to USA is £8, for example).
A Space in Time will be released on 17 March 2023 and is a collaboration between SDE and Chrysalis Records. This item will ship with a free, collectible SDE Surround Series slipcase.
EU SHIPPING NOTES: If you are ordering from the EU please be aware that that goods may be subject to import VAT when they arrive from the UK. The prices the SDE shop charge you do not include VAT
TECHNICAL NOTES: This blu-ray audio contains no video. It requires a blu-ray player. Decoding the Dolby Atmos mix requires a Dolby Atmos-certified soundbar or a Dolby Atmos-compatible AV Receiver/Amp. The Dolby Atmos mix will 'fold down' to 5.1 or stereo if a Dolby Atmos decoder is not detected.
Compare prices and pre-order
Ten Years After
A Space in Time - 2CD edition
Compare prices and pre-order
Ten Years After
A Space in Time - 2LP half-speed mastered
Tracklisting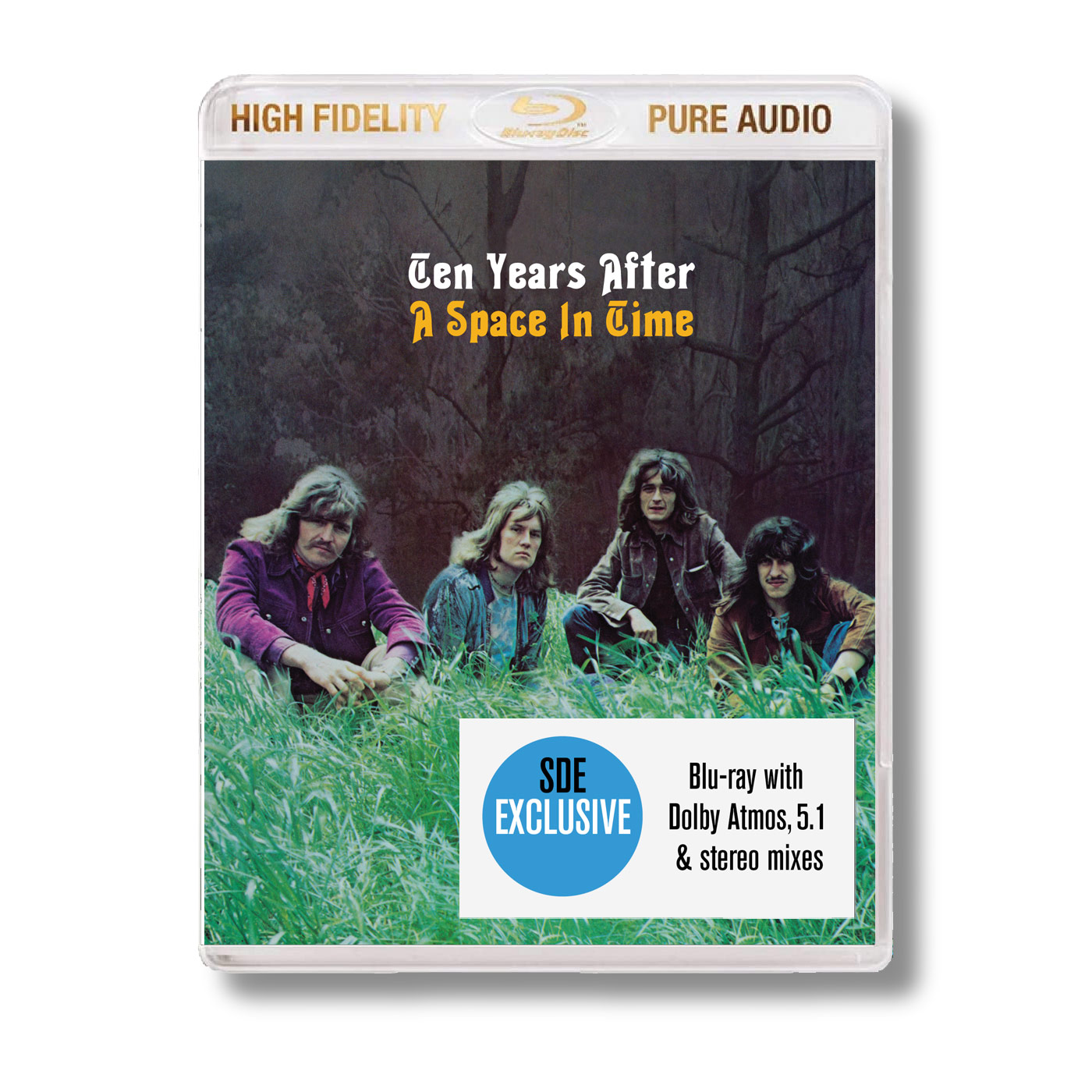 A Space in Time Ten Years After
/
A Space in Time

In the following versions:

Dolby Atmos Mix
DTS-HD Master Audio 5.1
1973 Quad Mix (DTS-HD Master Audio 4.0)
2023 Stereo Mix by Chris Kimsey (48/24)
Flat Transfer of the original stereo mix (48/24)

Track listing

One Of These Days
Here They Come
I'd Love To Change The World
Over The Hill
Baby Won't You Let Me Rock 'N' Roll You
Once There Was A Time
Let The Sky Fall
Hard Monkeys
I've Been There Too
Uncle Jam