 News
The Associates / Sulk 40th anniversary deluxe with SDE-exclusive CD single
Free 'Party Fears Two' CD single with SDE orders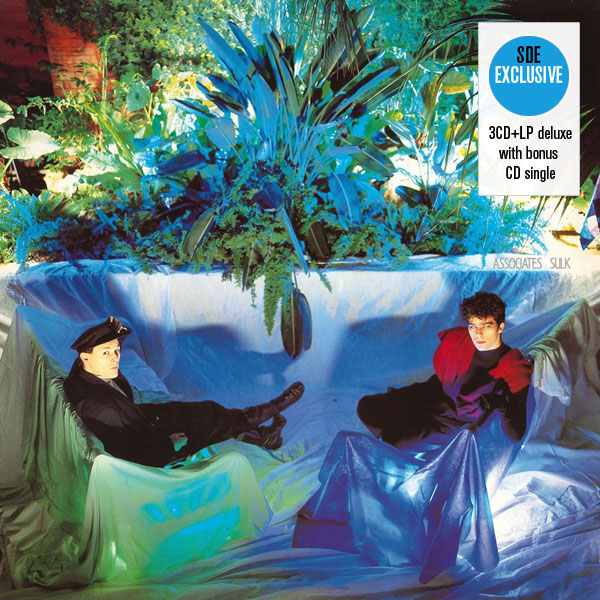 In July, BMG will issue a special large format 3CD+vinyl LP 40th anniversary deluxe edition of The Associates' 1982 album Sulk.
Formed in Dundee, Scotland in 1979, The Associates were comprised of vocalist Billy Mackenzie and multi-instrumentalist Alan Rankine. Built on an eclectic mix of influences and interests ranging from art rock to glam and disco, the duo found early success with their debut record The Affectionate Punch in 1981.
Sulk was the band's second studio album and was the last to feature Rankine and Mackenzie. It peaked at number 10 in the UK album charts and featured both of The Associates' two British top 20 hits: 'Party Fears Two' and 'Club Country'. It is regarded as the group's definitive statement and the album was voted the album of the year by Melody Maker at the time. Billy Mackenzie recalled before his death in 1997, "Sulk was a real liberation. It had the essence of what I'm about. I realised I could create my own sunshine".
The forthcoming deluxe celebration of Sulk is a large format (12″x12″) 'book pack' which features three CDs and a blue vinyl LP. The three CDs include the original album (2016 remaster), out-takes, monitor mixes, rarities, Peel sessions plus a previously unheard live show from Gigant in the Netherlands from 1981. The set also includes the original album remastered on 140g blue vinyl. In total, the new deluxe offers 13 previously unreleased tracks.
This deluxe reissue features exclusive sleeve notes from Simon Reynolds with interviews from Alan Rankine, Michael Dempsey, Mike Hedges & Martha Ladly plus previously unseen photography by Derek Reid, Tom Sheehan & Eveline Dröge.
Exclusively for SDE, and available only from the SDE shop, all orders of this Sulk 40th anniversary deluxe edition come with a limited edition FREE 6-track CD single of the classic 'Party Fears Two'. This is the first time this song has been issued as a physical CD single and the track listing is as follows:
Party Fears Two (7″)
Party Fears Two (Album Version)
Party Fears Two (Remix)
Party Fears Two (Instrumental)
I Never Will (Demo)
It's Better This Way (original B-side version)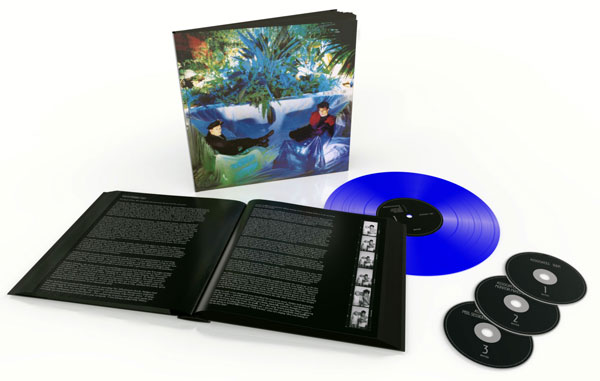 The Sulk 40th anniversary deluxe edition will be released on 15 July 2022 (was 13 May). You can pre-order the exclusive edition with the CD single only via the SDE shop using this link or the button below. A blue vinyl edition is also available (not via SDE) and the official artist store is offering a special gold cassette with the deluxe edition.
EU SHIPPING NOTES: If you are ordering from the EU please be aware that that goods may be subject to import VAT when they arrive from the UK. The prices the SDE shop charge you do not include VAT.
Compare prices and pre-order
Associates
Sulk 40th anniversary 3CD+LP deluxe
Compare prices and pre-order
Associates
Sulk blue vinyl LP
Tracklisting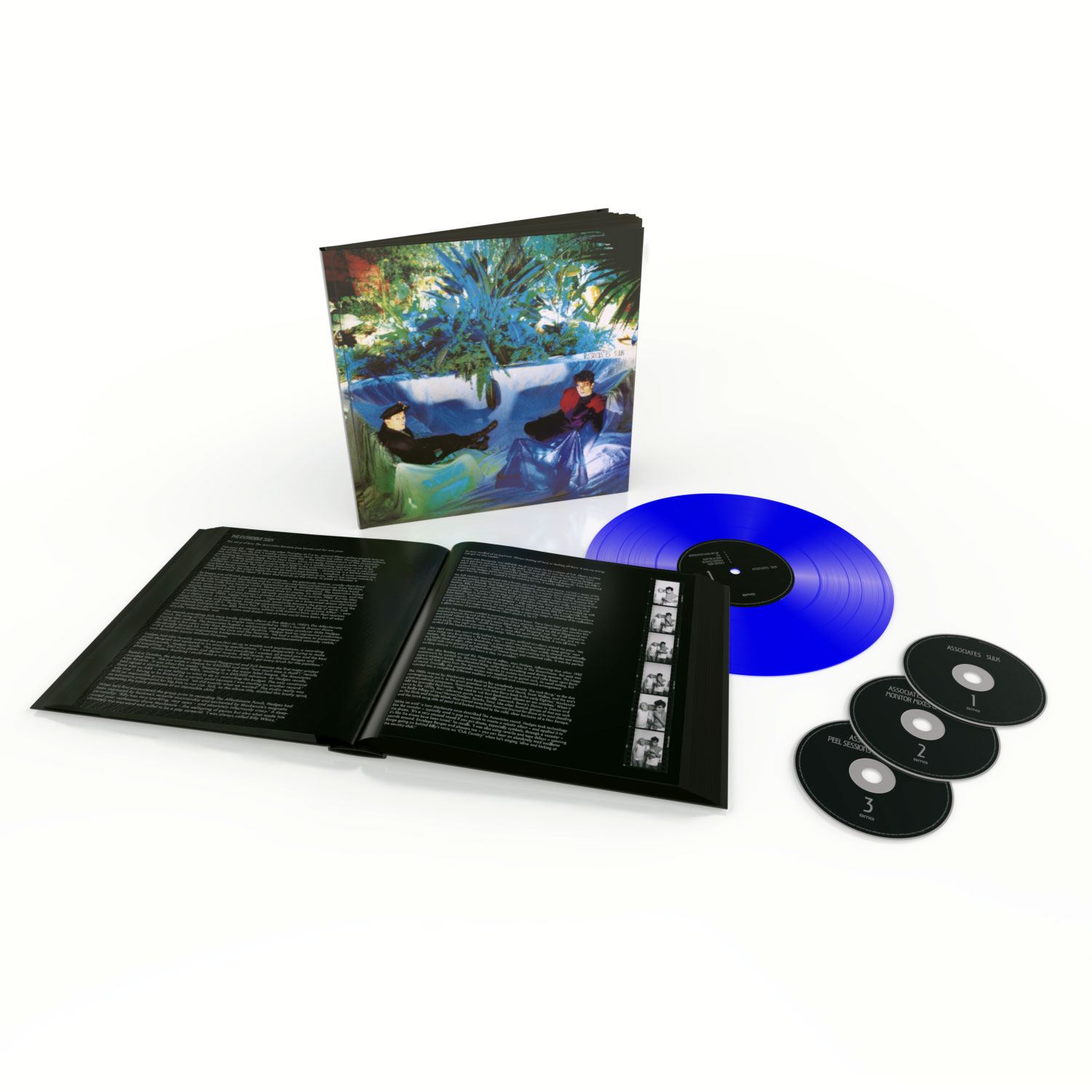 Sulk The Associates
/
40th anniversary 3CD+vinyl LP deluxe with SDE-exclusive CD single
CD 1 – SULK: ORIGINAL ALBUM REMASTERED

Arrogance Gave Him Up (2016 Remaster)
No (2016 Remaster)
Bap De La Bap (2016 Remaster)
Gloomy Sunday (2016 Remaster)
Nude Spoons (2016 Remaster)
Skipping (2016 Remaster)
It's Better This Way (2016 Remaster)
Party Fears Two (2016 Remaster)
Club Country (2016 Remaster)
Nothingsomethingparticular (2016 Remaster)

CD 2 – SULK: OUT-TAKES, MONITOR MIXES & RARITIES

Ulcragyceptimol (Demo) (2022 Master)*
I Never Will (Demo) (2022 Master)
Club Country (Demo) (2022 Master)
Me, Myself and the Tragic Story (John Leckie Recording) (2022 Master)
Australia (John Leckie Recording) (2022 Master)
Skipping (Monitor Mix Instrumental) (2022 Master)*
It's Better This Way (Monitor Mix) (2022 Master)*
And Then I Read a Book (Alternative Version) (2022 Master)
Ulcragyceptimol (2022 Master)
It's Better This Way (Alt Version) (2022 Master)
The Associate (2022 Master)
A Girl Named Property (2022 Master)
Grecian 2000 (2022 Master)
Party Fears Two (7″) (2022 Master)
Club Country (7″) (2022 Master)
18 Carat Love Affair (2022 Master)
Love Hangover (Extended Version) (2022 Master)

*previously unreleased tracks

CD 3 – ASSOCIATES LIVE

Me Myself And The Tragic Story (Peel Session 28/04/81)
Nude Spoons (Peel Session 28/04/81)
A Matter Of Gender (Peel Session 28/04/81)
It's Better This Way (Peel Session 28/04/81)
Ulcragyceptimol (Peel Session 28/04/81)
Waiting For The Love Boat (Peel Session 06/03/82)
Australia (Peel Session 06/03/82)
Love Hangover (Peel Session 06/03/82)
A Severe Case of Career Insecurity (Peel Session 06/03/82)
Arrogance Gave Him Up (Live at Gigant, Apeldoorn 10/01/81)*
A Matter Of Gender (Live at Gigant, Apeldoorn 10/01/81)*
Nude Spoons (Live at Gigant, Apeldoorn 10/01/81)*
Paper House (Live at Gigant, Apeldoorn 10/01/81)*
No (Live at Gigant, Apeldoorn 10/01/81)*
And Then I Read a Book (Live at Gigant, Apeldoorn 10/01/81)*
Gloomy Sunday (Live at Gigant, Apeldoorn 10/01/81)*
It's Better This Way (Live at Gigant, Apeldoorn 10/01/81)*
Skipping (Live at Gigant, Apeldoorn 10/01/81)*
Australia (Live at Gigant, Apeldoorn 10/01/81)*

*previously unreleased tracks

Blue vinyl LP – SULK: ORIGINAL ALBUM REMASTERED

Side A

Arrogance Gave Him Up (2016 Remaster)
No (2016 Remaster)
Bap De La Bap (2016 Remaster)
Gloomy Sunday (2016 Remaster)
Nude Spoons (2016 Remaster)

Side B

Skipping (2016 Remaster)
It's Better This Way (2016 Remaster)
Party Fears Two (2016 Remaster)
Club Country (2016 Remaster)
Nothingsomethingparticular (2016 Remaster)