 News
The next SDE-exclusive blu-ray is Gilbert O'Sullivan's new album, 'Driven'
Third in the SDE Surround Series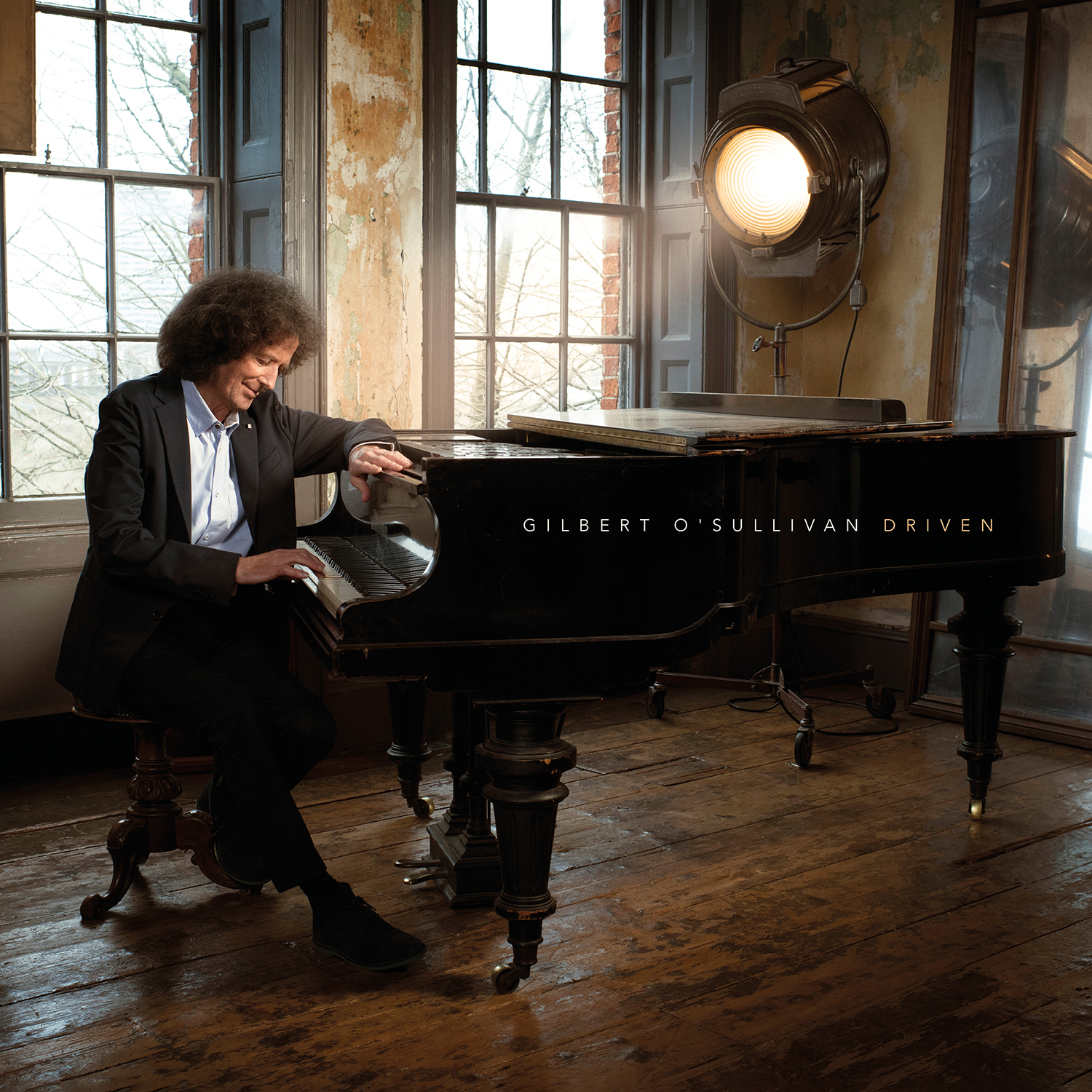 SDE continues to champion spatial/hi-res audio via physical product
SDE has brought you two exclusive blu-ray audio releases so far in 2022, in partnership with artists and labels who share our enthusiasm for bringing you surround sound mixes and hi-res audio on a physical format. The year started with the Tears For Fears' The Tipping Point, continued with xPropaganda and I'm thrilled to announce that the third in our series will be channeling some classic seventies songwriting vibes via the brand new album from the legendary Irish-born singer and musician, Gilbert O'Sullivan.
O'Sullivan's gifts have been long-established, and his observational style of songwriting, unique blend of melodic craftsmanship and witty wordplay chimed with the public on both sides of the Atlantic early in his career, as songs like 'Alone Again (Naturally)', and 'Clair' topped the charts in the UK and/or America (in 1972).
The hits continued in the 1970s, even if things were quieter in subsequent decades, but the music endured via regular compilations, ensuing new generation of artists (Paul Weller, Squeeze etc.) expressing their admiration and of course Gilbert's songs feature regularly in films (such as 1999 family favourite Stuart Little).
That's not to say there were not new long-players from time to time, and indeed his last outing, 2018's well-received Gilbert O'Sullivan, was this 19th studio album and reached number 20 in the UK charts.
The new album – Driven – has been produced by Andy Wright (who has worked with Simply Red, Eurythmics, Simple Minds and Echo and The Bunnymen, among others). It's remarkable, inasmuch as it feels both familiar and fresh at the same time. It bears all the hallmarks of this classic singer-songwriter but mixes the signature piano ballads ('Blue Anchor Bay') with some peppier uptempo numbers recorded with a full band at London's famous RAK Studios (the JJ Cale-esque opener 'Love Casualty' being a great example). KT Tunstall duets on the springhtly 'Take Love' (the first single) while Mick Hucknall sings beautifully on the mid-paced reflective number 'Let Bygones Be Bygones'. There's also a wonderful string-backed ballad, 'If Only Love Had Ears' that is ridiculously McCartney-esque (never a bad thing!).
Driven will be available on CD and vinyl but the SDE-exclusive blu-ray will be the ultimate audio format; the connoisseur's choice. It will offer the following mixes:
Dolby Atmos Mix
5.1 Surround Mix
Stereo Mix
Even better, early pre-orderers will snag an edition SIGNED by Gilbert O'Sullivan! These are available while stocks last (the listing will be updated once the signed editions have sold out so you'll know what you are ordering).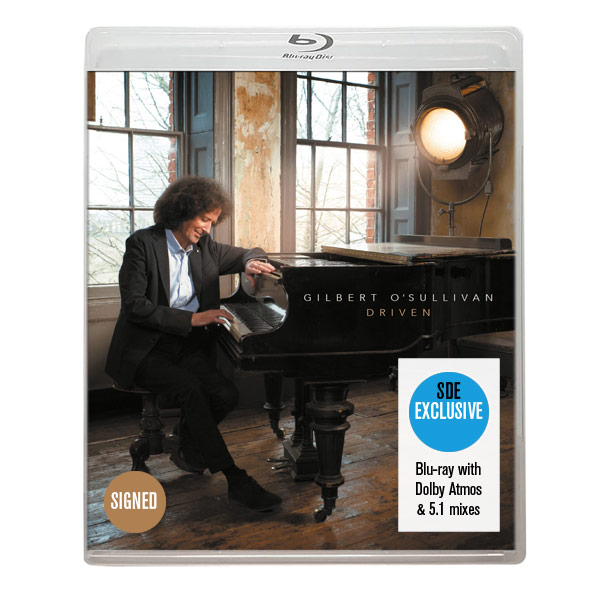 Let's pause, for the now traditional 'Reasons you should own this blu-ray'!
It's a great record. Naturally. I wouldn't do this with an album I didn't like.
It's the only way to enjoy the Dolby Atmos mix of Driven via a physical product
You don't have to subscribe to a streaming service like Tidal or Apple Music to hear the Dolby Atmos mix
It's yours to keep forever. You own the product, you are not renting it from a 'DSP' (digital service provider)
You love 'Holding the Music in Your Hands', so here's your chance!
You ordered the others and want to continue to build your 'SDE Surround Series' collection and enjoy the variety artists/eras on offer and quality of the product.
The blu-ray audio is a great format for immersive/hi-res audio and you don't want to see it die off
Supporting SDE with these ventures is working – thank you! – and will lead to similar collaborations with labels/artists. I'm sure, like me, you'd love this to continue!
Driven will be released on 22 July 2022, via BMG.
With the blink-and-you'll-miss situation with Tears For Fears/xPropaganda we have listened to your views and there's a slightly different approach this time around in terms of pre-ordering. The pre-order window for the limited edition blu-ray audio opens today and will close in 14 days' time. This is a one-time production run and numbers will be published at a later date, so you will know just how limited this physical product is.
This product is ONLY available via the SDE shop. Pre-order by using this link or the button below. Remember, these are signed while stocks last.
TECHNICAL NOTES: This blu-ray audio requires a blu-ray player. Decoding the Dolby Atmos mix requires a Dolby Atmos-certified soundbar or a Dolby Atmos-compatible AV Receiver/Amp. The Dolby Atmos mix will 'fold down' to 5.1 or stereo if a Dolby Atmos decoder is not detected.
EU SHIPPING NOTES: If you are ordering from the EU please be aware that that goods may be subject to import VAT when they arrive from the UK. The prices the SDE shop charge you do not include VAT.
Tracklisting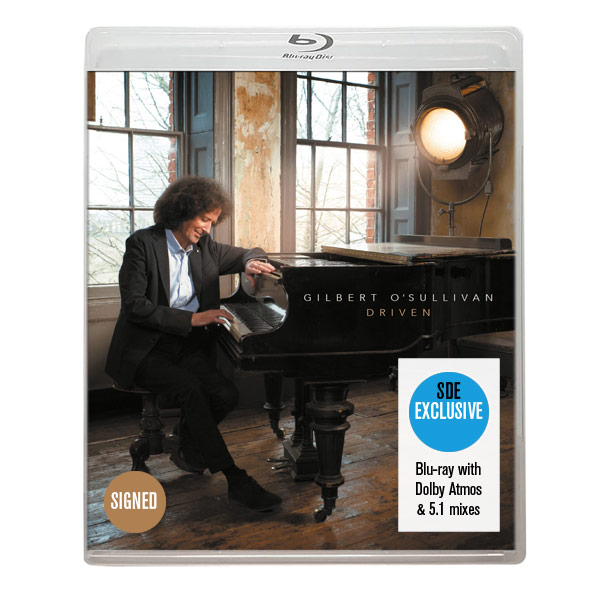 Driven Gilbert O'Sullivan
/
SDE-exclusive blu-ray audio
Dolby Atmos, 5.1 and stereo

Love Casualty
Blue Anchor Bay
Let Bygones Be Bygones (featuring Mick Hucknall)
Body and Mind
What Are You Waiting For
Let Me Know
Take Love (featuring KT Tunstall)
Back and Forth
If Only Love Had Ears
You Can't Say I Didn't Try
You and Me Babe
Hey Man
Don't Get Under Each Other's Skin