 News
The Waterboys return with a new album, 'Where The Action Is'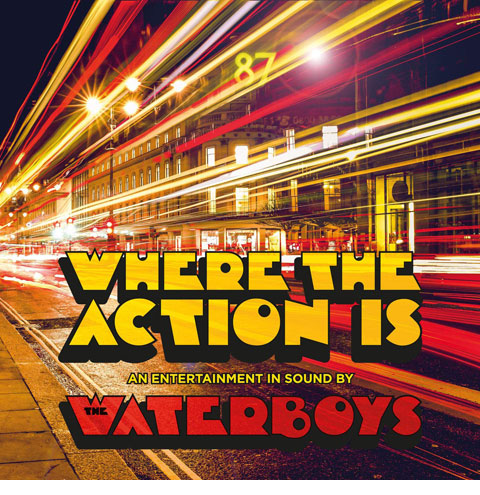 Available in two CD formats, and on black and/or marbled vinyl.
The Waterboys have detailed more information about their upcoming album Where the Action Is.

Released in May through Cooking Vinyl, the album's ten tracks have a variety of influences with nods to The Clash's Mick Jones ('London Mick'), Robert Burns' poem 'Green Grow the Rashes-O' ('Then She Made The Lasses-O') and Kenneth Grahame's famous book The Wind In The Willows ('Piper At the Gates of Dawn') which was recorded all in one take at Real World studios last Summer. The set features regular cohorts Steve Wickham and Brother Paul, and occasional Paul Weller producer Simon Dine worked on 'And There is Love'.
The first glimpse of the album, the single 'Right Side Of Heartbreak (Wrong Side Of Love)' can be previewed below.
Where the Action follows up the top ten success of Out of All This Blue. Essentially now just Mike Scott and friends, it's his 15th album, and will be available as a ten-track CD, 21-track two-CD deluxe (with remixes) and on black vinyl. The official store offers a selection of exclusive signed bundles and red/black marbled vinyl.
The band will be touring the UK across May, and Europe over Summer, as well as popping up at the odd festival such as Hay, Cropredy and Skye Live. More details here.
Where The Action Is released on 24 May 2019.
Compare prices and pre-order
The Waterboys
where the action is - 2CD deluxe
Compare prices and pre-order
The Waterboys
where the action is - black vinyl LP
Compare prices and pre-order
The Waterboys
where the action is - single CD
Where The Action Is / single CD
1. Where The Action Is
2. London Mick
3. Out Of All This Blue
4. Right Side Of Heartbreak (Wrong Side of Love)
5. In My Time On Earth
6. Ladbroke Grove Symphony
7. Take Me There I Will Follow You
8. And There's Love
9. Then She Made The Lasses-O
10. Piper At The Gates Of Dawn
Where The Action Is /2CD deluxe
CD 1 – as standard edition
CD 2 – Where The Action Is – Mashed:
1. Where The Action Is (Mash)
2. London Mick (Jess'n'Zeenie Mix)
3. Out Of All This Blue (Soul Choir)
4. Right Side Of Heartbreak (Box & Vox)
5. In My Time On Earth (Scott & Wickham Mix)
6. Ladbroke Grove Coda
7. I Will Follow You Take Me There
8. And There's Love (Mashtrumental)
9. Then She Made The Lasses (Mash)
10. Where The Action Is (Reprise)
11. Piper At The Gates Of Dawn (Instrumental)
Where The Action Is / vinyl LP
Side A
1. Where The Action Is
2. London Mick
3. Out Of All This Blue
4. Right Side Of Heartbreak (Wrong Side of Love)
5. In My Time On Earth
Side B
6. Ladbroke Grove Symphony
7. Take Me There I Will Follow You
8. And There's Love
9. Then She Made The Lasses-O
10. Piper At The Gates Of Dawn