 News
Tina Turner / Foreign Affair deluxe edition
4CD+DVD package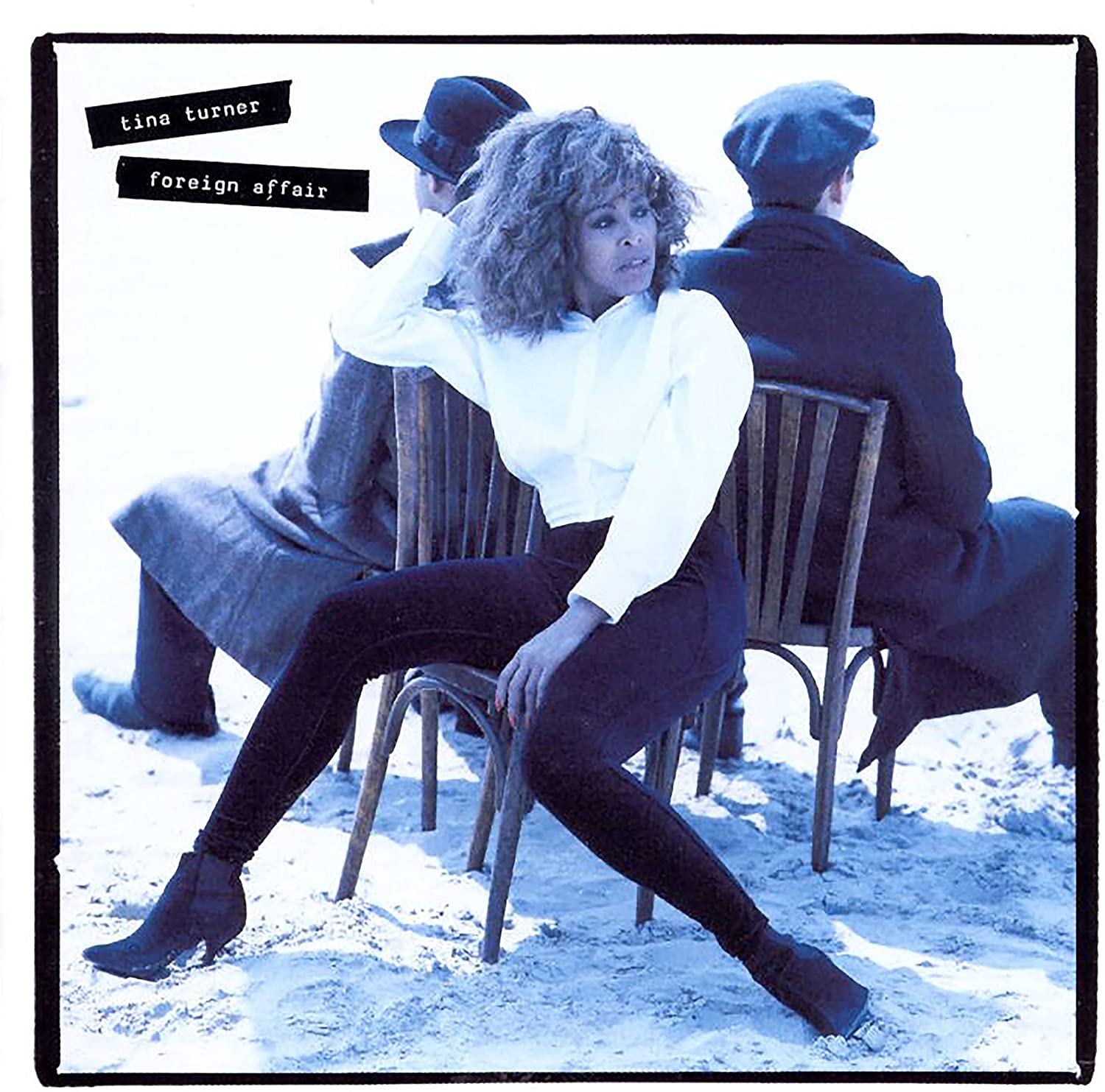 Tina Turner's 1989 album Foreign Affair will be reissued in July across a number of physical formats, including a 4CD+DVD deluxe edition.
The album produced many hit singles, particularly in Europe, with songs like 'I Don't Wanna Lose You', 'Steamy Windows', the title track and of course 'The Best', which is very much a signature song for Tina these days.
The 4CD+DVD deluxe edition offers the remastered album on the first disc, a decent-looking selection of remixes and B-sides on CD 2 and then two further discs of Tina Turner live in Barcelona.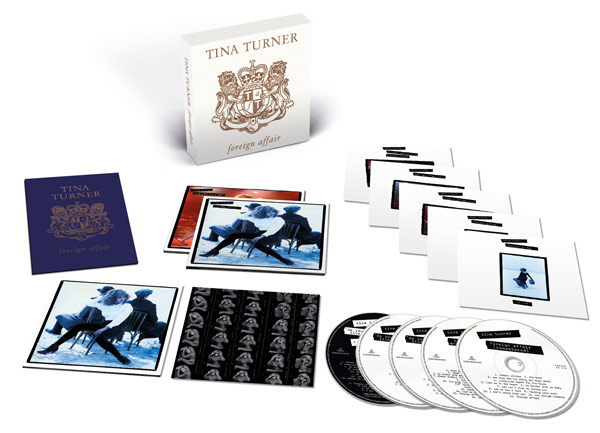 The DVD features this same Barcelona live show as well as the videos for the album's singles "restored to HD" (DVDs can't natively display HD pictures so this is an unfortunate turn of phrase from the label, but they should still look good).
The deluxe edition comes with some 'stuff' including a "commemorative passport" with photos of Tina, an art card featuring photos from photographer Paul Cox and a booklet with new sleeve notes from Holly Knight; the songwriter of 'The Best', 'Be Tender With Me Baby', 'You Can't Stop Me Loving You' and 'Ask Me How I Feel'.
Foreign Affair was Tina's third studio album after her return to prominence which started with Private Dancer in 1984. That album was reissued in 2015 (read the SDE review), so it's a leisurely pace, with Rhino taking six years to follow up that reissue with another Tina Turner studio album. Of course we should mention that they've skipped 1986's Break Every Rule which is pretty disappointing. Let's hope they return to that album before 2027!
Foreign Affair is also available as a 2CD edition (the B-sides and remixes feature on the bonus disc) and a 2LP vinyl set (remastered album, no extras).
Foreign Affair will be reissued on 16 July 2021.
Compare prices and pre-order
Tina Turner
Foreign Affair - 4CD+DVD deluxe edition
Compare prices and pre-order
Tina Turner
Foreign Affair - 2LP vinyl
Compare prices and pre-order
Tina Turner
Foreign Affair - 2CD edition
Tracklisting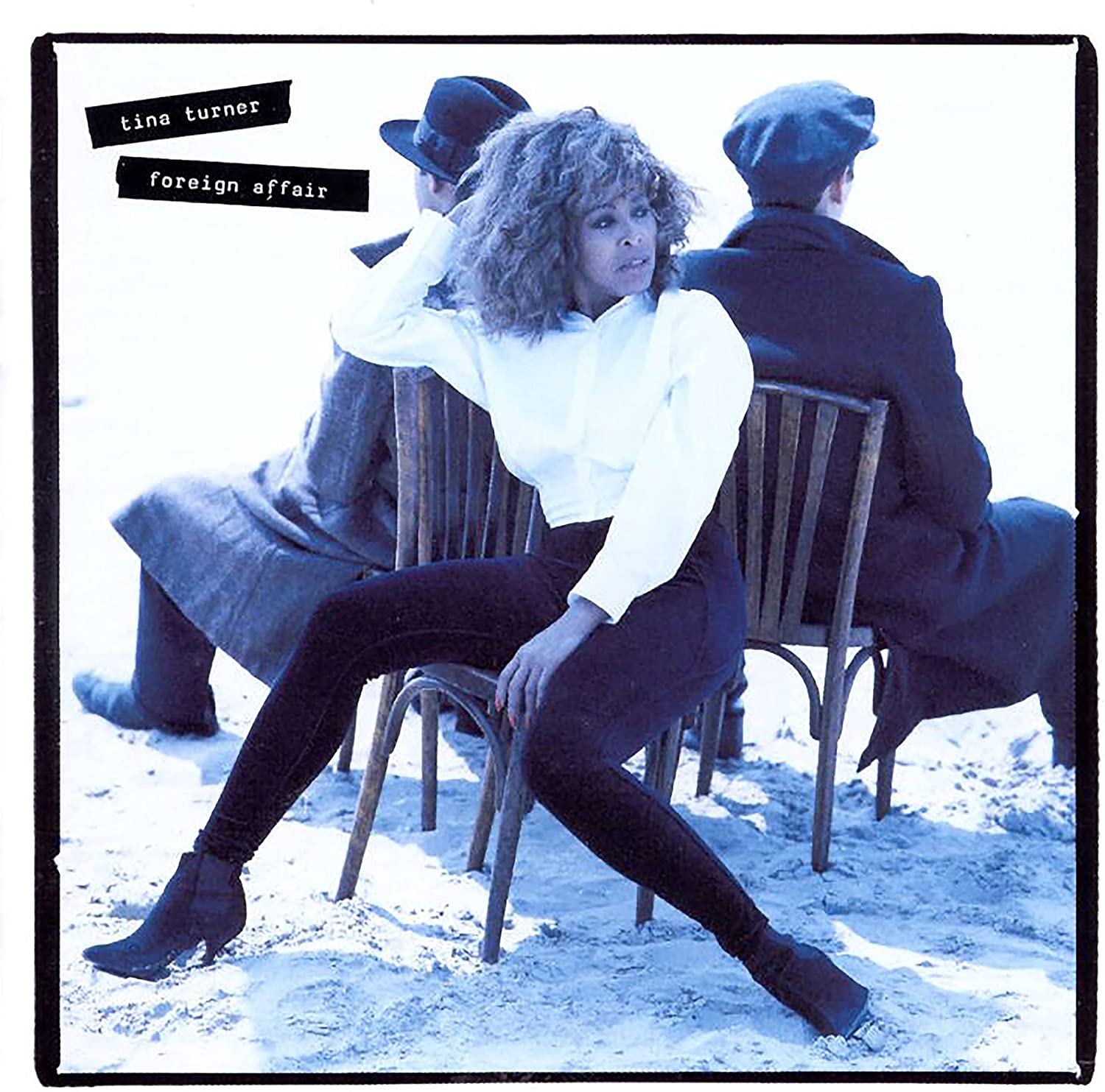 Foreign Affair Tina Turner
/
4CD+DVD deluxe edition
CD 1

Steamy Windows (2021 Remaster)
The Best (2021 Remaster)
You Know Who (Is Doing You Know What) [2021 Remaster]
Undercover Agent for the Blues (2021 Remaster)
Look Me in the Heart (2021 Remaster)
Be Tender with Me Baby (2021 Remaster)
You Can't Stop Me Loving You (2021 Remaster)
Ask Me How I Feel (2021 Remaster)
Falling like Rain (2021 Remaster)
I Don't Wanna Lose You (2021 Remaster)
Not Enough Romance (2021 Remaster)
Foreign Affair (2021 Remaster)

CD 2

Bold And Reckless (2021 Remaster)
Stronger Than The Wind (2021 Remaster)
Steel Claw (Live) [2021 Remaster]
Private Dancer (Live) [2021 Remaster]
Be Tender With Me Baby (Live) [2021 Remaster]
The Best (Extended Muscle Mix) [2021 Remaster]
Steamy Windows (12″ Vocal Mix) [2021 Remaster]
Foreign Affair (Shep Pettibone Heartbeat Mix) [2021 Remaster]
Look Me In The Heart (12″ Remix) [2021 Remaster]
The Best (Extended Mighty Mix) [2021 Remaster]
Steamy Windows (Justin Strauss 12″ House Dub Mix) [2021 Remaster]
Foreign Affair (Shep Pettibone One In A Million Club Mix) [2021 Remaster]
Steamy Windows (12″ Dub Mix) [2021 Remaster]
Look Me In The Heart (Instrumental) [2021 Remaster]
Foreign Affair (Shep Pettibone Heartbeat Instrumental) [2021 Remaster]
The Best (Demo)

CD 3

Steamy Windows (Live in Barcelona 1990) [2021 Remaster]
Typical Male (Live in Barcelona 1990) [2021 Remaster]
Foreign Affair (Live in Barcelona 1990) [2021 Remaster]
Undercover Agent For The Blues (Live in Barcelona 1990) [2021 Remaster]
Ask Me How I Feel (Live in Barcelona 1990) [2021 Remaster]
We Don't Need Another Hero (Live in Barcelona 1990) [2021 Remaster]
Private Dancer (Live in Barcelona 1990) [2021 Remaster]
Nutbush City Limits (Live in Barcelona 1990) [2021 Remaster]
Addicted To Love (Live in Barcelona 1990) [2021 Remaster]

CD 4

The Best (Live in Barcelona 1990) [2021 Remaster]
I Don't Wanna Loose You (Live in Barcelona 1990) [2021 Remaster]
What's Love Got To Do With It (Live in Barcelona 1990) [2021 Remaster]
Let's Stay Together (Live in Barcelona 1990) [2021 Remaster]
Proud Mary (Live in Barcelona 1990) [2021 Remaster]
Better Be Good To Me (Live in Barcelona 1990) [2021 Remaster]
Be Tender With Me Baby (Live in Barcelona 1990) [2021 Remaster]

DVD

Do You Want Some Action? (Live in Barcelona)
Foreign Affair (2021 Remaster)
Look Me in the Heart (2021 Remaster)
The Best (2021 Remaster)
Steamy Windows (2021 Remaster)
Be Tender With Me Baby (2021 Remaster)
I Don't Wanna Lose You (2021 Remaster)