 News
Tom Petty & The Heartbreakers / Live at the Fillmore, 1997
Legendary 20-night residency distilled into a new box set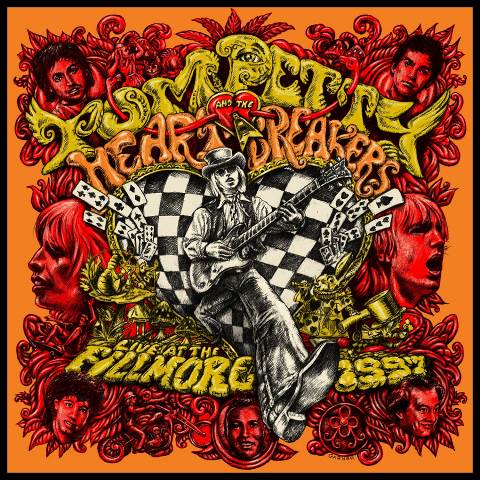 Tom Petty & The Heartbreakers famous 20-night residency at the Fillmore venue in San Francisco in 1997 is celebrated with a major archival release across four physical formats, including 6LP and 4CD box sets.
The band would vary their sets each night at the small venue with re-arranged versions of their hits, 'deep cuts', and many cover versions. Six of the shows were professionally recorded and this release features highlights of those performance.
The 6LP vinyl box and 4CD collections both feature 58 tracks, 35 of which are covers! This is four hours of music in total.
The vinyl box comes with a 24-page large format booklet and plenty of 'stuff', such as three custom guitar picks, replica laminates, facsimile set lists, fan newsletter and an embroidered patch.
The 4CD set is a small box which includes a 32-page booklet. Perhaps surprisingly, you get some the same 'stuff' in this smaller and cheaper package (guitar picks, laminate and patch).
If all this is a bit too much, you can opt for the 2CD or 3LP vinyl editions which offer 33-track selections. If you think they may have dialled down the covers on these editions, think again! There's still 18 cover versions, which is more than half the audio.
Live at the Fillmore, 1997 will be released on 25 November 2022.
Compare prices and pre-order
Tom Petty & The Heartbreakers
Live at the Fillmore 1997 - 4CD deluxe
Compare prices and pre-order
Tom Petty & The Heartbreakers
Live at the Fillmore 1997 - 6LP vinyl box
Compare prices and pre-order
Tom Petty & The Heartbreakers
LIve at the Fillmore 1997 - 2CD set
Compare prices and pre-order
Tom Petty & The Heartbreakers
Live at the Fillmore 1997 - 3LP vinyl
Tracklisting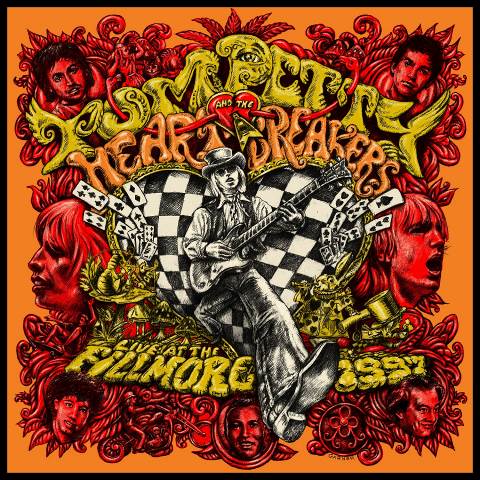 Live at the Fillmore, 1997 Tom Petty and The Heartbreakers
/
LP 1

Side 1

Pre-show (spoken interlude)
Around And Around
Jammin' Me
Runnin' Down A Dream
Good Evening (spoken interlude)
Lucille
Call Me The Breeze

Side 2

Cabin Down Below
The Internet, Whatever That Is (spoken interlude)
Time is On My Side
Listen To Her Heart
Waitin' In School
Let's Hear It For Mike (spoken interlude)
Slaughter On Tenth Avenue
Homecoming Queen Intro (spoken interlude)
The Date I Had with That Ugly Old Homecoming Queen

LP 2

Side 3

I Won't Back Down
You Are My Sunshine
Ain't No Sunshine
It's Good To Be King

Side 4

Rip It Up
You Don't Know How It Feels
I'd Like To Love You Baby
Diddy Wah Diddy
We Got A Long Way To Go (spoken interlude)
Guitar Boogie Shuffle
I Want You Back Again

LP 3

Side 5

On The Street Intro (spoken interlude)
On The Street
California
Let's Hear It For Scott and Howie (spoken interlude)
Little Maggie
Walls
Hip Hugger
Friend Of The Devil

Side 6

Did Someone Say Heartbreakers Beach Party? (spoken interlude)
Heartbreakers Beach Party
Angel Dream
The Wild One, Forever
Even The Losers
American Girl
You Really Got Me
Goldfinger

LP 4

Side 7

Mr. Roger McGuinn (spoken interlude)
It Won't Be Wrong
You Ain't Going Nowhere
Drug Store Truck Drivin' Man
Eight Miles High
Crazy Mama
Everyone Loves Benmont (spoken interlude)
Green Onions

Side 8

High Heel Sneakers
John Lee Hooker, Ladies And Gentlemen (spoken interlude)
Find My Baby (Locked Up In Love Again)
Serves You Right To Suffer
Boogie Chillen
I Got A Woman

LP 5

Side 9

Sorry, I've Just Broken My Amplifier (spoken interlude)
Knockin' On Heaven's Door
Honey Bee
County Farm

Side 10

You Wreck Me
Shakin' All Over
Free Fallin'
Mary Jane's Last Dance

LP 6

Side 11

Bye Bye Johnny
(I Can't Get No) Satisfaction
It's All Over Now
Louie Louie

Side 12

Gloria
Alright For Now
Goodnight (spoken interlude)

CD 1

Pre-show (spoken interlude)
Around and Around
Jammin' Me
Runnin' Down A Dream
Good Evening (spoken interlude)
Lucille
Call Me The Breeze
Cabin Down Below
The Internet, Whatever That Is (spoken interlude)
Time is On My Side
Listen To Her Heart
Waitin' In School
Let's Hear It For Mike (spoken interlude)
Slaughter On Tenth Avenue
Homecoming Queen Intro (spoken interlude)
The Date I Had with That Ugly Old Homecoming Queen
I Won't Back Down
You Are My Sunshine
Ain't No Sunshine
It's Good To Be King

CD 2

Rip It Up
You Don't Know How It Feels
I'd Like To Love You Baby
Diddy Wah Diddy
We Got A Long Way To Go (spoken interlude)
Guitar Boogie Shuffle
I Want You Back Again
On The Street Intro (spoken interlude)
On The Street
California
Let's Hear It For Scott and Howie (spoken interlude)
Little Maggie
Walls
Hip Hugger
Friend Of The Devil
Did Someone Say Heartbreakers Beach Party? (spoken interlude)
Heartbreakers Beach Party
Angel Dream
The Wild One, Forever
Even The Losers
American Girl
You Really Got Me
Goldfinger

CD 3

Mr. Roger McGuinn (spoken interlude)
It Won't Be Wrong
You Ain't Going Nowhere
Drug Store Truck Drivin' Man
Eight Miles High
Crazy Mama
Everyone Loves Benmont (spoken interlude)
Green Onions
High Heel Sneakers
John Lee Hooker, Ladies and Gentlemen (spoken interlude)
Find My Baby (Locked Up In Love Again)
Serves You Right To Suffer
Boogie Chillen
I Got A Woman

CD 4

Sorry, I've Just Broken My Amplifier (spoken interlude)
Knockin' On Heaven's Door
Honey Bee
County Farm
You Wreck Me
Shakin' All Over
Free Fallin'
Mary Jane's Last Dance
Bye Bye Johnny
(I Can't Get No) Satisfaction
It's All Over Now
Louie Louie
Gloria
Alright For Now
Goodnight (spoken interlude)

LP 1

Side 1

Pre-show (spoken interlude)
Jammin' Me
Listen To Her Heart
Around And Around
Good Evening (spoken interlude)
Lucille
Call Me The Breeze
Cabin Down Below
The Internet, Whatever That Is (spoken interlude)
Time is On My Side

Side 2

You Don't Know How It Feels
I'd Like To Love You Baby
Ain't No Sunshine
Homecoming Queen Intro (spoken interlude)
The Date I Had with That Ugly Old Homecoming Queen
Bye Bye Johnny

LP 2

Side 3

Did Someone Say Heartbreakers Beach Party? (spoken interlude)
Heartbreakers Beach Party
Angel Dream
The Wild One, Forever
American Girl
Let's Hear It For Howie and Scott (spoken interlude)
You Really Got Me
Runnin' Down A Dream

Side 4

(I Can't Get No) Satisfaction
It's All Over Now
Mr. Roger McGuinn (spoken interlude)
It Won't Be Wrong
You Ain't Going Nowhere
Eight Miles High
Honey Bee

LP 3

Side 5

John Lee Hooker, Ladies And Gentlemen (spoken interlude)
Boogie Chillen
Sorry, I've Just Broken My Amplifier (spoken interlude)
Knockin' On Heaven's Door
You Wreck me
Shakin' All Over
Free Fallin'

Side 6

Mary Jane's Last Dance
Louie Louie
Gloria
Alright For Now
Goodnight (spoken interlude)

CD 1

Pre-show (spoken interlude)
Jammin' Me
Listen To Her Heart
Around and Around
Good Evening (spoken interlude)
Lucille
Call Me The Breeze
Cabin Down Below
The Internet, whatever that is (spoken interlude)
Time is On My Side
You Don't Know How It Feels
I'd Like To Love You Baby
Ain't No Sunshine
Homecoming Queen Intro (spoken interlude)
The Date I Had with That Ugly Old Homecoming Queen
Bye Bye Johnny
Did Someone Say Heartbreakers Beach Party? (spoken interlude)
Heartbreakers Beach Party
Angel Dream
The Wild One, Forever
American Girl
Let's Hear It For Howie and Scott (spoken interlude)
You Really Got Me
Runnin' Down A Dream

CD 2

(I Can't Get No) Satisfaction
It's All Over Now
Mr. Roger McGuinn (spoken interlude)
It Won't Be Wrong
You Ain't Going Nowhere
Eight Miles High
Honey Bee
John Lee Hooker, Ladies and Gentlemen (spoken interlude)
Boogie Chillen
Sorry, I've Just Broken My Amplifier (spoken interlude)
Knockin' On Heaven's Door
You Wreck Me
Shakin' All Over
Free Fallin'
Mary Jane's Last Dance
Louie Louie
Gloria
Alright For Now
Goodnight (spoken interlude)