 News
Toyah / Sheep Farming In Barnet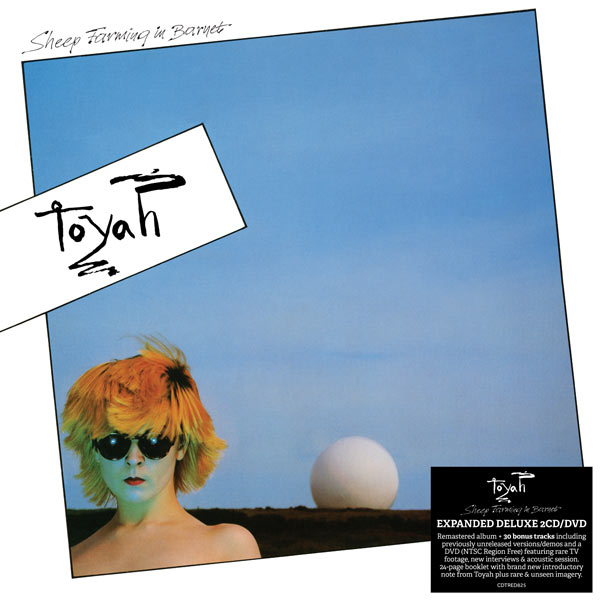 1980 debut reissued as 2CD+DVD set and coloured vinyl
Toyah's debut album Sheep Farming In Barnet has been remastered and expanded and will be reissued in December.

Cherry Red bought the Safari Records catalogue earlier this year and Sheep Farming In Barnet represents the start of a planned reissue programme of Toyah's entire output on that label, including 1981's hit-packed Anthem.
Originally a six-track EP issued in August 1979, Sheep Farming In Barnet was expanded to full album status the following year with the addition of five further tracks, including both sides 'Victims Of The Riddle', Toyah's first single (released in 1979).

Sheep Farming In Barnet white vinyl LP (click image to enlarge)
The reissue is fairly straightforward, with two formats on offer: 2CD+DVD and an LP pressed on white vinyl. The former offers the newly remastered album, plus 30 bonus tracks made up of non-album singles, rarities and demos (20 previously unreleased).
The DVD (which is NTSC, region-free) not only includes rare archive TV footage (such as Old Grey Whistle Test) but also has new filmed features with Toyah including her talking through the album track-by-track and performing an exclusive acoustic three-song session of songs from the era (shot in August 2020).
The 24-page booklet that accompanies this package offers a brand new introductory note from Toyah and sleeve notes by Toyah's archivist Craig Astley, which chronicles the creation of the album, musician line-ups and reveals the recording origins of the album and bonus material for the first time.
The limited white vinyl edition features the remastered 11-track album with lyrics included in this package for the first time.
Sheep Farming in Barnet will be reissued on 11 December 2020 (was 4 December).
Compare prices and pre-order
Toyah
Sheep farming in barnet - 2CD+DVD
Compare prices and pre-order
Toyah
sheep farming in barnet - coloured vinyl LP
Sheep Farming In Barnet 2CD+DVD deluxe edition
CD 1
1. NEON WOMB
2. INDECISION
3. WAITING
4. COMPUTER
5. VICTIMS OF THE RIDDLE
6. ELUSIVE STRANGER
7. OUR MOVIE
8. DANCED
9. LAST GOODBYE
10. VICTIMS OF THE RIDDLE (VIVISECTION)
11. RACE THROUGH SPACE
BONUS TRACKS
12. GAOLER
13. BIRD IN FLIGHT
14. TRIBAL LOOK
15. LOVE ME (DANGERFIELD SESSION)*
16. TRIBAL LOOK (ALTERNATE MIX)*
17. OUR MOVIE (SHOESTRING VERSION)*
18. WAITING (SHOESTRING VERSION)*
19. NEON WOMB (SHOESTRING VERSION)*
20. DANCED (SHOESTRING VERSION)*
* Previously unreleased
CD 2
1. COMPUTERS (DEMO)*
2. LITTLE BOY (DEMO)*
3. CLOSE ENCOUNTERS (DEMO)*
4. WATCH ME SANE (DEMO)*
5. JAILER (DEMO)*
6. RACE THROUGH SPACE (DEMO) *
7. ELUSIVE STRANGER (DEMO)*
8. PROBLEM CHILD (DEMO)
9. ISRAEL (DEMO)
10. CHRISTMAS CAROL (DEMO)
11. RACE THROUGH SPACE (ALTERNATE MIX)*
12. NEON WOMB (NO SAXOPHONE)*
13. OUR MOVIE (ALTERNATE MIX)*
14. WAITING (ALTERNATE VOCAL MIX)*
15. INDECISION (ALTERNATE VOCAL MIX)*
16. COMPUTER (ALTERNATE VOCAL MIX)*
17. VIVISECTION (IMPROVISATION)*
18. LOVE ME (DEMO)
19. TRIBAL LOOK (DEMO)
20. GUILTY (DEMO)
21. THREE-SIDED FACE (DEMO)
* Previously unreleased
DVD (NTSC, Region-free)
1. THE STORY BEHIND THE ALBUM : 2020 INTERVIEW
2. TRACK-BY-TRACK ALBUM COMMENTARY:
2020 INTERVIEW
3. COMPUTER: ACOUSTIC SESSION 2020
4. NEON WOMB: ACOUSTIC SESSION 2020
5. BIRD IN FLIGHT: ACOUSTIC SESSION 2020
6. RACE THROUGH SPACE: WHAT'S ON 12/04/1979
7. TOYAH INTERVIEW: WHAT'S ON 19/04/1979
8. DANCED: THE OLD GREY WHISTLE TEST 04/03/1980
9. INDECISION: THE OLD GREY WHISTLE TEST 04/03/1980
Sheep Farming In Barnet limited edition white vinyl
Side One
1. NEON WOMB
2. INDECISION
3. WAITING
4. COMPUTER
5. VICTIMS OF THE RIDDLE
6. ELUSIVE STRANGER
Side Two
1. OUR MOVIE
2. DANCED
3. LAST GOODBYE
4. VICTIMS OF THE RIDDLE (VIVISECTION)
5. RACE THROUGH SPACE