 News
Toyah & The Humans / Noise in Your Head / five-disc box set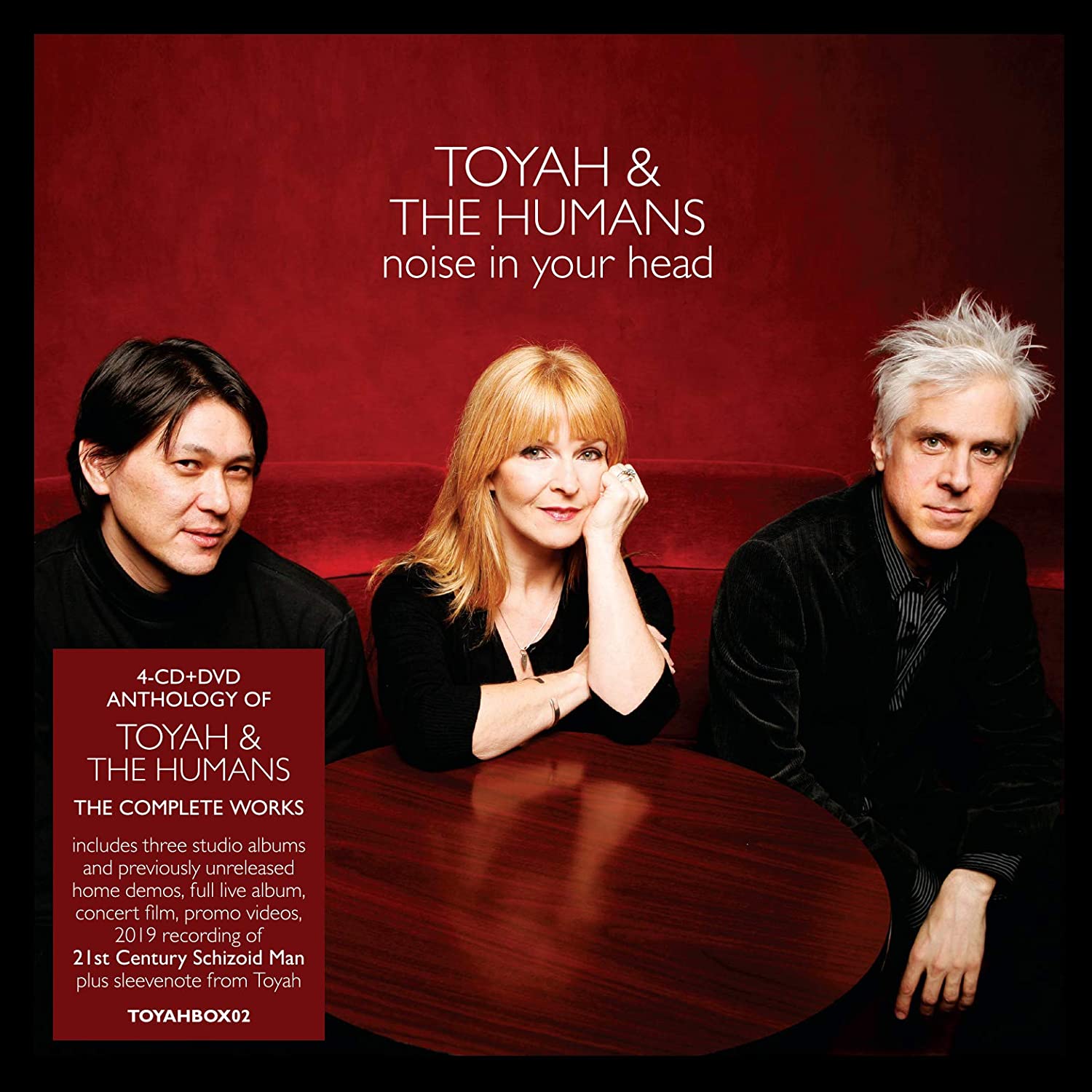 4CD+DVD anthology features studio albums & bonus material
Noise in Your Head is a new five-disc box set that brings together Toyah Willcox's three albums as 'The Humans' and presents them to a wider audience with a raft of bonus material.

Formed in 2007, The Humans were were Toyah, her musical director Chris Wong and multi-instrumentalist, the late Bill Rieflin (drummer for King Crimson and latter-day REM and many others). After a live performance in Estonia in 2007 (for the birthday celebrations of Toomas Hendrik Ilves, president of Estonia), the debut album, We Are The Humans, was recorded in Seattle in 2008 and released the following year. The CD version of this album in the box set now includes four bonus tracks: a cover of 'These Boots Are Made For Walkin'' featuring Robert Fripp, and three of Toyah's original home demos, demonstrating her original concept for the ensemble.
Toyah explains her thinking behind the band: "I was very keen to work on an idea where mid-range frequencies didn't cancel out the natural space of the voice. Always having been in love with the bass I wanted to create a trio of just my voice and two basses, allowing power, prose and top line melody to dominate the audio spectrum. The Humans were to be music stripped bare."
A second album Sugar Rush followed in 2011, and the sound was expanded slightly thanks to 'guest Human' Robert Fripp, who performs on every track. A different version of 'Small Town Psychopath' is appended to the CD version in Noise in Your Head.
2014's Strange Tales completes the trio of albums and now features a previously unreleased seven-minute version of the King Crimson classic '21st Century Schzoid Man'.
As well as those three albums the bonus material included in Noise in Your Head includes Live at Scala London 2010, the first full release of the entire concert (16 tracks) which features Robert Fripp throughout and memorably concludes with an encore of 'These Boots Are Made For Walkin" and 'Purple Haze'.
Finally, a DVD Live at Trading Boundaries featuring a previously unreleased 90 minute concert, and four promo videos.
All the discs in this set come in facsimile wallets and this comes with a 40-page booklet with some notes by Toyah and an essay on the period covered by Craig Astley (Toyah's official archivist and compiler of this box).
Toyah dedicates this set to Bill Rieflin, who died only last month. Strange Tales bonus track '21st Century Schizoid Man' is one of his last completed recordings and was recently mixed for inclusion in Noise in Your Head.
 In addition to the CD box, coloured vinyl editions of each studio album will also be available. Noise in Your Head is released on 3 July 2020.
DISC 1 (CD)
WE ARE THE HUMANS
We Are The Humans
Is It Wrong
Twisted Soul
Telekinesis
Quicksilver
Labyrinth
Icarus
Noise In Your Head
This Belongs To You
Demigod
Bonus tracks:
These Boots Are Made For Walkin' [feat. Robert Fripp]
We Are The Humans [Toyah's Home Demo]
Twisted Soul [Toyah's Home Demo]
Icarus [Toyah's Home Demo]
DISC 2 (CD)
SUGAR RUSH
Titanium Girl
Love In A Different Way
Sea Of Size
Pebble
Small Town Psychopath
Sweet Agitation
Playing In the Dark
Snow at 10:23
Sugar Rush
This Reasoning
Fragment Pool
Put A Woman On The Moon
Bonus track:
Small Town Psychopath [version] 
DISC 3 (CD)
STRANGE TALES
Slow Descent
She's Fast
Get In Your Car
Amnesia
Bedhead
Improbable Thing
Sleep Tight
Bonus track:
21st Century Schizoid Man 
DISC 4 (CD)
LIVE AT SCALA LONDON
Demigod
Is It Wrong
Twisted Soul
Fragment Pool
Sugar Rush
Quicksilver
Labyrinth
Icarus
Noise In Your Head
Telekinesis
Sweet Agitation
Put A Woman On The Moon
We Are The Humans
This Belongs To You
These Boots Are Made For Walking
Purple Haze
Disc 5 (DVD)
LIVE AT TRADING BOUNDARIES
Filmed live at Trading Boundaries, near Fletching, East Sussex, 11.04.2015 
Sugar Rush
Titanium Girl
Get In Your Car
Labyrinth
Amnesia
Small Town Psychopath
Telekinesis
Fragment Pool
Sea Of Size
These Boots Are Made For Walkin'
Bedhead
Is It Wrong
Quicksilver
Sleep Tight
She's Fast
Pebble
Slow Descent
Improbable Thing
Twisted Soul
Put A Woman On The Moon
Demigod
BONUS FEATURE:
PROMO VIDEOS
We Are The Humans
Quicksilver
These Boots Are Made For Walkin'
Sea Of Size