 News
Travis' The Man Who box set returns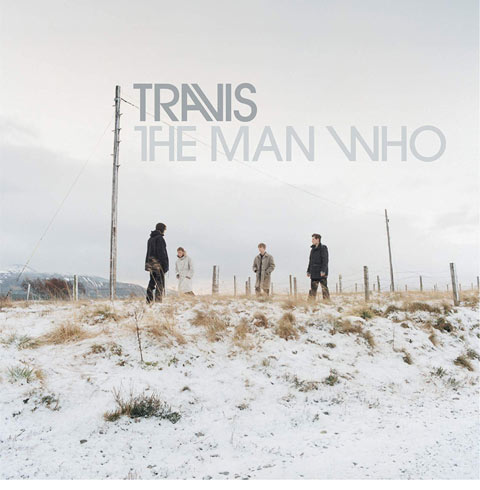 Four-disc box set available again • New 'Live at Glastonbury 99' release
Travis' box set of their 1999 album The Man Who came and went quickly back in 2017, with quite a limited production (thought to be no more than 1500 in two small runs). That scarcity has driven prices sky-high, so fans who missed the boat will be pleased to hear that the same 2LP+2CD super deluxe box is being made available again, for the album's 20th anniversary, thanks to a deal with Concord Music in the US.

It will be available in June on the Craft Recordings imprint and as a reminder, the large format lift-off lid box contains The Man Who album on vinyl and CD along with a B-sides album also on vinyl and CD. There are 19 B-sides on the CD but a small selection of 10 'favourites' on the vinyl LP. It also comes with a glossy 48 page photo book 'The Man Who Photo Album'.



The 20th anniversary box set of 'The Man Who'
One major difference is that the 20th anniversary box will not include the signed print/art card that was included in the 2017 set. There is now also a standalone two-CD deluxe with the B-sides on the second CD and a 20th anniversary vinyl (no bonus tracks).
These 20th anniversary editions of The Man Who will be released on 21 June 2019. Craft Recordings are also issuing a brand new release, Travis Live at Glastonbury '99 on the same date.
The Man Who box set
The Man Who vinyl LP
Side A
Writing To Reach You
The Fear
As You Are
Driftwood
The Last Laugh Of The Laughter
Side B
Turn
Why Does It Always Rain On Me?
Luv
She's So Strange
Slide Show
Blue Flashing Light
The Man Who B Sides (as selected by the band) vinyl LP
Side A
Village Man
Only Molly Knows
Rock 'N' (Salad) Roll
The Connection
We Are Monkeys
Side B
The Weight
Baby One More Time (In Session)
Be My Baby
River
The Man Who CD
Writing To Reach You
The Fear
As You Are
Driftwood
The Last Laugh Of The Laughter
Turn
Why Does It Always Rain On Me?
Luv
She's So Strange
Slide Show
Blue Flashing Light
The Man Who B-Sides (as selected by the band CD)
Green Behind The Ears
Only Molly Knows
Yeah Yeah Yeah Yeah
High As A Kite
Be My Baby
Where Is The Love
Village Man
Driftwood (Live)
The Urge For Going
Slide Show (Live)
River
Days Of Our Lives
We Are Monkeys
Baby One More Time (In Session)
Coming Around
Just The Faces Change
The Connection
Rock 'n' (Salad) Roll
The Weight
Travis Live at Glastonbury '99
2LP vinyl
A1. Blue Flashing Light
A2. The Fear
A3. Writing To Reach You
A4. Good Feeling
B1. U16 Girls
B2. As You Are
B3. Why Does It Always Rain On Me?
B4. Coming Around
C1. All I Want To Do Is Rock
C2. Yeah Yeah Yeah Yeah
C3. Good Day To Die
C4. More Than Us
D1. Driftwood
D2. Slide Show
D3. Turn
D4. Happy