 News
Various Artists / Box of Sin
Gay nightlife and electronic music come together for this 5CD or 4LP collection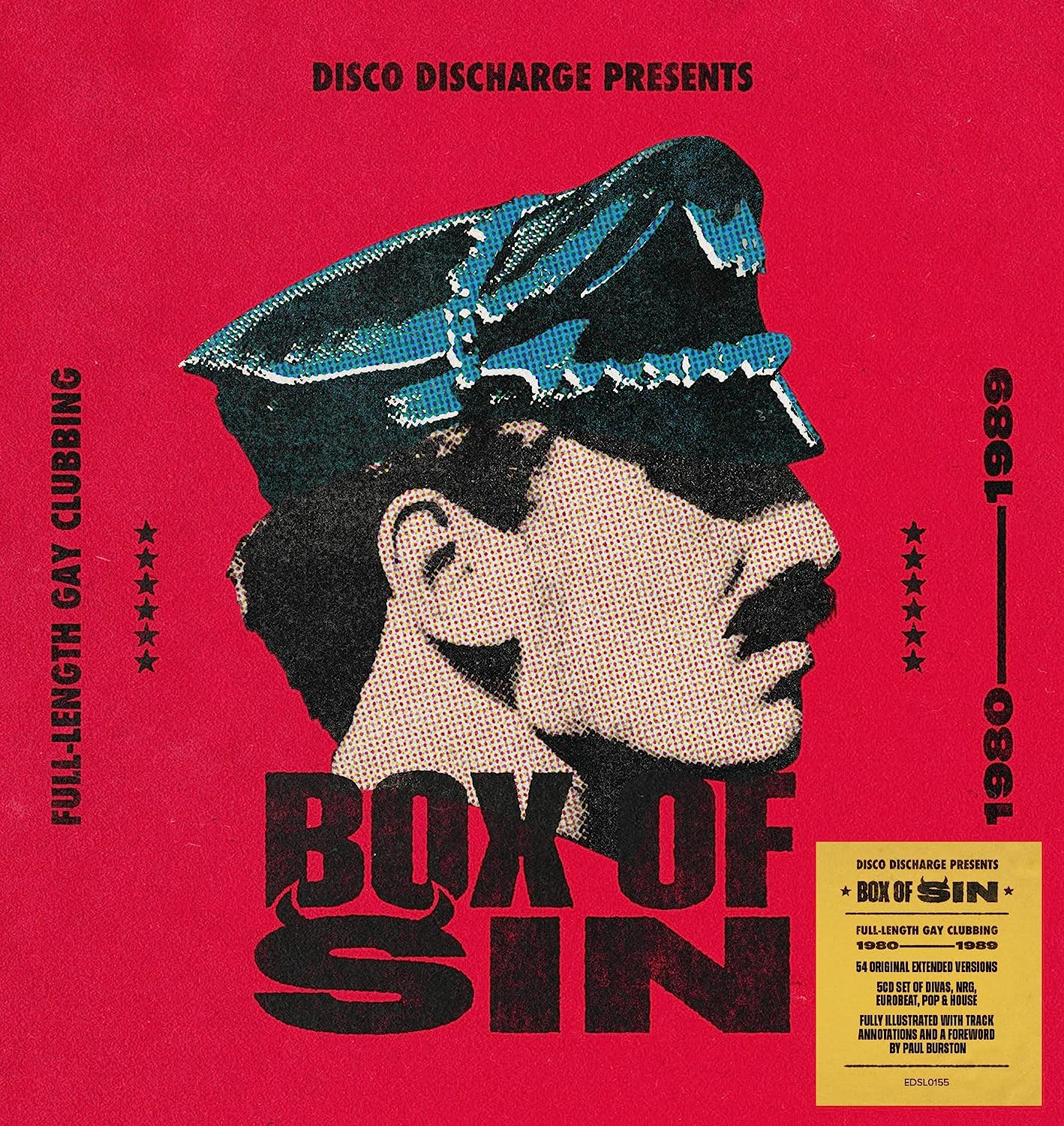 The influence that gay nightlife had on electronic music and pop music in the 1980s general is explored in a new various artists collection called Box of Sin.
The period from 1980 to 1990 saw an explosion of dance music that drew a line from the peak of late-70s disco to the emergence of house in the early '90s.
Box Of Sin strives to tell the story of that decade across 5CDs or 4LPs with a collection of original 12-inch mixes that takes in high energy, deep house, eurobeat, synth-pop, acid house and more. Artists including Hazell Dean, Taylor Dean, Whitney Houston, Dead Or Alive, Bronski Beat, Bananarama, Boy George, Big Fun, Aretha Franklin, Inner City and more.
The 5CD edition offers 54 tracks in total, although the 4LP variant delivers just 24, mainly because these are largely long extended mixes! Full tracklistings for both editions can be found below.
Box of Sin will be released on 29 September 2023 via Demon Music.
Compare prices and pre-order
Various Artists
Box of Sin - 5CD box set
Compare prices and pre-order
Various Artists
Box of Sin - 4LP vinyl
Tracklisting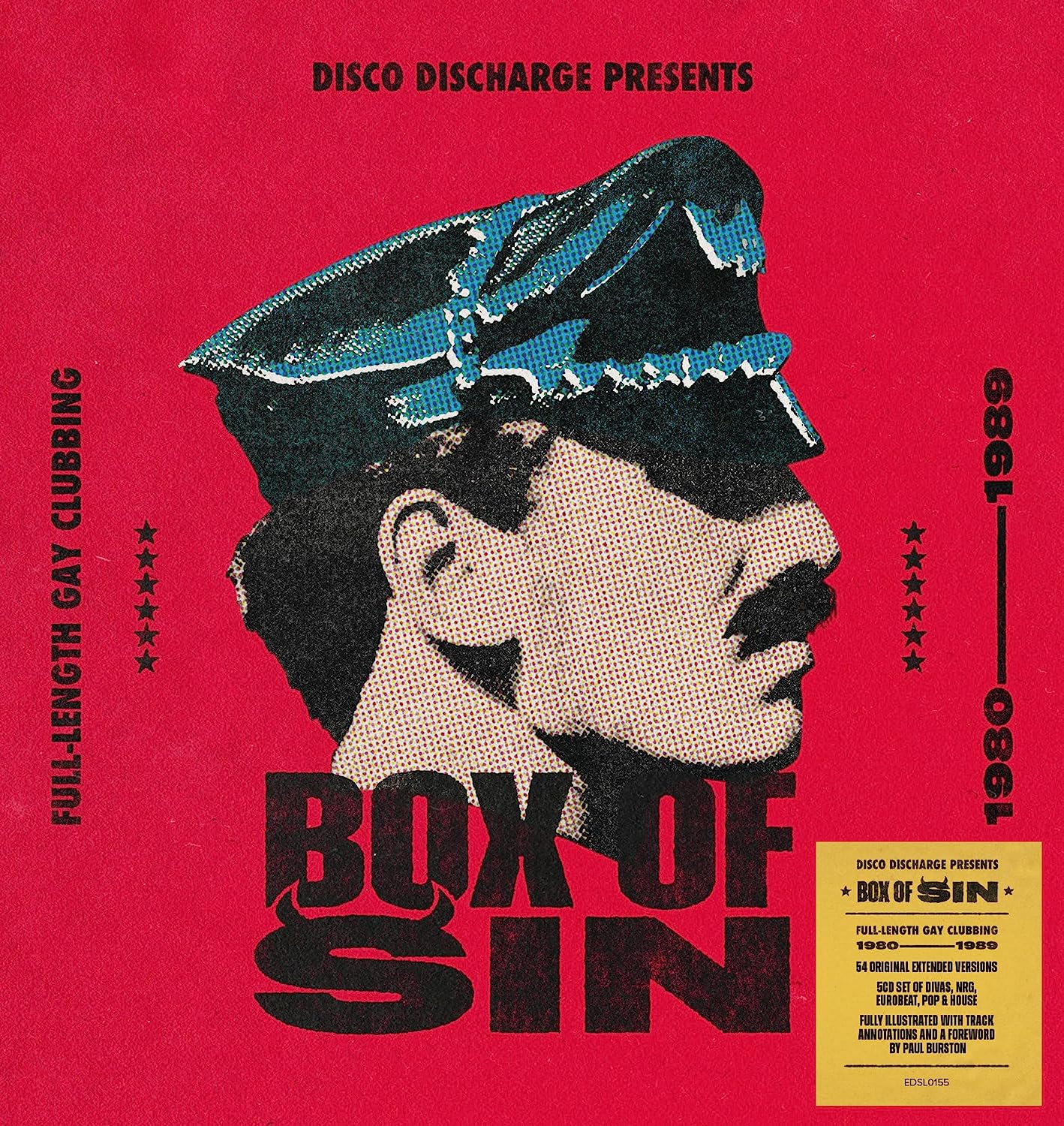 Box of Sin Various Artists
/
CD 1: HIGH ENERGY – Deluxe Drama From The Decade's Divas

High Energy (Extended Version)-Evelyn Thomas-1984-7.51
I Like You (Extended Version) – Phyllis Nelson-1985-7.21
The Boys Come To Town (Extended Version) – Earlene Bentley-1983-8.07
In The Evening (Original 12″ Version)-Sheryl Lee Ralph-1984-6.16
Jump (For My Love) (12" Long Version) – The Pointer Sisters- 1984-6.28
Body Rock (Dance Mix)-Maria Vidal-1984-6.30
Another Night (Dance Mix)-Aretha Franklin-1985-6.40
They Say It's Gonna Rain (The Zulu Mix) – Hazell Dean-1985-7.11
Tell It To My Heart (Club Mix)-Taylor Dayne-1987-6.46
Love Will Save The Day (Extended Remix)-Whitney Houston-1988-7.59
This Time I Know It's For Real (Extended Remix)-Donna Summer-1989-7.23

CD 2: PASSION – Boys Town's Bona Bonus Beats

Passion (Full Length Album Version)-The Flirts-1982-5.04
The Male Stripper (Original Extended U.S. Remix)-Man 2 Man Meet Man Parrish-1987-7.51
Love Reaction (12″ Version)-Divine-1983-5.34
So Many Men So Little Time (Extended Version)-Miquel Brown-1983-8.14
Give Me Your Love (Ultimix) – Sisley Ferré-1987-7.14
Midnight Lover (12″ Version)- People Like Us-1985-7.34
Rocket To Your Heart (Remix)-Lisa-1983-9.35
Heartbeat (One Two Three Mix) – Vivien Vee- 1987-6.56
Tonight (Italo Remix) – Ken Laszlo-1987-6.53
Can't Take My Eyes Off You (12" Version)-Boys Town Gang-1981-9.31

CD 3: RELAX – Alternative Joys & Boys With Toys

No G.D.M. (Dedicated To Quentin Crisp) (12″ Version)-Gina X Performance-1981-5.55
Memorabilia (Non Stop Ecstatic Dancing Version)- Soft Cell-1982-5.27
Why? (12" Version)-Bronski Beat-1984-7.48
Relax (New York Mix)-Frankie Goes To Hollywood-1983-7.26
You Spin Me Round (Like A Record) (Murder Mix)-Dead Or Alive-1984-8.01
Endless Road (High Energy Dance Mix)- Time Bandits-1985-7.33
Obsession (12″ Dance Mix)- Animotion-1985-6.07
No Memory (Extra Sensory Mix)- Scarlet Fantastic-1987-8.16
Don't Drop Bombs (Extended Remix)- Liza Minnelli-1989-5.57
Don't Leave Me This Way / Sanctify (Gotham City Mix 2) – The Communards with Sarah Jane Morris-
1986-11.08

CD 4: YOU CAME – Bouncing Bops At Poppers O' Clock

New Beginning (Mamba Seyra) (Ian Levine Remix)- Bucks Fizz-1986-9.28
Love In The First Degree (Jailers Mix)-Bananarama-1987-6.02
Fascinated (Club Mix)-Company B-1986-7.33
Oh L'Amour (The Extra Beat Boys 12" Mix) -Dollar-1987-6.53
Nothing's Gonna Stop Me Now (Club Mix)- Samantha Fox- 1987-7.00
You Came (The Shep Pettibone Mix)-Kim Wilde-1988-7.36
Shattered Glass (Extended Version)- Laura Branigan-1987-7.14
Call Me (Viva Mix)- Spagna-1987-5.40
I'm Your Man (Club Mix)- Barry Manilow-1985-6.11
In Private (12" Version)-Dusty Springfield-1989-7.16
Hit That Perfect Beat (Instant Mix)- Bronski Beat- 1985-8.28

CD 5: TOUCH ME – Future Shock From The New Kids On The Block

Break 4 Love (Drop The Panties)- Raze – 1988-5.25
Someday (Club Mix)- CeCe Rogers-1987-7.17
Promised Land (Club Mix)- Joe Smooth- 1988-5.09
It's Over Now (Basement Boys Mix)- Ultra Naté- 1989- 7.48
Wait (Long)- Robert Howard & Kym Mazelle- 1989-6.45
No Clause 28 (Emilio Pasquez Space Face Full Re-Mix)- Boy George-1988-6.21
Burn It Up (12″ Version)- Beatmasters with P.P. Arnold-1989-6.19
Big Fun (Original 12' Mix)- Inner City-1988-7.41
Theme From S 'Express (12″ Version)-S 'Express-1988-5.58
Helyom Halib (Part One)- Cappella-1989-6.32
Touch Me (Sexual Version)- The 49-ers- 1989-5.54
And I'm Telling You I'm Not Going- Jennifer Holliday-1982-4.06

LP 1: HIGH ENERGY – Deluxe Drama From The Decade's Divas

Side A

High Energy (Extended Version)-Evelyn Thomas-1984-7.51
In The Evening (Original 12″ Version)-Sheryl Lee Ralph-1984-6.16
Another Night (Dance Mix)-Aretha Franklin-1985-6.40

Side B

Body Rock (Dance Mix)-Maria Vidal-1984-6.30
Tell It To My Heart (Club Mix)-Taylor Dayne-1987-6.46
Love Will Save The Day (Extended Remix)-Whitney Houston-1988-7.59

LP 2: PASSION – Boys Town's Bona Bonus Beats

Side A

Passion (Full Length Album Version)-The Flirts-1982-5.04
So Many Men So Little Time (Extended Version)-Miquel Brown-1983-8.14
Can't Take My Eyes Off You (12" Version)-Boys Town Gang-1981-9.31

Side B

The Male Stripper (Original Extended U.S. Remix)-Man 2 Man Meet Man Parrish-1987-7.51
Love Reaction (12″ Version)-Divine-1983-5.34
Rocket To Your Heart (Remix)-Lisa-1983-9.35

LP 3: RELAX – Alternative Joys & Boys With Toys

Side A

Why? (12" Version)-Bronski Beat-1984-7.48
You Spin Me Round (Like A Record) (Murder Mix)-Dead Or Alive-1984-8.01
Theme From S 'Express (12″ Version)-S 'Express-1988-5.58

Side B

No G.D.M. (Dedicated To Quentin Crisp) (12″ Version)-Gina X Performance-1981-5.55
Relax (New York Mix)-Frankie Goes To Hollywood-1983-7.26
Don't Drop Bombs (Extended Remix)- Liza Minnelli-1989-5.57

LP 4: YOU CAME – Bouncing Bops At Poppers O' Clock

Side A

Oh L'Amour (The Extra Beat Boys 12" Mix) -Dollar-1987-6.53
Fascinated (Club Mix)-Company B-1986-7.33
Love In The First Degree (Jailers Mix)-Bananarama-1987-6.02

Side B

You Came (The Shep Pettibone Mix)-Kim Wilde-1988-7.36
Call Me (Viva Mix)- Spagna-1987-5.40
In Private (12" Version)-Dusty Springfield-1989-7.16