 News
Wham! Japanese Singles Collection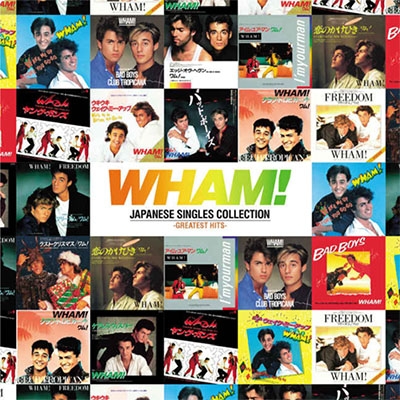 Forthcoming CD+DVD set features exclusive audio & video
Sony Music Japan will release a Wham! Japanese Singles Collection: Greatest Hits CD+DVD set next month that offers some interesting and exclusive content for the rarities-starved George Michael/Wham! fan.

This 'Japan Singles Collection' is a continuation of a series has also seen releases for artists such as Paul Young and Cyndi Lauper and the Wham! one looks to be well worth picking up.
It features all the singles issued by the band in Japan, in order, including 'Where Did Your Heart Go?' (which was a standalone single in some territories). At the end of the CD are some rarities including 'Blue (Armed with Love)' which has never been issued on a Wham! CD album or compilation (it was previously available on the Japanese CD single of 'Club Tropicana' and then more recently on Blank & Jones' So80s 12). This disc ends with a instrumental of 'Last Christmas' which has never been released on CD and in fact only exists anywhere, physically, on the 2014 RSD coloured vinyl edition of 'Last Christmas'.
The DVD provides all the videos for the singles and also offers some great nuggets, such as an 'HD Remaster' of the 'Wake Me Up Before You Go Go' video, and, even better, the 4K restoration of 'Last Christmas'. Bear in mind the latter isn't actually true 4K (because you need an HD blu-ray for that) but it should still look really good on DVD.
The DVD also offers a video for the 'Extended Stimulation' version of 'I'm Your Man', 'A Ray of Sunshine' from UK TV's The Tube (very rare to get stuff from The Tube because the licensing is ridiculously expensive) and 'Freedom' from UK TV's Wogan chat show.
Hilariously, they've somehow acquired the rights to include Wham!'s three Japanese TV commercials, for Maxell Cassette Tapes, which see George and Andrew shamelessly adapt the lyrics to their songs for the Japanese corporation. See one of those above!
Japanese Singles Collection has been "digitally remastered in 2020" and comes with a booklet which features all the single cover art. The DVD should follow similar releases and be an NTSC all-region affair [update: This has actually been confirmed as Region 2]. The CD is actually a Japanese 'blu-spec CD2' but this format is compatible with all CD players.
Hats off to Sony Music Japan. Yes, this is ultimately just a greatest hits, but having all the singles and videos together is excellent, there are no omissions, and it's obvious that whoever has put this together has tried to make it interesting for collectors. If only the UK arm of the label could echo this approach. The rather dull white vinyl seven-inch of 'Last Christmas' from 2019, for the 35th anniversary – with no previously unreleased content –  suggests that trying to get interesting audio into the hands of fans isn't a priority. We are approaching four years since George's sad death and the Wham! back catalogue remains neglected.
Wham!'s Japanese Singles Collection: Greatest Hits CD+DVD set will be released on 11 November 2020.
Buying tips: As ever, you can choose to order this from the UK or go direct to Japan. Despite how it looks in the widget below, there's not much difference in price, once you've factored in shipping from the Far East and import duties, although Amazon Japan have the 'import fees deposit' which means transparent upfront charges for import, with no hidden costs, or 'surprises' when the physical item arrives in the UK (or your destination). Use Google Chrome for automatic translation of the Japanese site and you can't use your existing UK Amazon credentials. This should become available in other territories, like the USA soon.
Compare prices and pre-order
Wham
Wham! Japanese Singles Collection CD+DVD
CD
01. Wham! Rap*
02. Young Guns
03. Club Tropicana
04. Bad Boys
05. Wake Me Up Before You Go Go
06. Careless Whisper
07. Freedom
08. Last Christmas
09. Everything She Wants
10. I'm Your Man
11. Edge of Heaven
12. Where Did Your Heart Go
13. Blue
14. Bad Boys (Extended Club Mix)
15. I'm Your Man (Extended Stimulation Mix)*
16. A Ray Of Sunshine*
17. Last Christmas (Instrumental)**
*Previously unreleased on CD in Japan
**Previously unreleased on CD
DVD
01. Wham! Rap
02. Young Guns*
03. Club Tropicana
04. Bad Boys*
05. Wake Me Up (HD Remaster Version)**
06. Careless Whisper
07. Freedom
08. Last Christmas (4K remastered version)**
09. Everything She Wants
10. I'm Your Man
11. Edge of Heaven
12. Where Did Your Heart Go?
13. I'm Your Man (Extended Stimulation Mix)**
14. A Ray Of Sunshine (Live From "The Tube" 1983)**
15. Freedom (Live on "Wogan" 1984)**
Bonus video
16. Maxell Cassette Tape "UD II" Introducing High Beam Sound 30 Seconds TV-CM (1984)**
17. Maxell cassette tape "UD II" dancing "Ehen, high position" 30 seconds TV-CM (1984)**
18. Maxell cassette tape "UD I / UD II" illustration "Ears are thank you!" 30 seconds TV-CM (1985)**
*Previously unreleased on DVD in Japan
**Previously unreleased on DVD