 News
Whitesnake / Unzipped: new 'unplugged' & acoustic six-disc box set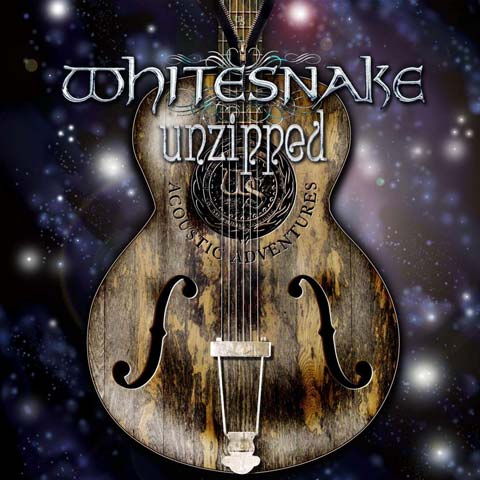 Rhino will issue Unzipped, a new Whitesnake super deluxe edition box set, later this year, that focuses on 'unplugged' and acoustic-based performances recorded over the last 20 years or so. This 5CD+DVD package includes rare and unreleased studio and live recordings, acoustic demos, concert videos, interviews and more.

The first CD in the set is called Unzipped… In The Studio: The Love Songs and features six previously unreleased tracks, while disc two, Starkers in Tokyo is a 1997 unplugged concert recorded in Tokyo. This has never been officially issued in the States and has been newly remixed for this set. Two further CDs, Starkers in Europe and More Starkers continue the theme, delivering 48 more audio tracks.
The final audio disc is Up Close & Personal which contains 25 of David Coverdale's unreleased and acoustic demos.
A DVD completes the six-disc super deluxe edition with live, unplugged performances filmed around the world between 1997 and 2015, including a complete acoustic show recorded at the Cutting Room in New York in 2008.
Two-CD, 2LP (discs one and two of this set) and single CD (disc one) editions of Unzipped are also available, although the six-disc extravaganza is reasonably priced, so I suspect anyone interested will be going the whole hog!
This Whitesnake Unzipped box set will be issued on 19 October 2018
UNZIPPED: SUPER DELUXE EDITION
Track Listing:
Disc One: Unzipped… In The Studio: The Love Songs
1.    "Love Is Blind"
2.    "One of These Days" *
3.    "All The Time In The World" *
4.    "Wherever You May Go"
5.    "Easier Said than Done" *
6.    "Fare Thee Well" *
7.    "Summer Rain"
8.    "Forevermore"
9.    "'Till The End Of Time"
Bonus Tracks
10.  "Wherever You May Go" (Instrumental) Strings only *
11.  "Love Is Blind" (Instrumental) Strings only *
Disc Two: Starkers In Tokyo
1.    "Sailing Ships"
2.    "Too Many Tears"
3.    "The Deeper The Love"
4.    "Love Ain't No Stranger"
5.    "Can't Go On"
6.    "Give Me All Your Love"
7.    "Don't Fade Away"
8.    "Is This Love"
9.    "Here I Go Again"
10.  "Soldier Of Fortune"
Bonus Tracks
11.  "Only My Soul" (Acapella) *
12.  "Fool For Your Loving" (Excerpt) *
Disc Three: Snakeskin Boots: Starkers In Europe
Starkers In Warsaw (Poland, April 18, 1997)
1.    Intro
2.    "Sailing Ships"
3.    "Too Many Tears"
4.    "Here I Go Again"
Starkers In Stockholm (Sweden, December 2, 2006)
5.    Intro
6.    "Give Me All Your Love"
7.    "Ain't Gonna Cry No More"
8.    "Only My Soul" (Acapella)
9.    "All I Want Is You"
10.  "Dog"
11.  "Here I Go Again"
Starkers In Cologne (Germany, November 24, 2006)
12.  Intro
13.  "Give Me All Your Love"
14.  "Ain't Gonna Cry No More"
15.  "All I Want Is You"
16.  "Slow & Easy"
17.  "Dog"
Starkers In Paris (France, November 30, 2006)
18.  "Give Me All Your Love"
19.  "Ain't Gonna Cry No More"
20.  "Northwinds" (Acapella)
21.  "All I Want Is You"
22.  "Dog"
23.  "Blindman" (Acapella)
24.  "Here I Go Again"
Disc Four: More Starkers
Promo Tour Rehearsals (2005)
1.    "If You Want Me" *
2.    "Give Me All Your Love" *
3.    "Slow & Easy" *
4.    "All I Want Is You" *
5.    "Judgement Day" *
6.    "Ain't Gonna Cry No More" *
7.    "Dog" *
Starkers In New York (New York City, April 10, 2008)
8.    "Give Me All Of Your Love"
9.    "Can You Hear The Wind Blow"
10.  "All I Want All I Need"
11.  "Lay Down Your Love"
12.  "Fool For Your Loving"
13.  "The Deeper The Love"
14.  "Ain't No Love In The Heart Of The City"
15.  "Here I Go Again"
"WSTV Jams" Excerpts (2012)
16.  "Easier Said Than Done" (1:34)
17.  "Fare Thee Well"
18.  "Love Will Set You Free"
19.  "Mistreated"
20.  "Slide It In"
21.  "'Till the End of Time
22.  "Shake My Tree"
"Made In Japan" Soundcheck Versions (2011)
23.  "Good To Be Bad"
24.  "Tell Me How"
Disc Five: Up Close & Personal
1.    "Wherever You May Go" (Demo Version) *
2.    "Surrender" *
3.    "Ain't No Doubt About My Girl" *
4.    "Scat Man Blues" *
5.    "Love's A Crazy Game" *
6.    "I Will Love You" *
7.    "Oh Baby You're The One" *
8.    "So Long" (Acapella) *
9.    "So Long" *
10.  "It Would Be Nice" *
11.  "Slide Thingy Blues" *
12.  "Down To The River" *
13.  "Feel Your Love Grow Stronger" *
14.  "Blues Jam Riff" *
15.  "Fun Lick Blues" *
16.  "Don't Wanna Change The World" *
17.  "It's So Hard" *
18.  "River Song" (Early Version) *
19.  "Let's Have A Drink Before I Go" *
20.  "Can You Ever Forgive Me" *
21.  "So Much To Live For" *
22.  "Another Lick While The Missus Is Busy In The Kitchen" *
23.  "Just The Two Of Us (Together You And I)" *
24.  "Oh S___ Blues" (featuring Jessica) *
25.  "Seasons" *
DVD: Starkers In Tokyo (1997) 
1.    Sailing Ships
2.    Too Many Tears
3.    The Deeper The Love
4.    Can't Go On
5.    Is This Love
6.    Give Me All Your Love
7.    Here I Go Again
8.    Soldier Of Fortune
9.    Love Ain't No Stranger
10.  Don't Fade Away
11.  Only My Soul (Acapella)
12:  Fool For Your Loving (excerpt)
Starkers In New York (2008)
1.    "Give Me All Of Your Love"
2.    "Can You Hear The Wind Blow"
3.    "All I Want All I Need"
4.    "Lay Down Your Love"
5.    "Fool For Your Loving"
6.    "The Deeper The Love"
7.    "Ain't No Love In The Heart Of The City"
8.    "Here I Go Again"
Starkers In Warsaw (Poland, April 18, 1997)
9.    Intro
10.  "Sailing Ships"
11.  "Too Many Tears"
12.  "Here I Go Again"
Starkers In Stockholm (Sweden, December 2, 2006)
13.  Intro
14.  "Give Me All Your Love
15.  "Ain't Gonna Cry No More"
16.  "Only My Soul" (Acapella)
17.  "All I Want Is You"
18.  "Dog"
19.  "Here I Go Again"
Starkers In Cologne (Germany, November 24, 2006)
20.  "Give Me All Your Love"
21.  "Ain't Gonna Cry No More"
22.  "All I Want Is You"
23.  "Dog"
Starkers In Sofia (Bulgaria, November 24, 2015)
24.  "Soldier Of Fortune"
Starkers In Paris 2 (France, June 4, 2009)
25.  "Blindman"
Starkers In Wolverhampton (England, June 16, 2011)
26.  "Fare Thee Well"
Starkers In Glasgow (Scotland, June 15, 2011)*
27.  "One Of These Days"
Bonus Features
•    One-on-One with David Coverdale and Adrian Vandenberg discussing "Starkers"
•    Poor Albert's Last: Photographic Slideshow (featuring audio from "Sailing Ships")
•    Purplesnake's "Forevermore" Video
•    "Love Is Blind" Music Video
* previously unreleased