 News
YELLO / YELL40 Years retrospective
Deluxe 4CD set • 2LP vinyl • 2CD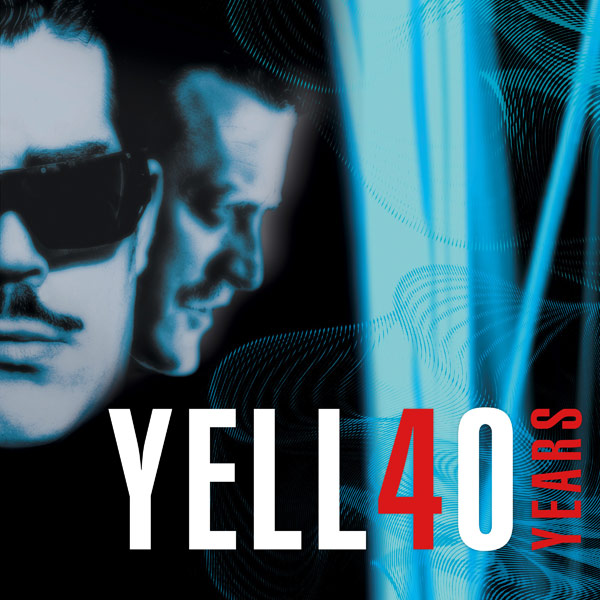 Electronic duo YELLO are celebrating their 40th anniversary with, YELL40 Years, a new retrospective issued across three physical formats.

This release will be available as a 4CD deluxe set, across two vinyl records and as a 2CD edition. The first two CDs offer a traditional 'best of' split into 'first' and 'second' 20 year periods. On the deluxe, the third disc offers 'Mellow YELLO' focusing on their more melodic, cinematic side and includes some hidden gems and collaborations like 'The Rhythm Divine (feat. Shirley Bassey)'. The fourth disc in the deluxe is some of Dieter Meier and Boris Blank's favourite YELLO remixes along with some previously unreleased re-workings such as Mark Reeder's 'Wet & Hard Mix' of 'Vicious Games'.
YELLO40 Years deluxe 4CD set in 60-page hardcover book (click image to enlarge)
Surprisingly, not only does the brilliant 13 minute version of The Race not feature anywhere in this retrospective, there is no studio version at all, just a 'live in Berlin' variant from 2016. Bizarre.
The four-CD deluxe version is a 60-page hardcover book (apparently 'strictly limited') and contains exclusive and brand-new liner notes for every YELLO album released, including rare and never-before-seen photos. The deluxe features 71 tracks, the 2CD set offers 41 tracks and the 2LP vinyl includes a reduced 21 songs.
YELLO 40 Years will be released on 30 April 2021.
Compare prices and pre-order
Yello
Yell40 years - 4CD deluxe bookset
Compare prices and pre-order
Yello
Yello40 years - 2LP vinyl
Compare prices and pre-order
Yello
Yello40 years - 2CD edition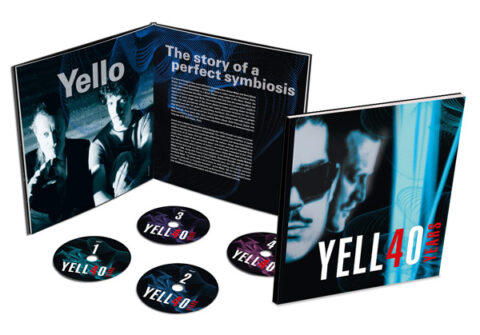 Yell40 Years 4CD book set
CD 1 THE FIRST 20 YEARS
Bimbo (Solid Pleasure)
Pinball Cha Cha (Claro Que Si)
The Evening's Young (Claro que Si)
Bananas To The Beat (Solid Pleasure)
I Love You (1980-85 The New Mix in One Go)
Lost Again (You Gotta Say Yes To Another Excess)
Bostich (N'est-ce pas?) (1980-85 The New Mix in One Go)
Daily Disco (Claro Que Si)
Vicious Games (Stella)
Oh Yeah (Stella)
Blender (Baby)
Goldrush (One Second)
Tied Up (Essential Yello)
La Habanera (One Second)
Rubberbandman (Baby)
Jungle Bill (Baby)
Night Train (Zebra)
Tremendous Pain (Zebra)
Houdini (Motion Pictures)
Base For Alec (You Gotta Say Yes To Another Excess)
Liquid Lies (Yello By Yello)
CD 2 THE SECOND 20 YEARS
Electrified II (Toy)
Soul On Ice (The Eye)
Don Turbulente (The Eye)
Planet Dada (The Eye)
30`000 Days (Toy)
Arthur Spark (Point)
07. The Vanishing of Peter Strong (Point)
Distant Solution (The Eye)
Mean Monday (YELLO book download 2011)
Cold Flame (Toy)
Dialectical Kid (Toy)
The Expert (Touch Yello)
Basic Avenue (Point)
Waba Duba (Point)
Limbo (Toy)
Spinning my Mind (Point)
Tiger Dust (The Eye)
Way Down (Point)
Hot Pan (Point)
The Race (Live in Berlin 2016)
CD 3 Mellow YELLO
Solar Driftwood (Pocket Universe)
Out Of Dawn (Touch Yello)
Stay (feat. Heidi Happy) (Touch Yello)
Drive Driven (Baby)
Time Palace (The Eye)
Tangier Blue (Touch Yello)
Friday Smile (Touch Yello)
Till Tomorrow (feat. Till Brönner) (Touch Yello)
Moon on Ice (One Second)
Kiss The Cloud (feat. Fifi Rong) (Toy)
Capri Calling (Baby)
Desire (Stella)
You Better Hide (feat. Heidi Happy) (Touch Yello)
The Rhythm Divine (feat. Shirley Bassey) (One Second)
Starlight Scene (Toy)
Otto Di Catania (Flag)
Meet My Angel (feat. Fifi Rong) (Point Bonus Track)
Pacific AM (Toy)
CD 4 REMIXES
DO IT (Marky P. & Teri B. Dub)
LIMBO (Circle Sky Mix / Martin Dubka & Richard Norris)
ELECTRIFIED (Carl Craig Mix)
HOW HOW (Fluke – Papa-Who-Ma-Mix)
BOSTICH (DJ Hell – Brighter Mix)
SQUEEZE PLEASE (Oliver Moldan – Vocal Remix)
OH YEAH (Ralph Rosario – Big Room Vocal Mix)
MORE (Rockabilly Mix – Boris Blank)
VICIOUS GAMES (Mark Reeder`s Wet & Hard Mix)
TAKLA MAKAN (Martin Roth Mix)
PLANET DADA (Northern Light Mix)
TOPAZ (Insect Mix – Boris Blank)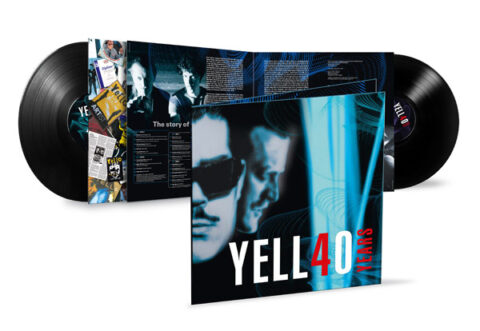 Yell40 Years 2LP vinyl
LP 1
Side A
BIMBO (Solid Pleasure)
BOSTICH (N'est-ce pas?) (1980-85 The New Mix in One Go)
VICIOUS GAMES (Stella)
OH YEAH (Stella)
JUNGLE BILL (Baby)
Side B
TREMENDOUS PAIN (Zebra)
MEAN MONDAY (YELLO book download 2011)
THE EXPERT (Touch Yello)
WABA DUBA (Point)
THE RACE (LIVE IN BERLIN 2016)
LP 2
Side A
DESIRE (Stella)
DRIVE DRIVEN (Baby)
THE RHYTHM DIVINE (feat. Shirley Bassey) (One Second)
YOU BETTER HIDE (feat. Heidi Happy) (Touch Yello)
TILL TOMORROW (feat. Till Brönner) (Touch Yello)
Side B
30'000 DAYS (Toy)
STARLIGHT SCENE (Toy)
SPINNING MY MIND (Point)
LIQUID LIES (Yello By Yello)
MEET MY ANGEL (feat. Fifi Rong) (Point Bonus Track)
WAY DOWN (Point)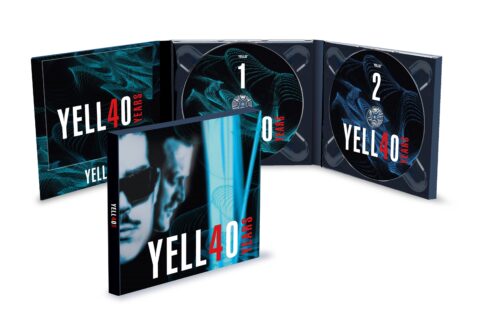 Yell40 Years 2CD edition
CD 1 THE FIRST 20 YEARS
Bimbo (Solid Pleasure)
Pinball Cha Cha (Claro Que Si)
The Evening's Young (Claro que Si)
Bananas To The Beat (Solid Pleasure)
I Love You (1980-85 The New Mix in One Go)
Lost Again (You Gotta Say Yes To Another Excess)
Bostich (N'est-ce pas?) (1980-85 The New Mix in One Go)
Daily Disco (Claro Que Si)
Vicious Games (Stella)
Oh Yeah (Stella)
Blender (Baby)
Goldrush (One Second)
Tied Up (Essential Yello)
La Habanera (One Second)
Rubberbandman (Baby)
Jungle Bill (Baby)
Night Train (Zebra)
Tremendous Pain (Zebra)
Houdini (Motion Pictures)
Base For Alec (You Gotta Say Yes To Another Excess)
Liquid Lies (Yello By Yello)
CD 2 THE SECOND 20 YEARS
Electrified II (Toy)
Soul On Ice (The Eye)
Don Turbulente (The Eye)
Planet Dada (The Eye)
30`000 Days (Toy)
Arthur Spark (Point)
The Vanishing of Peter Strong (Point)
Distant Solution (The Eye)
Mean Monday (YELLO book download 2011)
Cold Flame (Toy)
Dialectical Kid (Toy)
The Expert (Touch Yello)
Basic Avenue (Point)
Waba Duba (Point)
Limbo (Toy)
Spinning my Mind (Point)
Tiger Dust (The Eye)
Way Down (Point)
Hot Pan (Point)
The Race (Live in Berlin 2016)