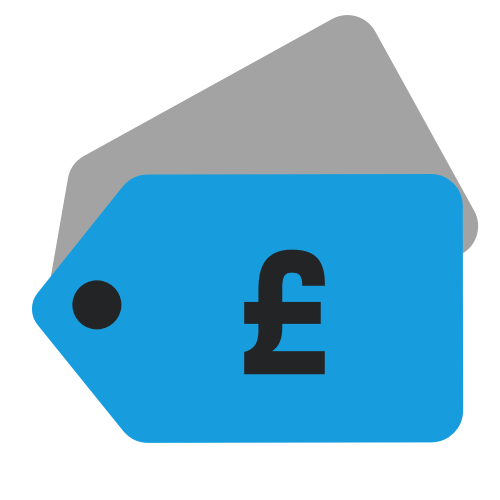 Deals
Deal alert / Guns N Roses mega-box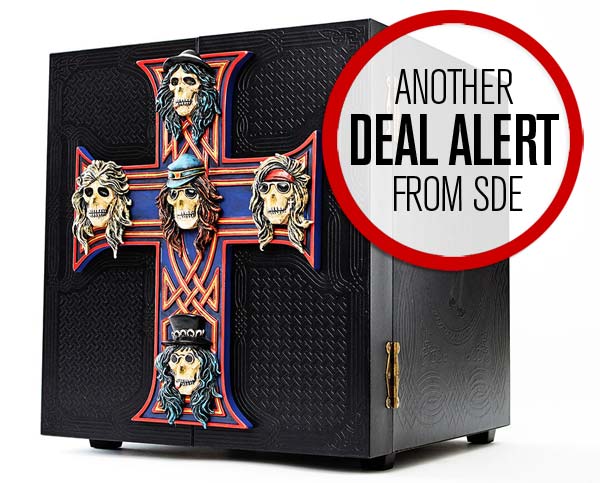 Save at least £100 on the massive Guns N' Roses 'Locked N' Loaded' Appetite For Destruction box set, with this deal via Amazon Germany.

There's no point pretending this is in any way cheap, but the €827 price tag equates to around £750 which is a good £100 to £150 lower than via the UK stores. Even US fans should get a good price, with tax deductions. So comparatively, a good deal!
Rather than describe the contents, you can view the unboxing video below, which shows off the product in lots of detail.
Compare prices and pre-order
Guns N Roses
Appetite For Destruction [VINYL]
Appetite For Destruction Locked N' Loaded box set
Full Contents
Embossed Faux Leather and Wood Cabinet
Handmade 3D Cross
Super deluxe edition: 96 page handbound book with unreleased photos from Axl Rose's personal archive
4 CD's in total with 73 total tracks featuring 49 unreleased tracks
1 blu ray audio disc with new 5.1 surround sound mixes
Seven 12″ 180 Gram LPS
Original Album expanded into two LPs
First ever album remaster from analogue tapes
Limited Edition foil slipcase
4th side hologroove hologram
1 LP B-Sides  N' EPs and Live Like a Suicide EP
3LP Sound City Session and 25 unreleased songs from the 1986 session
2 unreleased tracks from Mike Clink Sessions
7 7″ singles on yellow vinyl
12 New illustration lithos visualizing each song from Appetite for Destruction
Turntable Mat
6 Replica Gig Flyers
Welcome to the Jungle Video Invite Flyer
Microfiber Cleaning Cloth
6 Iron-On Stitched Logo Patches
5 Metal Guitar Picks
3 Replica Ticket Stubs
5 metal Band Skull Lapel Pins
2-Inch Collectable Coin
5 buttons
7″ adapter
5 Metal Band Skull Rings
USB Stick
5 Never-Before Seen Band Member Photo Lithos
6 Temporary Band Member Tattoos
Robert Williams Painting Litho
Two Wall Posters
Custom bandana With Silver Metallica Ink
Replica 85'/86′ Concert Banner Featuring Numbered Certificate of Authenticity
4 CDs

73 Total Tracks – 49 Tracks Previously Unreleased
First Ever Album Remaster from Original Analog Tapes
12 Tracks from B-sides N' EPs Newly Remastered from Original Analog Tapes
25 Unreleased Recordings from 1986 Sound City Session
2 Unreleased Recordings from Mike Clink Sessions:

"Shadow Of Your Love" – from December 1986 Mike Clink tryout session
"Move To The City (1988 Acoustic Version)" – from GN'R LIES sessions

1 Blu-ray Audio Disc

New 96kHz 24-bit 5.1 Surround Sound Mixes from Original Analog Multi-tracks
Original Album Mixed by Elliot Scheiner
5 Bonus Tracks Mixed by Elliot Scheiner & Frank Filipetti
All songs feature brand new animations
4 Original Music Videos in 5.1
Unreleased 1989 "It's So Easy" Video in 5.1

Seven 180-gram Audiophile 12-inch LPs

All Vinyl Cut from 192kHz 24-bit Remastered High-Resolution Audio
Original Album Expanded to 2-LPs for Maximum Audiophile Playback

Limited Edition Foil Art Slipcase
Side 4 Extra Bonus: Hologroove Hologram of GN'R Logo

LIVE LIKE A SUICIDE EP (1-LP) with Extra Track "Shadow Of Your Love"
B-SIDES N' EPS (1-LP)
1986 SOUND CITY SESSION N' MORE (3-LPs)

6 Replica 7-inch Singles + New 7-inch for "Shadow Of Your Love" on Yellow Vinyl

"It's So Easy" b/w "Mr. Brownstone"
"Welcome To The Jungle" b/w "Whole Lotta Rosie (Live)"
"Sweet Child O' Mine" b/w "Out Ta Get Me"
"Paradise City" b/w "Used To Love Her"
"Patience" b/w "Rocket Queen"
"Nightrain" b/w "Reckless Life"
"Shadow Of Your Love" b/w "Move To The City (1988 Acoustic Version)"

32GB Metal Cross USB Stick with High-Resolution Audio Formats from All 4 CDs

192kHz 24-bit AIFF Files
96kHz 24-bit AIFF Files
44.1kHz 16-bit AIFF Files