Saturday Deluxe / 15 December 2018
Fans disappointed by lack of availability of Wings box
The super deluxe editions of Paul McCartney's news Wings reissues (Wild Life and Red Rose Speedway) are/were available in a mega-box called Wings 1971-1973. This includes an extra book (Wings Over Europe) and a bonus 78 minute CD of previously unreleased live performances from this tour. This set was only available 'D2C' (direct to consumer) via McCartney's label partners (Universal's uDiscoverMusic store, for example) and not from major online outlets like Amazon, or HMV.

Many fans have been caught out by the lack of availability (perhaps taking the 'limited edition' tag with a pinch of salt, and/or hesitating over the hefty £300+ price-tag) because as it has turned out, this did indeed appear to be genuinely limited (I'm guesstimating around 3000 copies) and is now unavailable anywhere, officially.
This has created a crazy situation where these sets are now selling for absurd amounts via online platforms like eBay. Check out this copy which isn't even sealed, the owner has used the downloads (!), has a day to go and is up to £1480!!
My advice would be for people to calm down a little bit and hope that a second run will be produced. The fact that on Universal's UK site the 'sold out' message now reads 'First edition – sold out' does rather suggest a 'second edition' will be forthcoming. What's disappointing is that no one from McCartney's camp or the record label will come out and clarify the situation, so some fans now are spending a small fortune, perhaps totally unnecessarily.
Incidentally, while this Wings tour always appeared to be something of a ramshackle jaunt, the reality is that there was enough foresight and organisation to ensure that these shows were recorded by none less than Alan Parsons in the Rolling Stones' mobile unit!
Read more about the Wild Life and Red Rose Speedway reissues
---
As some of you may be aware, Cherry Red's reissue of Re-Flex's The Politics of Dancing was effectively cancelled. That hasn't stopped a few copies sneaking out – I know that some of you received copies from a few places, including Amazon in Germany.
Paul Fishman (who played keyboards with the band) actually left a comment on SDE giving his explanation and thoughts on the situation. This is what he said:
"…The intended release was not taken from the master tapes. Most of it came from dodgy vinyl, which is a shame because the masters exist. Changes to the artwork and credits were neither approved. Almost a bootleg! I think people deserve better and so I requested that they start again and do it properly. Another album is being put together and will be available soon. I would suggest you wait as unlike the scrapped album it won't include tracks that were never recorded e.g. Spanish or other non existant versions. Sorry for the delay."
So it looks like the reissue will happen, it but we'll have to be patient. Here are the original details about the now cancelled release.
---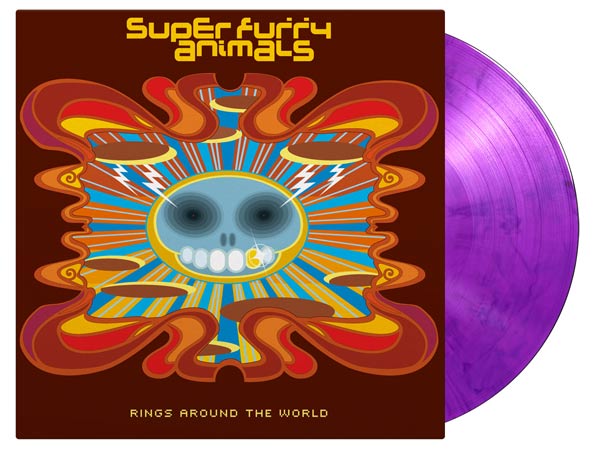 In other 'delayed' news, the Super Furry Animals coloured vinyl version of 'Rings Around The World' – which was supposed to be released yesterday – has also been delayed until early next year. We were selling this on the SDE shop (long since sold out) so I made sure everyone who had pre-ordered it was at least aware of the situation. Hopefully, this will all be resolved amicably, but it comes down to a bit of label politics and SFA being unaware of the reissue and not exactly over the moon about, although Kliph, the drummer who works on the archive projects, acknowledged that "Music On Vinyl is a legitimate label and do license things properly"