Saturday Deluxe / 16 February 2019
Journey's End: Thoughts on McCartney's Egypt Station box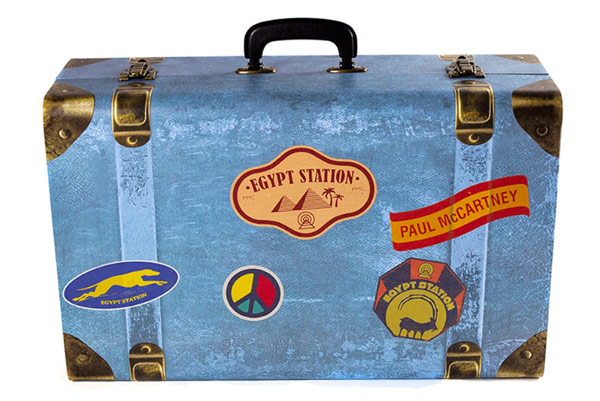 After around 18 months of faffing around, Paul McCartney had a great run at the end of 2018, with the excellent Egypt Station, the 50th anniversary reissue of 'The White Album' and then two excellent reissues of Wild Life and Red Rose Speedway, which were bundled into an expensive, but rather good, box set called Paul McCartney & Wings 1971-1973. It seemed like the missteps of the Flowers in the Dirt and the haphazard coloured vinyl marketing campaign were behind him and Paul was 'getting back' to releasing decent products again. That was until this week, when fans were informed of the 'Traveller's Edition' deluxe box set of Egypt Station.

We knew an Egypt Station box was coming, and that had created some uncertainty amongst the fanbase. Should we buy the 2LP 'concertina' coloured vinyl of the album or wait for the box, which might contain the same, or something better? Will the Target/HMV bonus tracks be part of the box set, or should we play it safe and buy them?

The coloured vinyl album definitely isn't in the box, while those two bonus tracks (along with 'Get Enough') are, although the fact that MPL haven't specified whether they are on CD or vinyl ("also included") is worrying. Let's hope they aren't download only, or cassette exclusives, or some such nonsense.

Let's talk about the actual box set. It comes in a 'suitcase'. Or rather a 'luxury vintage-style embossed Egypt Station artwork suitcase'. It looks good in the visuals, but if you are expecting a brass spring-loaded locking mechanism and leather-stitched handle, you might be disappointed. I hope it's not an painfully cheap as we know it could be. For the £315/€360 price-tag it certainly deserves to feel a cut above rigid card with printed visuals.




Obviously, I haven't seen a finished set, but on paper the main criticism would be that this is a 3LP+CD+Cassette box set that is exorbitantly priced, because once you move away from the music, the extra content looks very weak. Stickers, luggage tags, a jigsaw puzzle, playing cards etc. Yes, it's 'fun' and it takes the travel theme of Egypt Station and runs with it, but it's where it runs that is the problem… straight into a discount wholesalers that sells cheap branded goods. The type of place where you can order Parker pens with your company logo; where team shit-for-brains go on The Apprentice when they do that task that involves buying cack.

Paul McCartney is not getting any younger, and it's a little depressing to think that him and his team have rather wasted their time cobbling this thing together. There's nothing inside that offers any insight into the making of what could very well be his last studio album. No notes from the man himself, no essays commissioned, not even a glossy photo book of behind-the-scenes, no track-by-track annotations or detailed thoughts from producers Greg Kurstin and Ryan Tedder.

This box set is full of froth. As disappointing as badly made cappuccino; all foam and warm milk when what you actually want is some coffee.

And yet… I said yesterday (in the SDE comments) that I wasn't going to buy this set. I probably wouldn't do if I was just a punter, but as editor of SDE I feel duty-bound to see this thing in the flesh (hold the music in my hands). Not be one of those people who criticises a book he hasn't read. So while my first impressions based on the published specification are legitimate, once the month of May comes around, I will unbox this Traveller's Edition of Egypt Station for SDE readers and offer a more considered view.