Saturday Deluxe / 6 April 2019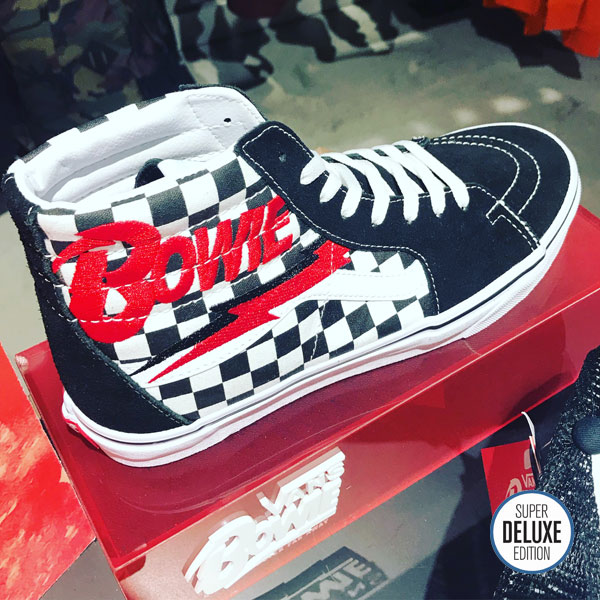 Vans launch their David Bowie collaboration
California shoe manufacturers Vans yesterday launched their new David Bowie 'Off The Wall' range in the UK with a collection of footwear that draws "inspiration from some of Bowie's most influential works".

This collaboration is officially endorsed by the Estate who have previously approved a David Bowie watch made by Raymond Weil.
Six individual shoe designs are available including the 'SK8-Hi' (pictured above) which places the 'classic' Vans checkerboard pattern and Diamond Dogs era 'Bowie' logo on a 'high top' boot; some white 'Old Skool Shoes' with Aladdin Sane detail and logo and SDE's favourite, some Blackstar plimsols, which are quite understated. There's also some modish dotty blue 'era' shoes based on the 1969 Space Oddity/David Bowie album cover design and perhaps the runt of the litter, a yellow/black Hunky Dory design which are rather slipper-like, with a furry checkerboard pattern at the front and rear.

Click image to enlarge
Whether you view this as a cheap cash-in or groovy collaboration most sizes are already sold out via the website and demand seems to be extremely high in-store.
If you're interested you can find more details on the shoes and where they are stocked over at the Vans website.
---