Special Feature / Paul McCartney: Raider of the Lost Archive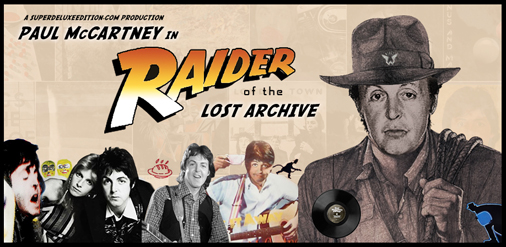 The received wisdom is that artists don't make money on record sales anymore, touring is where the money is. What often gets forgotten is that to put on a successful tour that will attract the numbers needed to earn mega-bucks, you need a decent back catalogue with which to draw in the public. Bon Jovi, AC/DC, Metallica, The Eagles, Roger Waters and Sir Paul himself, were all amongst the top ten music tour earners in 2010. All those artists have had the longevity and the success required to deliver two hours of hits and/or career highlights with which to entertain their fans. It's safe to say that only the minority would be in attendance to hear tracks off the 'new album'.
As well as touring, the other way to profit from your back catalogue is the trusty greatest hits compilation. Best Of, Number Ones, Golden Greats…these albums have been around since the late '50s when Johnny Mathis' compilation Johnny's Greatest Hits was released. Indeed, when it became apparent that, for the first time in their career, The Beatles would not have a new album ready for Christmas in 1966, EMI felt they had no choice but to quickly compile A Collection of Beatles Oldies, the only hits compilation to be released while the band were still together.
As the decades have come and gone, and with the introduction of the CD in the early '80s, record companies have found new ways to exploit the back catalogue of artists. The retrospective CD box set with rare tracks sprinkled liberally (or not) around a 4-disc selection is popular one, and more recently whole albums are reissued as 'deluxe editions', with bonus discs containing extra tracks and sometimes surround sound mixes on DVDs, which might also include rare footage.
Elton John is a great example of an artist who has not been slow to harvest his back catalogue at regular intervals.
Between 1973 and 2007 thirteen compilation albums of Elton John's studio output and one retrospective box set were released. In addition to that, in recent years many of his albums have been released in 2CD deluxe editions.
What might come as a surprise is that Paul McCartney's output over the years has contained little in the way of greatest hits compilations and backward-looking retrospectives.
Consider this: between 1970 – the start of McCartney's post-Beatles professional life – and 1987 he released fourteen albums with only one 12- track hits collection – Wings Greatest.
In 1987 another compilation All the Best! hit the shops and while it was more comprehensive than it's predecessor – covering the '70s and McCartney's very successful early '80s period – it actually ended up retreading much of the same ground (eight of the seventeen tracks from the CD are also on Wings Greatest).
It wasn't until 2001's Wingspan: Hits and History that anything approaching a balanced retrospective of McCartney's Wings/solo output was released, a full 30 years after that journey began. For the first time listeners were treated to something more than just the 'hits', with the 'history' disc being a rare treat, full of choice album cuts such as Man We Was Lonely, Tomorrow and Let Me Roll It. However, even this release – which loosely bookended the Wings period – ground to a halt around 1984, with the superb No More Lonely Nights, leaving the 17 years up to it's release in 2001, unaccounted for.
In fact since Wingspan 'ends' at 1984 and All the Best! came out in 1987 none of McCartney's post 1987 work has ever ended up on any kind of hits compilation at all. That's 24 years! Pretty remarkable for an artist of his stature. Yes, the big hits had dried up, but McCartney still had 13 top 40 singles in this period. Pretty respectable by any standard.
McCartney Deluxe Editions
If McCartney has been reluctant to issue compilations of his singles, his attitude towards his back catalogue of albums has not been much different. His studio album quotient, including side projects (The Fireman, Thrillington etc) clocks in at twenty six albums over forty one years, but only two of those albums has ever been given any kind of 'deluxe' reissue treatment.
1973's Band on the Run was released as a 2-disc 25th Anniversary Edition in 1999, with an interesting audio documentary on disc two. But outtakes and any demos that still exist (they were famously stolen in Lagos when Paul was mugged) were notable by their absence.
In late 2008 McCartney released his third album under 'The Fireman' moniker. Electric Arguments again saw him team up with producer and former Killing Joke member Youth, this time creating a more traditional song-based album rather than the ambient offerings of 1992 (Strawberries Oceans Ships Forest) and 1999 (Rushes).
This was the release where McCartney seemingly made up for lost time with a Super Deluxe Edition available exclusively through his website, which expanded the one disc release into a collector's dream package, which included:
1. Standard 13-track CD album
2. Bonus CD with 7 tracks of remixes and alternate versions
3. Hi-Res Stereo audio DVD
4. Bonus data DVD containing multi-track audio files
5. 2xLP pressed on 200 gram virgin vinyl
All this came with two art prints, a large booklet and was presented in a massive, heavy steel box which itself was housed in a bespoke string sealed brown paper sack. Phew!
In fact this package was spec'd so highly with it's metal box that it didn't arrive on doorsteps until June 2009, almost six months after the original release!
The Fireman – Electric Arguments Super Deluxe Edition Picture Gallery
[nggallery id=8]
The Paul McCartney Collection
Back in 1993 there was a concerted attempt to unify the presentation of McCartney's albums on CD, and all of them, from 1970's McCartney onwards, were remastered and repackaged under the banner 'The Paul McCartney Collection'. Most contained a few bonus tracks, normally relevant b-sides, or the odd '80s remix, but these reissues came across as a somewhat half-hearted effort, not helped by the questionable remastering decisions which left some albums sounding less dynamic than their previous issue and a slightly 'budget' presentation.
The truth is that McCartney was a busy man around this time. He was promoting Off the Ground, preparing for his New World Tour and most likely was not massively interested in any kind of full-scale (re)assessment of his solo career which was (and still is) an ongoing concern. He would save his nostalgia for the closed-chapter that was The Beatles, when the Anthology albums and TV series took up much of his time in 1994/5).
None of this has prevented Paul from teasing his fans with a few nuggets pulled from the archive every now and then.
In 1990, out of the blue, Mamma's Little Girl and Same Time Next Year appeared on the 12″ and CD single of Put It There (the fourth single from Flowers in the Dirt). Both tracks were unreleased gems from the '70s.
Similarly, the soundtrack to long-forgotten 2003 movie The In-Laws not only featured A Love for You, an unreleased session track from 1971's RAM, but also an unreleased live-in-the-studio version of Live and Let Die. The later being from the never-aired TV special called 'One Hand Clapping' (1974) where Wings were filmed rehearsing and playing live.
The Paul McCartney Archive Collection
One Hand Clapping brings us nicely back to last year because the Band on the Run tracks from this special were to form a large part of the bonus material on the all-new reissue of Band on the Run album.
It was around a year ago that a press release brought the welcome news that McCartney was finally going to extensively reissue and remaster his back catalogue of solo and Wings albums – the campaign would be called The Paul McCartney Archive Collection. These reissues would feature unreleased tracks, outtakes, live tracks, exclusive DVD video content and the first issue, at least, would be available as a Super Deluxe Edition complete with a 128 page linen-bound book. Even better, for the audiophiles out there, was the news that high resolution 24bit /96khz downloads would also be available.
It seemed too good to be true, but as promised Band on the Run materialised in November 2010 in four different configurations that would look to satisfy everyone from the casual buyer looking to check out the album for the first time, to the McCartney devotee who,with possibly deeper pockets, would accept nothing less than the 3-disc Super Deluxe Edition with the book.
Our review of this Band on the Run release can be found here, but now that we have the details of the next two Paul McCartney Archive Collection releases we can start to draw some conclusions from looking at the track listings of these three releases and try to form a clearer picture McCartney's approach when considering the bonus offerings for each album.
For example, despite the lavish packaging and heavy promotion of the 2010 Band on the Run release, in the end, it featured only six previously unreleased audio tracks, all from the One Hand Clapping TV special. Tremendous and welcome though these tracks are, some fans were left wanting more. Surely alternate versions of album tracks exist? What about Band on the Run and Jet without Toni Visconti's orchestration? Would that not have made an interesting addition to the package? Why weren't the US radio edits of Band on the Run and Jet included when the DJ edit of Waterfalls is being included in the McCartney II reissue? The former were available only in the US on commercial singles, where the later was on a UK release – is this the difference? Or maybe there are no 'rules' as such and it's just about what Paul McCartney decides he wants on each release.
Also, two live tracks from the Wings 1979 Glasgow concerts (Band on the Run and No Words) were available exclusively as bonus MP3 downloads to fans who pre-ordered Band on the Run from McCartney's website. Why choose to do this rather than add these tracks to the bonus disc, to bolster the six unreleased tracks up to eight? Particularly when tracks from the very same concert are on the bonus discs of the forthcoming McCartney and McCartney II reissues?!
Maybe the idea is to sprinkle tracks from the Live in Glasgow 1979 performance across bonus discs of all the Wings albums in the '70s, allowing the buyer to compile his own full concert at the end. This would be a plan of sorts but of course if you didn't pre-order Band on the Run from McCartney's site you will be missing two tracks!
So many questions… and from the fans perspective much uncertainty as to how future reissues will be configured. If Wings Over America does not come with a full unedited Rock Show on DVD, the cries will be heard from here to Venus and Mars.
The Future
What we can be certain of is that this will be the last outing for McCartney's back catalogue in the physical CD format.
He formed an agreement with HP last year to create a digital library of all his output. Details are sketchy but "Portions of the library will be made available to fans so they can have a personal and unparalleled glimpse into McCartney's work". Perhaps this is where Paul feels alternative takes and rough demos have their natural home, rather than CDs where being selective is more desirable to ensure they have form as well as function.
One final joker in the pack could be a retrospective multi-disc box set at the very end of this archival reissue process. Such a set could 'hoover up' any outstanding demos or rough mixes that McCartney chooses not to include with the actual reissue bonus content. In addition we could see standalone releases for previously unreleased live performances from 1972 and 1979.
With rumours of a new album due out in the autumn, and his Dylan-like never-ending tour schedule, McCartney, as hard working as ever, seems to have no intention of putting his feet up and taking it easy.
He is approaching this archive reissue process with purpose and ambition. At the current rate of delivery – three or four reissues a year – McCartney is also going to need stamina to see this one through to the end.