 News
Macca targets a UK number one with a slew of new 'McCartney III' CDs
Four new CDs available, each with exclusive bonus audio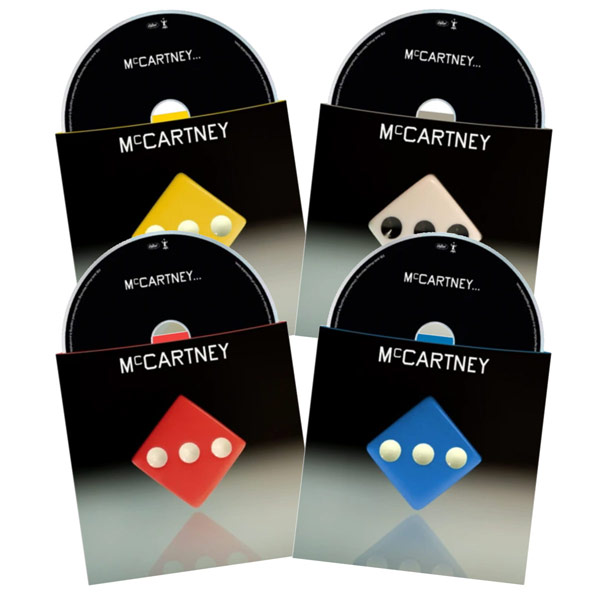 It has been over 30 years since a Paul McCartney studio album hit number one in the UK album charts, and the ex-Beatle is hoping to change that next month by tempting fans to buy multiple CD editions of his forthcoming album McCartney III.

Paul reached number one in the USA with his last effort, 2018's Egypt Station, and although he has come close a few times over the years (Flaming Pie hit number two) you have to go all the way back to 1989's Flowers in the Dirt to find a UK chart-topper. But with apparently no restrictions at the moment on how many physical formats 'count' for a new album in terms of the charts, team McCartney are taking full advantage.
As previously noted on SDE, there are already NINE different coloured vinyl editions of McCartney's 18th studio album available globally, and by SDE's reckoning, five of them are chart eligible in the UK: black, white, red, blue and the Spotify 'coke bottle clear vinyl'.
But until now we've only had one version of the humble CD and no format has offered any bonus audio. That changed yesterday, when McCartney launched "McCartney III Colour Collections" a series of "limited colour edition secret demo edition CDs" and "Dice Merch Box Sets".
So what is this exactly? Putting the merchandise to one side for a moment, at its core, this is four new CD editions of McCartney III that are colour-coded (white, red, blue, yellow) and each CD contains a unique 'secret' demo bonus track. You are encouraged to collect them all to 'complete the series". This will give collectors four new McCartney tracks not available elsewhere.
Available only from McCartney's online store, the 'softpack' version of these CDs is £10.99 in the UK and around $14.33 in the USA. However, the US also get a cheaper version of these new CDs (in addition to the 'deluxe' softpack) at $7.33 which comes in a 'mini-jacket' (i.e. card sleeve). The latter isn't available in the UK, it seems.
That's not the only difference. America has different bundles, including CD-with-dice, CD-with-a-cap, CD-with-a-T-shirt and CD-with-a-mask. In the UK, only one big £60 bundle is available with ALL of those items together (although you can buy the individual items – T-shirt, dice, etc. – separately without buying a bundle). All bundles get the cheaper 'mini-jacket' version of the CD incidentally; to get the 'deluxe' soft-pack version you have to buy that separately. Confused? You will be.
This will mean there are 10 different physical editions of McCartney III that will count towards the UK chart: the five vinyl mentioned above and now five CDs (the original CD and the four new ones). A cassette is available in Canada but has not made it to the UK or the USA yet (curiously).
McCartney III is due for release on 11 December 2020, although it's worth noting that the UK store lists these new CDs with an 18 December release date.
Useful links:
Compare prices and pre-order
Paul McCartney
McCartney III - black vinyl LP
Compare prices and pre-order
Paul McCartney
McCartney III - CD edition