 News
a-ha / Greatest Hits: Japanese Singles Collection / exclusive CD+DVD set
Japanese compilation offers singles on CD and DVD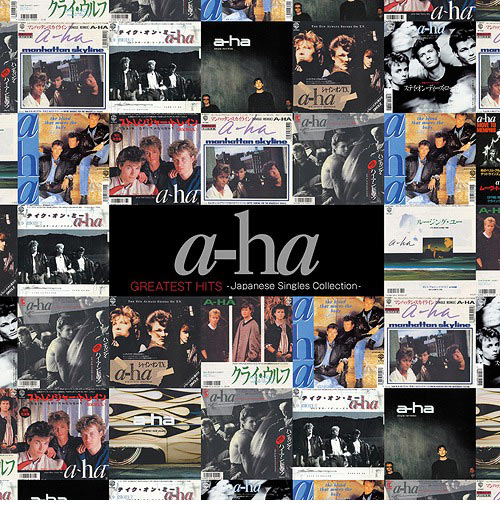 Greatest Hits: Japanese Singles Collection is a new a-ha release which features a CD of hits and a DVD of videos.

The CD selection looks familiar enough, although actually this particular combination of 45s is actually unique to this set and isn't just repeated from previous compilations such as Headlines and Deadlines, 25, or Time and Again. This set represents the first commercial release of the 3.50 US edit of 'Stay On These Roads' and the 3.53 radio edit of 'Forever Not Yours' (audio checked by SDE). Booklet features single cover images and all the lyrics in Japanese and English.

The DVD however, appears to be identical to the one included in the three-disc deluxe edition of the 25 compilation issued in 2010 (the DVD will be all-region/NTSC).

This new package is exclusive to Japan and follows similar collections last year featuring Paul Young and Cyndi Lauper. It comes with a 56-page booklet with pictures of cover artwork of all the singles (the Paul Young one also has all the lyrics in Japanese and English, and expect this a-ha one will be similar).

If you're interested in a purchase, your options are to buy this direct from Japan via sites like Amazon or CDJapan (the former allows you to pay an 'import fees deposit' meaning that in Britain at least, you're guaranteed to avoid extra fees levied by Royal Mail). Amazon Japan works out at about £30 all in to ship to the UK. If you can't be bothered with that, then, as you can see below, for a premium you can just order from direct from a European or US seller.

The official Japanese release date for a-ha's Greatest Hits: Japanese Singles Collection is 26 February but European/US sites are shipping this a week later, on 6 March 2020. This is released by Warner Music Japan.


Compare prices and pre-order
A-Ha
Greatest Hits: Japanese Singles Collection - CD+DVD
CD
1 Take On Me
2 The Sun Always Shines On TV (Single Mix)
3 Train Of Thought (Remix)
4Hunting High And Low (Remix)
5 I've Been Losing You
6 Cry Wolf
7 Manhattan Skyline (Edit Version)
8 The Living Daylights
9 Stay On These Roads (Edit Version)
10 The Blood That Moves The Body
11 Touchy! (UK DJ Edit)
12 You Are The One (Remix)
13 Crying In The Rain
14 Waiting For Her
15 Move To Memphis (Single Version)
16 Dark Is The Night For All
17 Shapes That Go Together
18 Summer Moved On (Radio Edit)
19 Forever Not Yours (Single Mix)
DVD
(all region, NTSC)
1 Take On Me
2 The Sun Always Shines On TV
3 I've Been Losing You
4 Manhattan Skyline
5 Stay On These Roads
6 Crying In The Rain
7 Dark Is The Night For All*
8 Move To Memphis
9 Shapes That Go Together*
10 Angel In the Snow*
11 Summer Moved On*
12 Minor Earth, Major Sky*
13 Lifelines*
14 Did Anyone Approach You?*
15 Velvet (European Cut)*
16 Butterfly, Butterfly (The Last Hurrah)
17 Take On Me (1984 Version)
(First time on DVD in Japan)