 News
a-ha's Hunting High and Low to be issued as a 6LP vinyl box
6LP super deluxe offers 60-tracks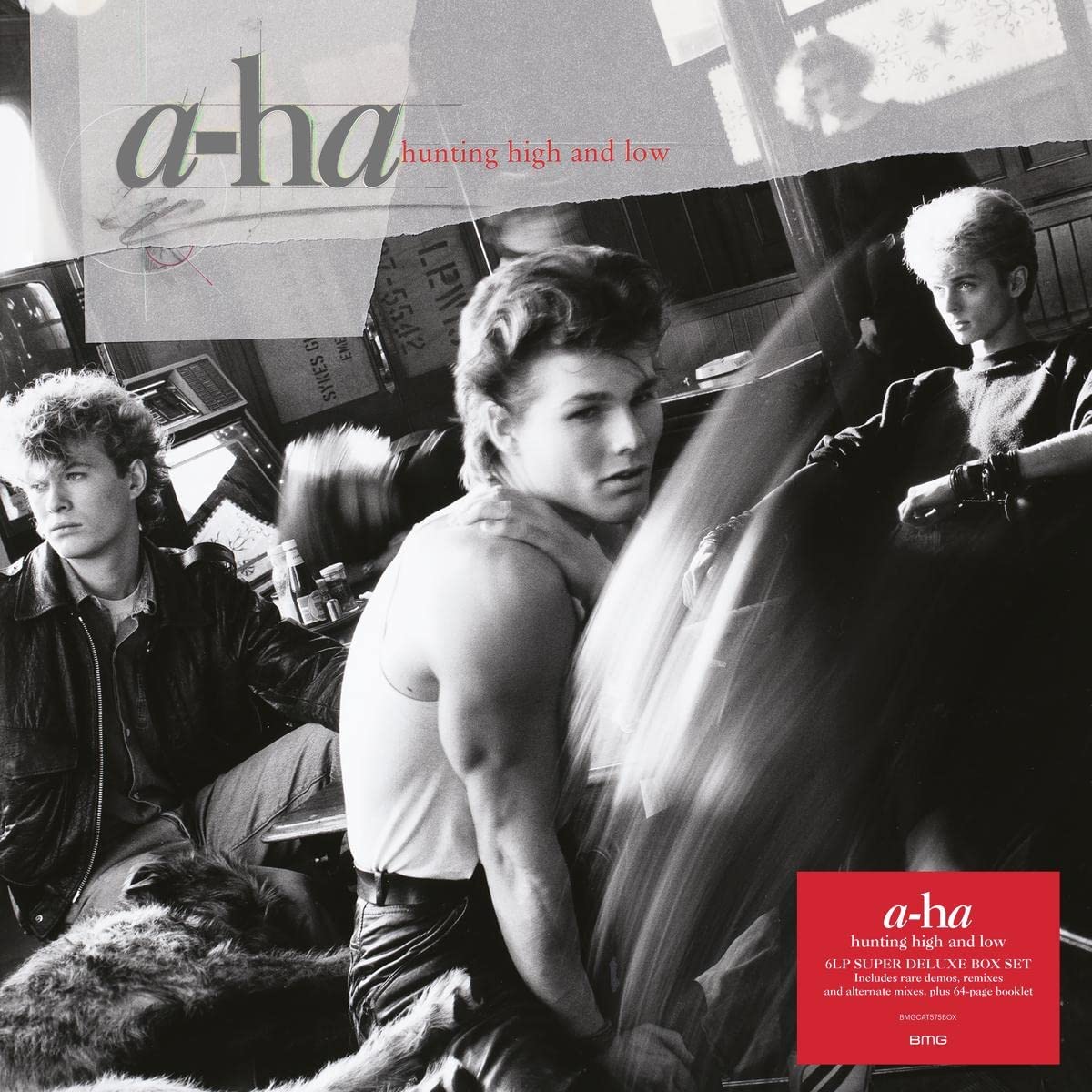 Hunting High and Low, the classic 1985 debut album from a-ha, is being reissued as a 6LP vinyl box set in February next year.
The album has been the focus of much archival activity over the years, with a 2CD deluxe edition first issued back in 2010 and a 4CD+DVD super deluxe five years later for what was the 30th anniversary. Three years ago, that same super deluxe was issued in 'cheap and cheerful' packaging (and without the DVD) at a much cheaper price than the by-then-out-of-print 2015 version.
This new 6LP vinyl edition offers the same audio content as the four CDs in the 2015/2019 sets, bringing the amazing array of demos, alternates and remixes to vinyl for the very first time. The audio is the 2015 remasters. It comes with a 64-page booklet which no doubt will offer the same kind of content as the original CD super deluxe with extensive sleeve notes and photography.
The vinyl box set audio content is formatted as follows:
LP 1: Hunting High and Low
LP 2 & 3: The Demos 1982-1984
LP 4 & 5: Singles, Extended Versions & B-Sides
LP 6: The Early Mixes
So that's 60 tracks in total across six 140g black vinyl records. As you can see by the image above, these records boast some of the wonderful pencil sketches used in that video. The records slot into an outer slipcase
This Hunting High and Low 6LP super deluxe edition will be released via BMG on 24 February 2023.
Compare prices and pre-order
A-ha
Hunting High and Low [VINYL]
Tracklisting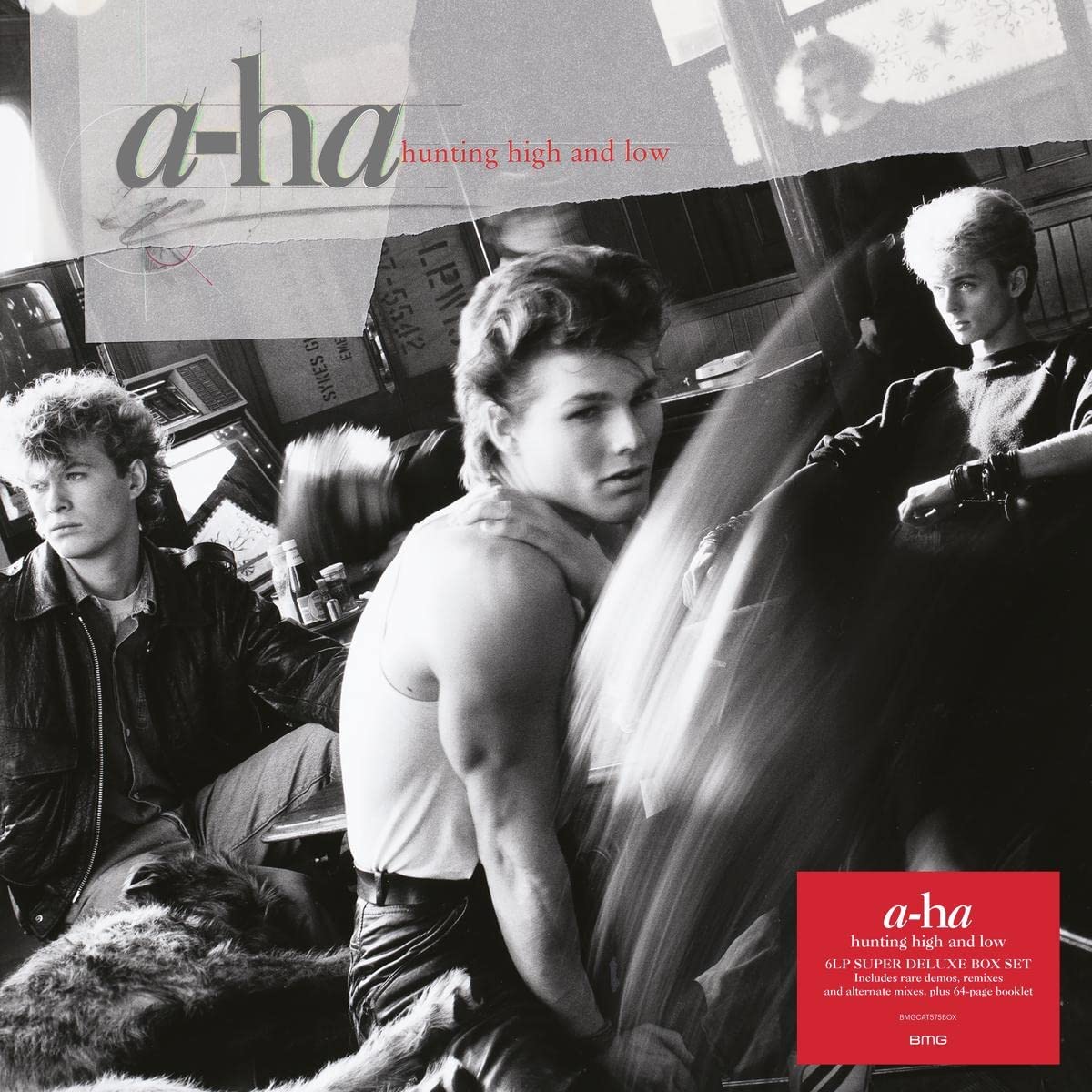 Hunting High and Low a-ha
/
LP 1: Hunting High and Low – the original album

Side A

Take On Me
Train Of Thought
Hunting High And Low
The Blue Sky
Living A Boy's Adventure Tale

Side B

The Sun Always Shines On TV
And You Tell Me
Love Is Reason
Dream Myself Alive
Here I Stand And Face The Rain

LP 2: The Demos 1982-1984

Side C

Lesson One (Autumn 1982 "Take On Me" Demo)
Presenting Lily Mars (Nærsnes Demo)
Så Blåser Det På Jorden (Nærsnes Demo)
The Sphinx (Nærsnes Demo)
Living A Boy's Adventure Tale (Nærsnes Demo)
Dot The I
The Love Goodbye

Side D

Nothing To It
Go To Sleep
Train Of Thought (Demo)
Monday Mourning
All The Planes That Come In On The Quiet
The Blue Sky (Demo)

LP 3: The Demos 1982-1984

Side E

You Have Grown Thoughtful Again
What's That You're Doing To Yourself In The Pouring Rain
Take On Me (Demo)
Hunting High And Low (Demo)
Dream Myself Alive (Demo)
And You Tell Me (Demo)

Side F

Here I Stand And Face The Rain (Demo)
Love Is Reason (Demo)
The Blue Sky (2nd Demo)
Never Never
The Sun Always Shines On TV (Demo)
Presenting Lily Mars

LP 4: Singles, Extended Versions & B-sides

Side G

Take On Me (Original 7" Version 1984)
Take On Me (1984 12" Mix)
Stop! And Make Your Mind Up
Take On Me (1985 12" Mix)
Take On Me (Instrumental Mix)
The Sun Always Shines On TV (7" Mix)

Side H

The Sun Always Shines On TV (Extended Version)
Driftwood
The Sun Always Shines On TV (Extended Version)

LP 5: Singles, Extended Versions & B-sides

Side I

The Sun Always Shines On TV (Instrumental)
Train Of Thought (7" Remix)
Train Of Thought (US Remix)

Side J

Train Of Thought (Dub Mix)
Hunting High And Low (7" Remix)
Hunting High And Low (Extended Remix)

LP 6: The Alternative Mixes

Side K

Take On Me (Video Version)
Train Of Thought (Early Mix)
Hunting High And Low (Early Mix)
The Blue Sky (Alternative Long Mix)
Living A Boy's Adventure Tale (Early Mix)

Side L

The Sun Always Shines On TV (Alternate Early Mix)
And You Tell Me (Early Mix)
Love Is Reason (Early Mix)
Dream Myself Alive (Early NYC Mix)
Here I Stand And Face The Rain (Early Mix)