 News
ABBA / The Studio Albums / Limited edition coloured vinyl box set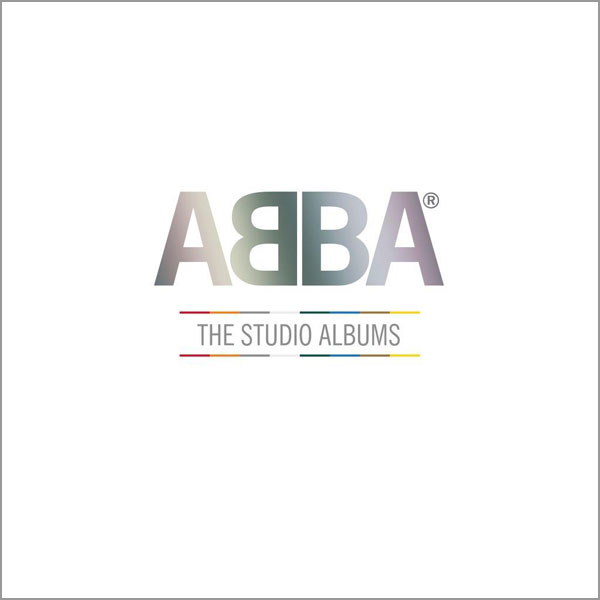 All the albums on limited coloured vinyl, in a box set
Universal Music will release a coloured vinyl edition of the ABBA The Studio Albums box set, in July.

As you might expect, this contains all eight studio albums, starting with Ring Ring (1973) and finishing with The Visitors (1981). A now out-of-print black vinyl edition of this box was previously issued in 2014.
Each album is pressed on 180g coloured vinyl and comes with replica LP artwork. The colours are as follows:
Ring Ring – red vinyl
Waterloo – orange vinyl
ABBA – silver vinyl
Arrival – white vinyl
ABBA: The Album – green vinyl
Voulez-Vous – blue vinyl
Super Trouper – gold vinyl
The Visitors – yellow vinyl
There's 750 units available for the UK with some channels (The Sound of Vinyl) already sold out in just a few hours.
This ABBA: The Studio Albums coloured vinyl box will be released on 24 July 2020 (was 3 July), via UMC/Polydor.
Compare prices and pre-order
ABBA
ABBA - The Vinyl Collection [VINYL]
Ring Ring – Side A
Ring, Ring
Another Town, Another Train
Disillusion
People Need Love
I Saw It In The Mirror
Nina, Pretty Ballerina
Ring Ring – Side B
Love Isn't Easy (But It Sure Is Hard Enough)
Me And Bobby And Bobby's Brother
He Is Your Brother
Ring Ring
I Am Just A Girl
Rock'N'Roll Band
Waterloo – Side A
Waterloo
Sitting In The Palmtree
King Kong Song
Hasta Manana
My Mama Said
Dance (While The Music Still Goes On)
Waterloo – Side B
Honey, Honey
Watch Out
What About Livingstone
Gonna Sing You My Love Song
Suzy-Hang-Around
Waterloo
Abba – Side A
Mamma Mia
Hey, Hey Helen
Tropical Loveland
SOS
Man In The Middle
Bang-A-Boomerang
Abba – Side B
I Do, I Do, I Do, I Do, I Do
Rock Me
Intermezzo No.1
I've Been Waiting For You
So Long
Arrival – Side A
When I Kissed The Teacher
Dancing Queen
My Love, My Life
Dum Dum Diddle
Knowing Me, Knowing You
Arrival – Side B
Money, Money, Money
That's Me
Why Did It Have To Be Me
Tiger
Arrival
Abba – The Album – Side A
Eagle
Take A Chance On Me
One Man, One Women
The Name Of The Game
Abba – The Album – Side B
Move On
Hole In Your Soul
Thank You For The Music
I Wonder (Departure)
I'm A Marionette
Voulez-Vous – Side A
As Good As New
Voulez-Vous
I Have A Dream
Angeleyes
The King Has Lost His Crown
Voulez-Vous – Side B
Does Your Mother Know
If It Wasn't For The Nights
Chiquitita
Lovers (Live A Little Longer)
Kisses Of Fire
Super Trouper – Side A
Super Trouper
The Winner Takes It All
On And On And On
Andante, Andante
Me And I
Super Trouper – Side B
Happy New Year
Our Last Summer
The Piper
Lay All Your Love On Me
The Way Old Friends Do
The Visitors – Side A
The Visitors
Head Over Heels
When All Is Said And Done
Soldiers
The Visitors – Side B
I Let The Music Speak
One Of Us
Two For The Price Of One
Slipping Through My Fingers
Like An Angel Passing Through My Room