 News
Ace of Base / All That She Wants: The Classic Collection 11CD+DVD box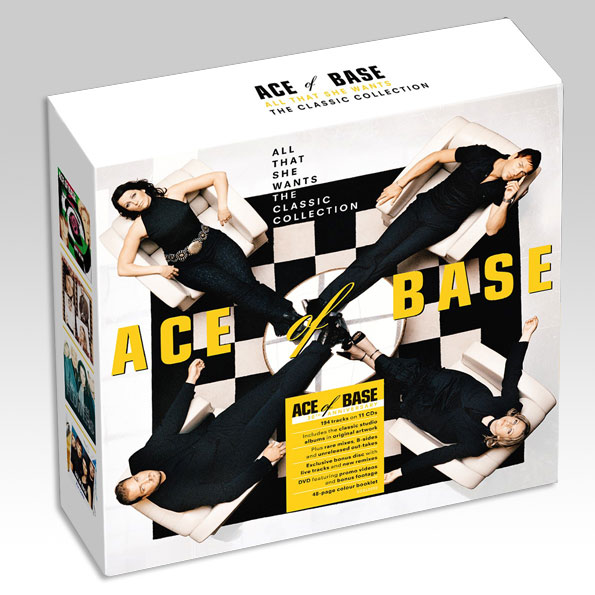 30th anniversary 11CD+DVD box set
Following the announcement of the coloured vinyl box set, Demon Music will release an Ace of Base 30th anniversary CD box set. The set is called All That She Wants: The Classic Collection and features 11 CDs with all four albums and an unfeasibly large amount of bonus material, as well as a DVD with promo videos.

The albums in question are  Happy Nation (1993), The Bridge (1995), Flowers (1998) and Da Capo (2002). In this set, the first two are expanded to two-CDs, while Flowers is a three-CD set, and Da Capo is a single disc with nine bonus tracks appended. The extra material includes classic and previously unreleased remixes from such big name remixes such as David Morales, Todd Terry, Junior Vasquez, and Frankie Knuckles.
But as if that is not enough, there is a further three bonus CDs including two discs of Hidden Gems and a CD called Edge of Heaven which features previously unavailable versions of the shelved 1996 single, plus a selection of new and revisited mixes including 'Always Have, Always Will', remixed for the very first time by Matt pop. This disc also features a live recording of Jonas, Jenny, Linn and Ulf's first-ever performance together in their hometown of Gothenburg in August 1990.

All That She Wants: The Classic Collection features 11 CDs, one DVD and a 52-page booklet
The DVD (NTSC, region-free) contains all the group's original promo videos plus an additional 10 bonus videos of alternates.
All That She Wants features dozens of new-to-CD tracks and nearly 20 audio tracks completely previously unreleased. In total there's 195 audio tracks as well as the videos.
The presentation is similar to the M People box. Small lift-off lid box containing albums card wallets (Happy Nation, The Bridge, Flowers and Hidden Gems are gatefolds). This also comes with a 52-page booklet with sleeve notes, photos, lyrics and an illustrated discography.
All That She Wants: The Classic Collection will be released on 26 June 2020, via Edsel. We are stocking these in the SDE shop, which ships internationally (and is fully operational).
Compare prices and pre-order
Ace of Base
All That She Wants 11CD+DVD box
You might also like…
Compare prices and pre-order
Ace Of Base
Ace Of Base - All That She Wants - heavyweight Colour Vinyl
CD 1 –Happy Nation
1. ALL THAT SHE WANTS
2. DON'T TURN AROUND
3. YOUNG AND PROUD
4. THE SIGN
5. LIVING IN DANGER
6. VOULEZ-VOUS DANSER
7. HAPPY NATION
8. HEAR ME CALLING
9. WAITING FOR MAGIC [TOTAL REMIX 7″]
10. FASHION PARTY
11. WHEEL OF FORTUNE
12. DANCER IN A DAYDREAM
13. MY MIND [MINDLESS MIX]
14. MÜNCHHAUSEN (JUST CHAOS)
15. DIMENSION OF DEPTH
16. WHEEL OF FORTUNE [12″ MIX]
17. ALL THAT SHE WANTS [12″ VERSION]
18. HAPPY NATION [12″ VERSION]
19. THE SIGN [LONG VERSION]
CD 2
1. DON'T TURN AROUND [12″ ASWAD MIX]
2. LIVING IN DANGER [D-HOUSE MIX (LONG VERSION)]
3. WHEEL OF FORTUNE [CLUB MIX]
4. WAITING FOR MAGIC [ORIGINAL VERSION]
5. HAPPY NATION [GOLD ZONE CLUB MIX]
6. LIVING IN DANGER [LENNY B'S DANGEROUS HOUSE MIX]
7. ALL THAT SHE WANTS [MADNESS VERSION]
8. WAITING FOR MAGIC [TOTAL REMIX 12″]
9. LIVING IN DANGER [HURLEY'S DEEPHOUSE DUB]
10. THE SIGN [THE REMIX]
11. DON'T TURN AROUND [TURNED OUT EURODUB]
12. LIVING IN DANGER [MORALES HOUSE DUB]
CD3 –The Bridge
1. BEAUTIFUL LIFE
2. NEVER GONNA SAY I'M SORRY
3. LUCKY LOVE
4. EDGE OF HEAVEN
5. STRANGE WAYS
6. RAVINE
7. PERFECT WORLD
8. ANGEL EYES
9. WHISPERS IN BLINDNESS
10. MY DÉJÀ VU
11. YOU AND I
12. WAVE WET SAND
13. QUE SERA
14. JUST 'N IMAGE
15. EXPERIENCE PEARLS
16. BLOOMING 18
17. LUCKY LOVE [ACOUSTIC VERSION]
18. BEAUTIFUL LIFE [12″ EXTENDED VERSION]
19. NEVER GONNA SAY I'M SORRY [LONG VERSION]
20. LUCKY LOVE [EXTENDED ORIGINAL VERSION]
CD 4
1. BEAUTIFUL LIFE [JUNIOR'S RETRO 12″ MIX]
2. LUCKY LOVE [FRANKIE KNUCKLES CLASSIC CLUB MIX]
3. NEVER GONNA SAY I'M SORRY [TURBINE MIX]
4. BEAUTIFUL LIFE [THE EURO-VOGUE MIX]
5. LUCKY LOVE [LENNY B'S FULL-A-LOVE MIX]
6. NEVER GONNA SAY I'M SORRY [LENNY B'S TOTAL RECONSTRUCTION]
7. BEAUTIFUL LIFE [VISSION LORIMER ANTHEM MIX]
8. LUCKY LOVE [TODD TERRY MIX]
9. BEAUTIFUL LIFE [JUNIOR'S HARD AS H MIX]
10. LUCKY LOVE [FRANKTIFIED DUB MIX]
11. BEAUTIFUL LIFE [UNO CLIO DUB]
CD 5 – Flowers
1. LIFE IS A FLOWER
2. ALWAYS HAVE, ALWAYS WILL
3. CRUEL SUMMER
4. TRAVEL TO ROMANTIS
5. ADVENTURES IN PARADISE
6. DR. SUN
7. CECILIA
8. HE DECIDES
9. I PRAY
10. TOKYO GIRL
11. DON'T GO AWAY
12. CAPTAIN NEMO
13. DONNIE
14. EVERYTIME IT RAINS
15. C'EST LA VIE (ALWAYS 21)
16. HALLO HALLO
17. LOVE IN DECEMBER
18. WHENEVER YOU'RE NEAR ME
19. CRUEL SUMMER [BIG BONUS MIX]
20. CECILIA [OLE EVENRUDE RADIO MIX]
21. EVERYTIME IT RAINS [METRO RADIO MIX]
CD 6
1. DONNIE [OLE EVENRUDE VERSION]
2. HE DECIDES [CHARLES FISHER MIX]
3. TRAVEL TO ROMANTIS [LOVE TO INFINITY MIX]
4. HALLO HALLO [RADIO VERSION]
5. LOVE IN DECEMBER [ALTERNATIVE DISCO VERSION]
6. CRUEL SUMMER [WITH ALLIAGE EXTENDED MIX]
7. C'EST LA VIE (ALWAYS 21) [SKEEWIFF'S FULL BIFFTER]
8. LIFE IS A FLOWER [EXTENDED VERSION]
9. TRAVEL TO ROMANTIS [JOSEF LAROSSI MIX]
10. EVERYTIME IT RAINS [METRO CLUB MIX]
11. HALLO HALLO [HITVISION RADIO EDIT]
12. WHENEVER YOU'RE NEAR ME [NIKOLAS & SIBLEY DANCE MIX]
13. C'EST LA VIE (ALWAYS 21) [SHAFT CLUB MIX]
14. CRUEL SUMMER [HARTMANN & LANGHOFF CLUB MIX]
15. EVERYTIME IT RAINS [KARMADELIC CLUB MIX]
CD 7
1. HALLO HALLO [ALTERNATIVE VERSION]
2. TRAVEL TO ROMANTIS [WOLF MIX]
3. LIFE IS A FLOWER [SWEETBOX REMIX] [AKA SWEETBOX MIX 1]
4. CRUEL SUMMER [GARAGE MIX EXTENDED]
5. CECILIA [IN DA NITE]
6. C'EST LA VIE (ALWAYS 21) [SLEAZESISTERS ANTHEM MIX]
7. EVERYTIME IT RAINS [THAT KID CHRIS 2000 CLUB MIX]
8. WHENEVER YOU'RE NEAR ME [GIUSEPPE D'S EXTENDED REMIX]
9. HALLO HALLO [XTM FULL REMIX]
10. TRAVEL TO ROMANTIS [LOVE TO INFINITY INDIAN TONIC MIX]
11. CRUEL SUMMER [HANI NUM CLUB MIX]
12. LIFE IS A FLOWER [MILK UHT RADIO MIX]
13. C'EST LA VIE (ALWAYS 21) [TUFF TWINS MIX]
CD 8 – Da Capo
1. UNSPEAKABLE
2. BEAUTIFUL MORNING
3. REMEMBER THE WORDS
4. DA CAPO
5. WORLD DOWN UNDER
6. ORDINARY DAY
7. WONDERFUL LIFE
8. SHOW ME LOVE
9. WHAT'S THE NAME OF THE GAME
10. CHANGE WITH THE LIGHT
11. HEY DARLING
12. THE JUVENILE
13. BEAUTIFUL MORNING [ALTERNATIVE VERSION]
14. DA CAPO [ALTERNATIVE VERSION]
15. CHANGE WITH THE LIGHT [ALTERNATIVE VERSION]
16. HEY DARLING [ALTERNATIVE MIX]
17. BEAUTIFUL MORNING [GROOVE RADIO EDIT]
18. UNSPEAKABLE [JUNK & FUNCTION M12 CLUB MIX]
19. HEY DARLING [BELLS VERSION]
20. BEAUTIFUL MORNING [SPANISH FLY CLUB VERSION]
21. UNSPEAKABLE [FAIRLITE DUB MIX]
CD 9 – Hidden Gems
1. WOULD YOU BELIEVE
2. GO GO GO
3. INTO THE NIGHT OF BLUE
4. DON'T STOP
5. MAKE MY DAY
6. MERCY, MERCY
7. NO GOOD LOVER
8. SUMMER DAYS
9. GIVING IT UP [2014 REMAKE]
10. COME TO ME
11. PRIME TIME
12. LOOK AROUND ME
13. POLE POSITION
14. SUNSET IN SOUTHERN CALIFORNIA
15. MOMENT OF MAGIC
16. MR. ACE
17. MOOGOPERATOR
18. KINGS AND QUEENS
19. LOVE FOR SALE
20. L'AMOUR
21. WOULD YOU BELIEVE [ALTERNATIVE VERSION]
22. CUBA CUBA LIBRE
23. GIVING IT UP [ACE VERSION]
CD 10
1. GIRL IN THE LINE
2. LOVE IN THE GHETTO
3. STRANGER TO LOVE
4. MEMORIES FOREVER
5. AT THE BORDERLINE (MOOGOPERATOR 2)
6. KYRIE ELEISON
7. IMMANUEL
8. ANGEL OF LOVE
9. STAY WITH ME
10. FOR A THOUSAND DAYS
11. ALL TEMPTATIONS
12. SHE WAS THINKING OF YOU
13. THE CHALLENGE
14. BAD DAD
15. THE WIZARD
16. CLOSE TO YOU
17. FUNK FUNK
18. REALITY (IN BLACK AND WHITE)
19. WISH YOU WERE MINE
20. COULDN'T CARE LESS
21. STRANGER TO LOVE [ORIGINAL VERSION]
22. GIVING IT UP [1999 VERSION]
23. MOMENT OF MAGIC [ALTERNATIVE VERSION]
CD 11 – Edge of Heaven
1. EDGE OF HEAVEN [MONTE X 2 BALLAD RE-MIX]
2. EDGE OF HEAVEN [RADIANT SILVERBULLET MIX]
3. . EDGE OF HEAVEN [STONESTREAM – ON THE EDGE]
4. ALL THAT SHE WANTS [MOOMBAHTEAM REMIX]
5. ALWAYS HAVE, ALWAYS WILL [MATT POP 2020 REMIX]
6. BEAUTIFUL LIFE [MIKE ROSS DEFINITIVE CLUB MIX]
7. NEVER GONNA SAY I'M SORRY [SINGLEWAVE REMIX]
8. CRUEL SUMMER [NIV COHEN REMIX]
9. ALL THAT SHE WANTS [THE DISTANCE & RIDDICK REMIX]
10. THE SIGN [FREEDOM BUNCH MIX]
11. LUCKY LOVE 2009
12. DON'T TURN AROUND 2009
13. WHEEL OF FORTUNE 2009 [CLUB MIX]
14. PEEPSHOW [LIVE IN GOTHENBURG, 1990]
15. SUNSHINE [LIVE IN GOTHENBURG, 1990]
16. VAMOS A LA PLAYA/DON'T YOU WANT ME? [LIVE IN GOTHENBURG, 1990]
17. SCOTCH/P. LION MEDLEY [LIVE IN GOTHENBURG, 1990]
DVD – Disc 12
Promo Videos
1. WHEEL OF FORTUNE [VIDEO]
2. ALL THAT SHE WANTS [VIDEO]
3. HAPPY NATION [VIDEO]
4. THE SIGN [VIDEO]
5. DON'T TURN AROUND [VIDEO]
6. LIVING IN DANGER [VIDEO]
7. LUCKY LOVE [VIDEO]
8. BEAUTIFUL LIFE [VIDEO]
9. NEVER GONNA SAY I'M SORRY [VIDEO]
10. LIFE IS A FLOWER [VIDEO]
11. CRUEL SUMMER [VIDEO]
12. TRAVEL TO ROMANTIS [VIDEO]
13. ALWAYS HAVE, ALWAYS WILL [VIDEO]
14. C'EST LA VIE (ALWAYS 21) [VIDEO]
15. BEAUTIFUL MORNING [VIDEO]
16. UNSPEAKABLE [VIDEO]
Bonus videos
17. LUCKY LOVE [U.S. VERSION] [BONUS VIDEO]
18. CRUEL SUMMER [BONUS VIDEO]
19. HAPPY NATION [MOODY GOLD MIX] [BONUS VIDEO]
20. DON'T TURN AROUND [THE ASWAD MIX] [BONUS VIDEO]
21. LIVING IN DANGER [D-HOUSE MIX] [BONUS VIDEO]
22. LUCKY LOVE [ACOUSTIC VERSION] [BONUS VIDEO]
23. BEAUTIFUL LIFE [ALTERNATIVE VERSION] [BONUS VIDEO]
24. CRUEL SUMMER [BIG BONUS MIX] [BONUS VIDEO]
25. WOULD YOU BELIEVE [BONUS VIDEO]
26. HEAR ME CALLING [PHOTO GALLERY] [BONUS VIDEO]