 News
Cyndi Lauper / Greatest Hits: Japanese Singles Collection / CD+DVD set
Japanese compilation offers singles on CD and DVD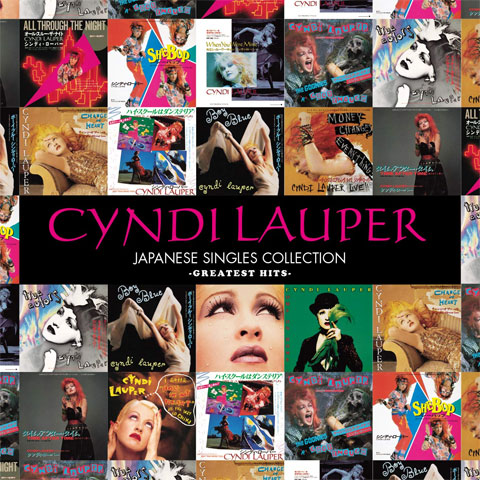 Sony Music Japan are issuing a double-disc compilation of Cyndi Lauper's Greatest Hits.

The collection features 19 tracks and 26 accompanying videos, nine of which have been unavailable on DVD anywhere in the world, and the CD chronologically collects all her Sony output from 1983 – 1995.

The package follows a similar collection from earlier this year focusing on Paul Young's Sony output. It comes with a booklet with pictures of cover artwork of all the singles.

It's a slightly confusing package as the audio of the remake of 'Girls Just Wanna Have Fun' – with the '(Hey Now)' bit attached – features only on the DVD, despite being a sizeable hit when recorded especially for her Twelve Deadly Cyns compilation from 1994, and then there's also her version of 'Time After Time' recorded with Sarah McLachlan from 2004's The Body Acoustic album and a bonus track 'Hope' from 2017 tacked on to the CD. The DVD also goes past 1995, with all the releases up to 'Hope' included.

No confirmation as yet, but the DVD should follow similar releases and be an NTSC all-region affair. The CD is actually a Japanese 'blu-spec CD2' but this format is compatible with all CD players.

Greatest Hits: Japanese Singles Collection is released on 28 August 2019 (in Japan) but you can order directly from Amazon in the US or UK for delivery around a week later. This is a good time to tell you that Amazon Japan will now be included in all SDE price comparison widgets going forward (assuming the product is listed in Japan).


Compare prices and pre-order
Cyndi Lauper
Japan Singles Collection Greatest Hits - CD+DVD
Disc: 1 (CD)
Girls Just Want to Have Fun

Time After Time

She Bop

All Through the Night

Money Changes Everything

When You Were Mine

The Goonies 'R' Good Enough

True Colors

Change of Heart

What's Goin' on

Boy Blue

Hole in My Heart (All the Way to China)

I Drove All Night

My First Night Without You

Heading West

Who Let in the Rain

Come on Home

Time After Time Feat Sarah McLachlan (From the Album "The Body Acoustic")

Hope (Bonus Track)
Disc: 2 (DVD)
Girls Just Want to Have Fun

Time After Time

She Bop

Money Changes Everything (Live in Houston)

The Goonies 'R' Good Enough

True Colors

Change of Heart

What's Goin 'On

Boy Blue (Live in Paris)

Hole in My Heart

I Drove All Night

My First Night Without You

A Night to Remember

Heading West

The World Is Stone

Who Let in the Rain

That's What I Think

Sally 's Pigeons

Hey Now (Girls Just Wanna Have Fun)

I 'm Gonna Be Strong

You Don't Know

Sisters of Avalon

Ballad of Cleo & Joe

At Last

Into the Nightlife

Hope