 News
America / Half Century box set
7CD+DVD box set full of unreleased material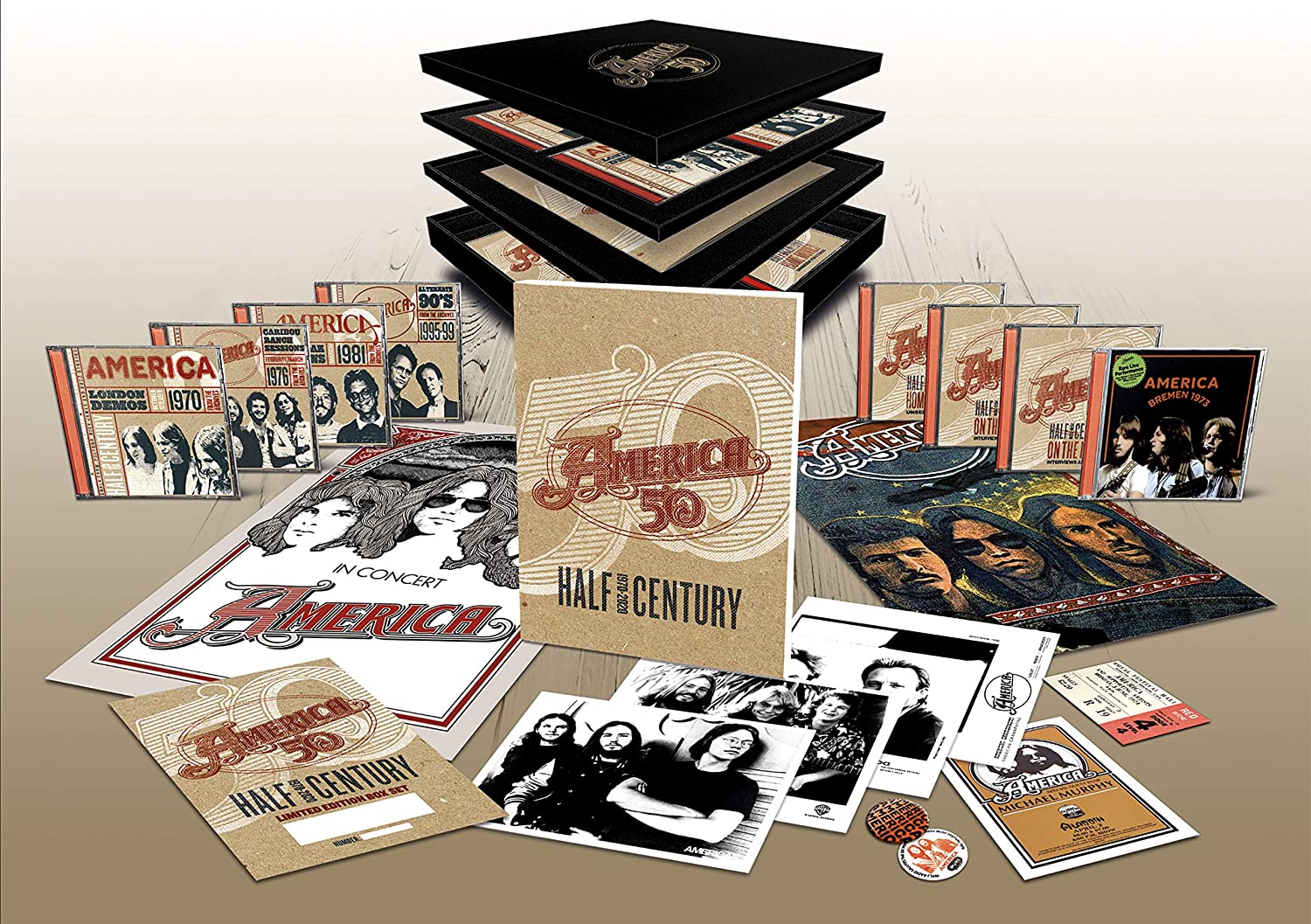 Half Century is a new eight-disc box set that marks the 50th anniversary of US folk-rock trio America. If features many previously unreleased outtakes and demos across the 7CD+DVD box set.

Half Century kicks off with a CD of demos recorded in London in 1970 just prior to the band's debut album on Warners and then moves on to Bremen 1973 an on-air live recording made between the Hat Trick and Holiday albums. This recording has previously only been available on DVD and has been remastered and includes all the un-edited studio banter.

Three further CDs of alternate mixes and demos feature in this box set including The Caribou Sessions which spotlight early takes and rehearsals stem from the Caribou Ranch Studios in Nederland, Colorado. Both the original home demos and session outtakes here provide a glimpse into the recording process before the later overdubs and strings were applied. Early 1980s and 1990s are also covered. CD 5 (The Alternate 90s Plus) closes with a new 2020 recording of the song 'Remembering'.



CDs 6 & 7 are dubbed America on the Radio and comprise various radio interviews stemming from 1974 – 2000 and a DVD, America – Home Movies, completes the package with fly-on-the-wall footage from 1972 to 1975.

As can be seen from the image below, this set includes all manner of printed material including a posters, booklet, replica tickets, numbered certificate, badges and more. The CDs come in jewel cases which may come in handy for future storage.

Half Century will be released on 21 August 2020 (was 12 June, then 10 July).


Compare prices and pre-order
AMERICA
HALF CENTURY (8 DISC BOX SET)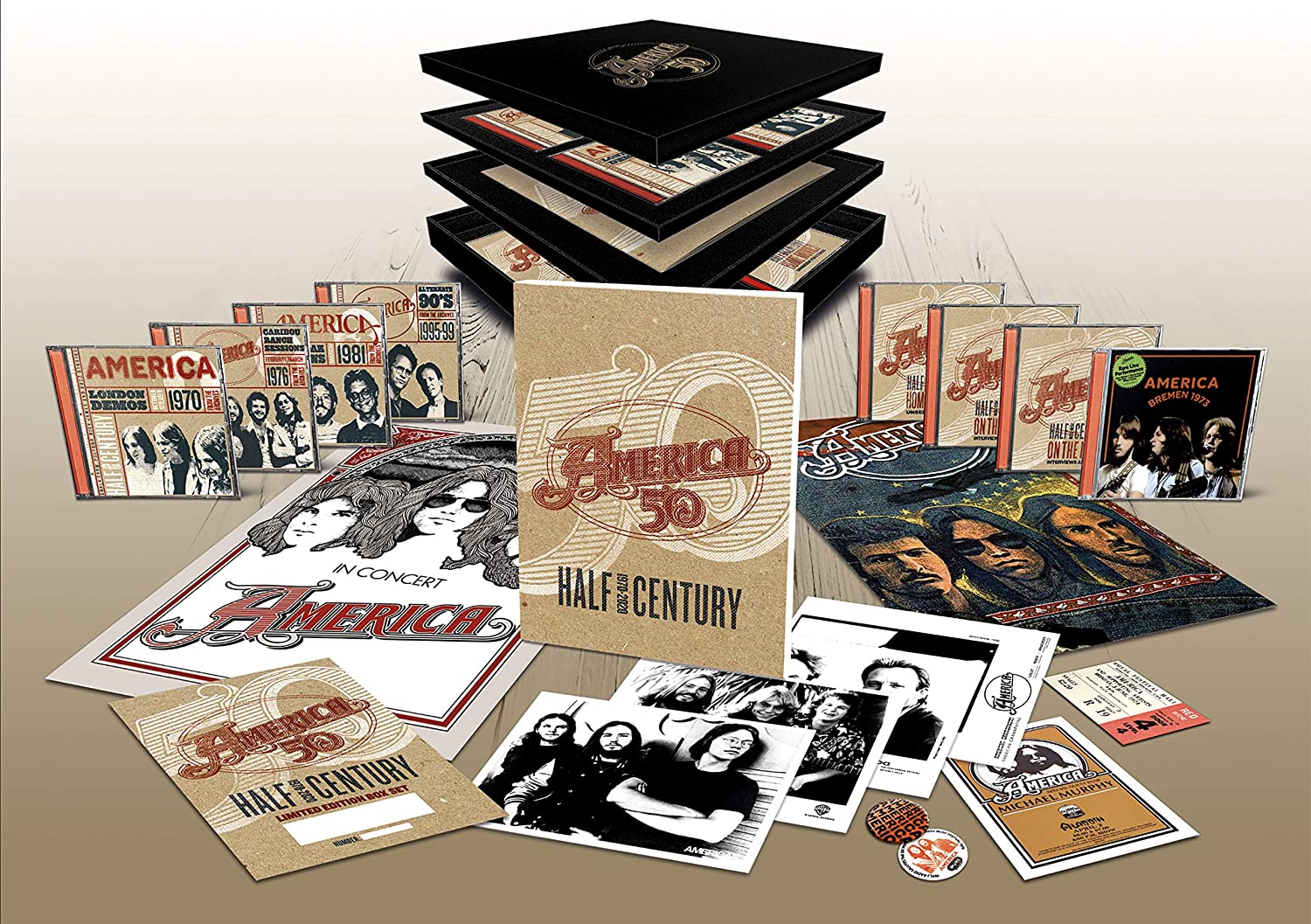 CD 1: London Demos 1970
(all previously unreleased)
1. Children (Dick James)
2. Riverside (Chalk Farm)
3. Rainy Day (Polydor)
4. Here (Chalk Farm)
5. Satan (Polydor)
6. Bummer (Chalk Farm)
7. Sea of Destiny (Chalk Farm)
8. How Long (Chalk Farm)
9. James Holladay (Dick James)
10. Children (Chalk Farm)
CD 2: Bremen 1973:
(only previously available as a DVD)
1. Ventura Highway
2. I Need You
3. Don't Cross the River
4. A Horse with No Name
5. Moon Song
6. Lonely People
7. Wind Wave
8. Rainbow Song
9. Tin Man
10. California Revisited
11. Green Monkey
CD 3: The Caribou Sessions 1976
– (all previously unreleased)
1. She's a Liar – Outtake / Alternate Mix
2. Amber Cascades – Alternate Early Mix
3. Today's the Day – Outtake / Walkthrough
4. Lovely Night – Outtake / Take 1 Session
5. Hideaway PT 1 – Early Band Outtake
6. Watership Down – Alternate Mix
7. Letter – Alternate Mix
8. Lovely Night – Buzz Studio Demo
9. Jet Boy Blue – Outtake / Alternate Mix
10. Who Loves You – Alternate Mix
11. Caribou Outtakes Montage
12. I'm New in Town – Buzz Studio Demo / Previously Unreleased Song
CD 4: The Poison Oak Sessions 1981
(all previously unreleased)
1. Sailors and Seagulls (Unheard Song)
2. Look at Me Now (Early Version)
3. My Dear (Early Version)
4. Sometimes Lovers (Early Version)
5. All the People – Whole Wide World (Early Version)
6. Coming on (Unheard Song)
7. Now I Want Your Love (Unheard Song)
8. Inspector Mills (Early Version)
9. China Sea (Unheard Song)
10. Doesn't the Time (Unheard Song)
11. Someday Forever (Unheard Song)
Disc: 5: The Alternate 90's Plus
(all previously unreleased)
1. Young Moon (Mix Without Inst. Intro)
2. Call of the Wild (Alternate Early Mix)
3. Sleeper Train (Alternate Early Mix)
4. Ports of Call ((Alternate Early Mix)
5. Mirror to Mirror (Alternate Early Mix)
6. Whole Wide World (Alternate Early Mix)
7. Hope (Unheard Song)
8. The Hills Are Green (Unheard Song)
9. Horse (Interlude)
10. From a Moving Train (Single Version – Edited Shorter Intro)
11. Wheels Are Turning (Unheard Song)
12. Town and Country (Unheard Song)
13. Moment to Moment (Alternate Mix)
14. Wednesday Morning (Unheard Song)
15. Oloololo (Unheard Song)
16. Overwhelming World (Alternate Mix)
17. Moment to Moment (Alternate Mix)
18. Hot Town (Unheard Song)
19. Pages (Alternate Early Mix)
20. If It Is the End (Previously Unreleased)
21. Remembering (New 2020)
CD 6 & 7 America on the Radio –
(all previously unreleased)
America Radio Interviews and Promo – The 70's America Radio Interviews and Promo – The 80's – 2000's
Disc 8 (DVD): America – Home Movies
(all previously unreleased)
1. America Hat Trick at Home 1: Rooftop Jam – Green Monkey – 1973
2. America Hat Trick at Home 2: Goodbye – 1973
3. America Hat Trick at Home 3: Sandman – 1973
4. America Hat Trick at Home 4: Hat Trick Rehearsal – 1973
5. America: Bremen Behind the Scenes – 1973 (No Audio)
6. America: Dorothy Chandler Pavilion 1 – 1973
7. America: Air Studios – London Misc. Footage – 1974
8. America: Airplane High Jinx 1 – 1974 (No Audio)
9. America: Airplane High Jinx 2 – 1975
10. America: Tour Plane Interview – 1975