 News
Arthur Baker presents Dance Masters: Shep Pettibone The Classic Master-Mixes
4CD set of Shep Pettibone remixes • Signed copies available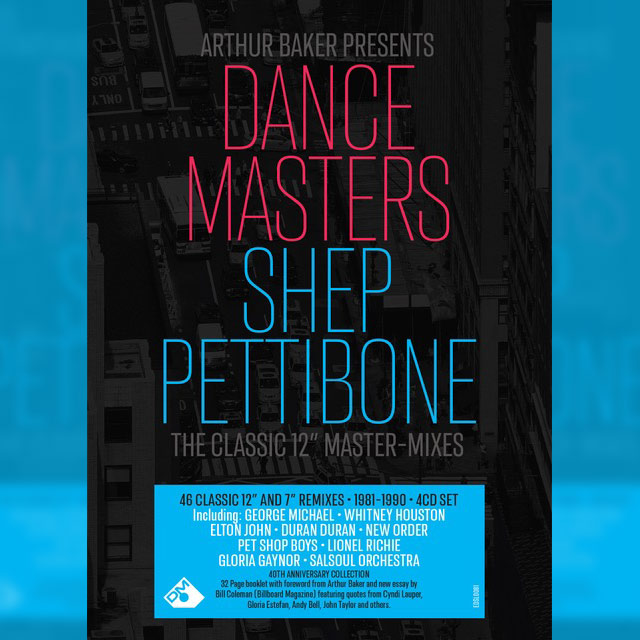 Four CDs of Shep Pettibone remixes • 2 x 2LP vinyl sets • Limited quantity of both CDs and vinyl SIGNED by Arthur Baker
Fans of classic 'Eighties' extended remixes should rejoice as Demon Music announce a newly-minted 'DANCE MASTERS' series – available on CD and vinyl – hosted by the legend that is Arthur Baker. Each series will be a multi-disc, 'various artists' collection of reworkings and the common thread that links everything together will be a focus on one remixer – and who better to start off with than Shep Pettibone!
The man is one of the best dance remixers of all time and his name will be familiar to fans of pop music who bought 12-inch singles (or CD singles, or cassette singles) in the 1980s. Regardless of who the artist was – whether it was Pet Shop Boys, Duran Duran, New Order, Level 42, Depeche Mode, Elton John, George Michael or Erasure, to name but a few – the Shep Pettibone remix was like a seal of quality. He rarely disappointed.
Whether Shep was working in the sphere of synth-pop, rock, rap or dance, the man with the strange name had the magic touch of maintaining the integrity of the original song, while creating a new and distinctive sound of his own. Don't take my word for it, here's what his 'rival' Arthur Baker has to say about him:
While we're all used to the familiar 12-inch remix compilations, theming an entire remix collection around one remixer is something new and probably hasn't really been done before because the licensing challenges are significant with 'repertoire' littered across many different labels. But with Dance Masters Demon have succeeded in overcoming such obstacles and its four-CD variant (which will undoubtedly be the most popular format) offers 46 remixes, all by Shep Pettibone, compiled and sequenced by Wayne Dickson (BBR/Groove Line Records) in conjunction with series curator Arthur Baker.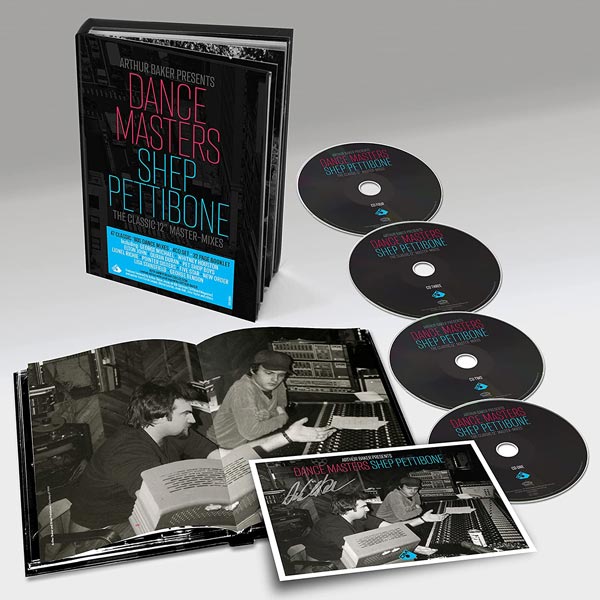 This collection highlights some of the biggest acts of the '80s as well as underground club acts. Some of these remixes are incredibly rare, and some of them are making their CD debut in the UK, including (extraordinarily) the 12" Shep Pettibone Mastermix of the Pet Shop Boys' 'West End Girls' (the version on Disco is a unique Shep hybrid). The same goes for the 12″ Shep Pettibone Mix of Terence Trent D'Arby's first single 'If You Let Me Stay' which is previously unreleased in the UK on any format, as far as SDE can tell (all the remixes issued here were by Michael H. Brauer). Other new-to-CD-in-the-UK remixes include Shep's edited remix of Whitney Houston's 'So Emotional', his Club Mix of Run DMC's It's Tricky and the Club Love Remix of George Benson's 'Twice The Love'.
Other highlights include the full 9.05 Shep Pettibone Remix of George Michael's 'Hard Day', which is almost three minutes longer than the edited variant tacked onto the original Faith CD; Shep's near eight-minute version of Duran Duran's lead single from Big Thing, 'I Don't Want Your Love'; Huey Lewis and the News' Hip to Be Square (Shep Pettibone Dance Mix), New Order's 'Bizarre Love Triangle' (12" Shep Pettibone Remix) and many more.
The four-CD edition comes in 'media book' packaging which includes a 32-page book with a foreword written by series creator Arthur Baker, a note from Neil Tennant and a "fan essay" by Billboard Magazine dance columist Bill Coleman.
On vinyl, Dance Masters is split into two double LP sets, each with 16 Shep Pettibone remixes (four per side). So that means the vinyl option gives you 32 remixes compared to the CD set's 46. Both vinyl parts of volume one of the vinyl package are pressed on clear vinyl. Volume one part 1 is released at the same time as the four-CD set, while volume one part 2 will follow in October this year.
SDE has recently spoken to Arthur Baker about this new Dance Master series and, in particular, life as a remixer in New York in the 1980s. Look out for this candid and entertaining interview very soon
The 4CD set with Arthur Baker signed prints where available via Amazon UK but are now SOLD OUT. However, the 2LP set (Vol 1, Part 1) is still available with the signed print only via Rough Trade in the UK.
Arthur Baker presents Dance Masters: Shep Pettibone The Classic Master-Mixes will be released on 1 October 2021 (was 3 September).
Compare prices and pre-order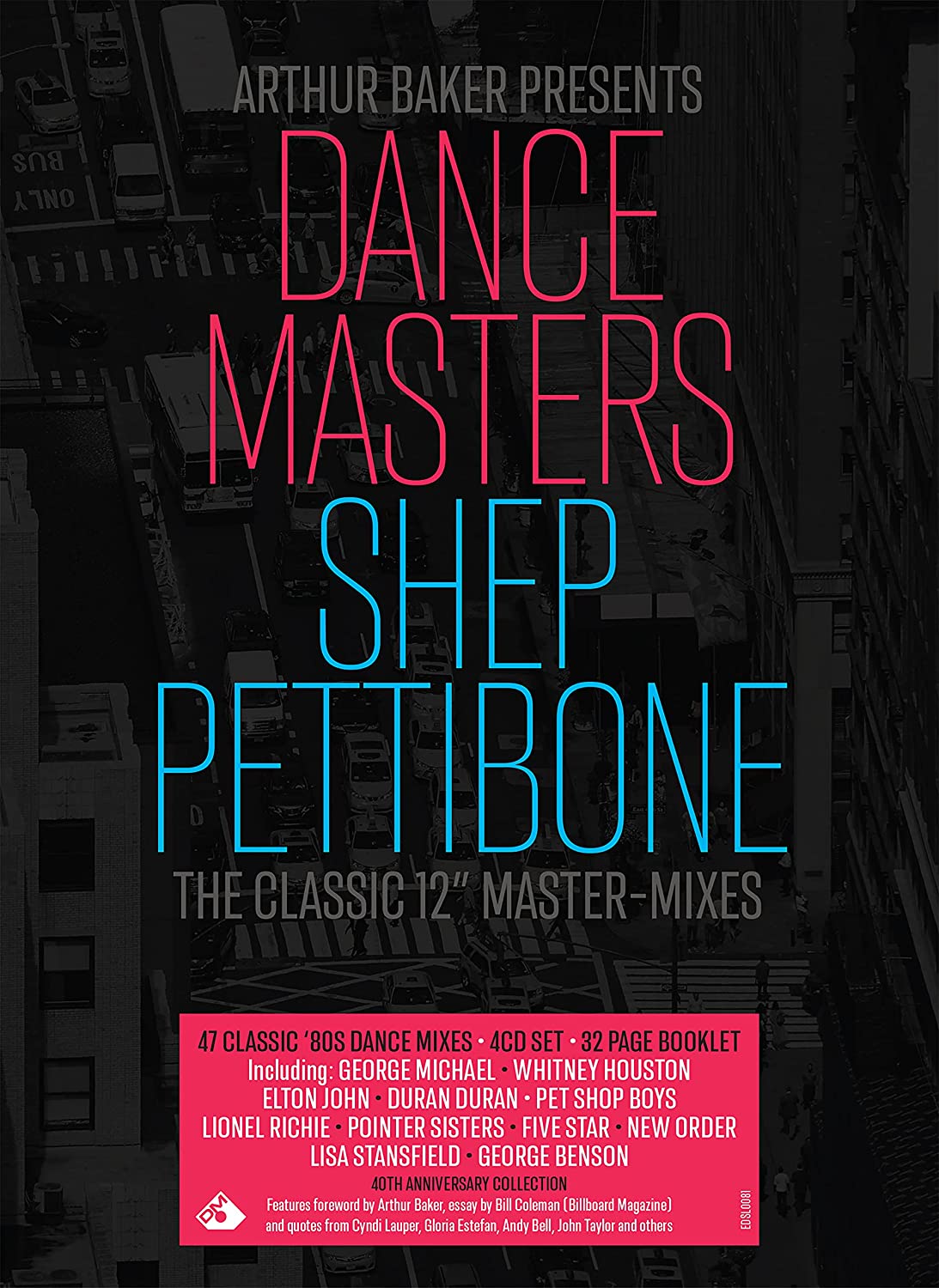 Various Artists
Dance Masters Shep Pettibone - limited 4CD set with SIGNED print
Compare prices and pre-order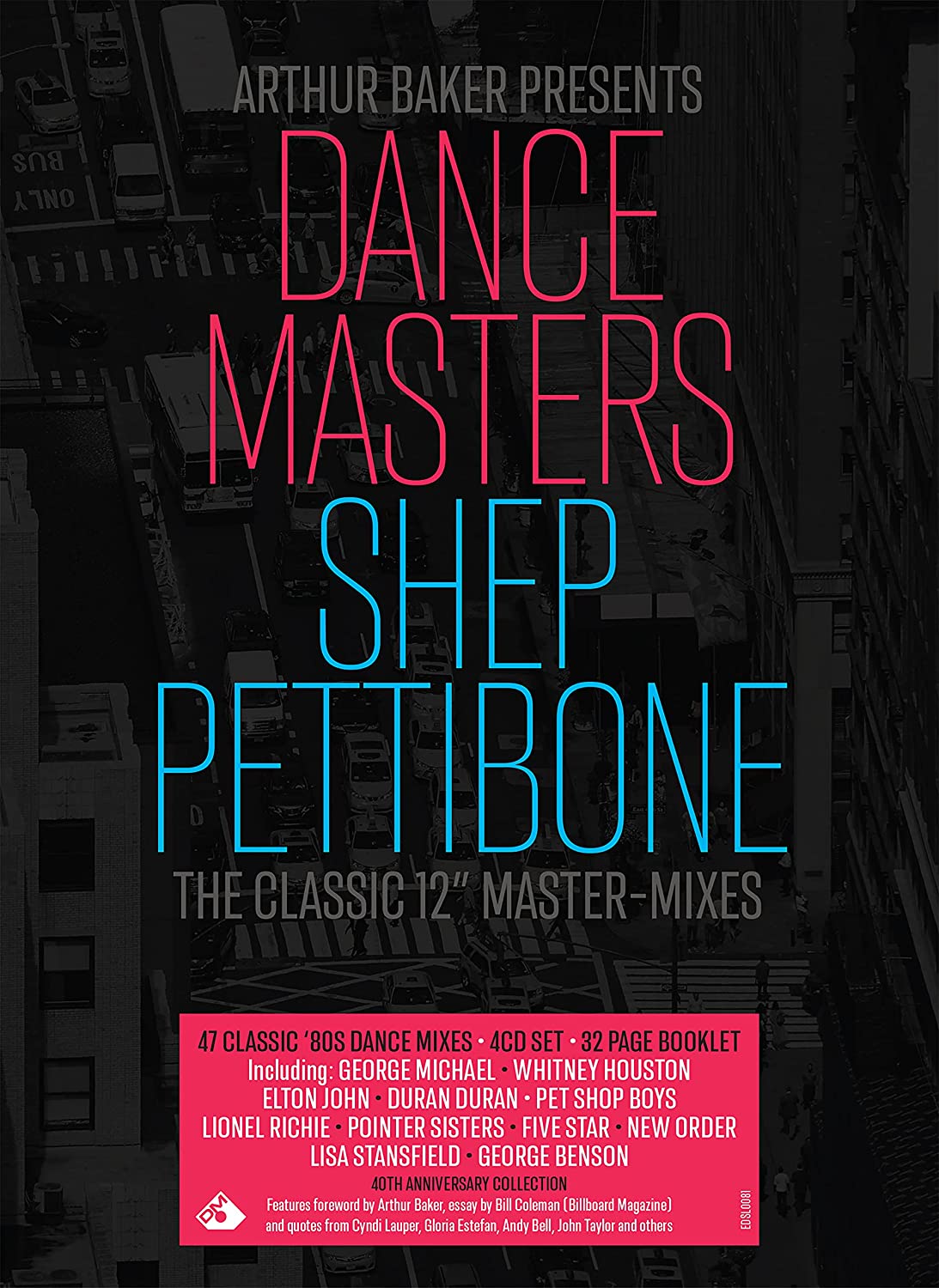 Various Artists
Dance Masters Shep Pettibone - 4CD set
Compare prices and pre-order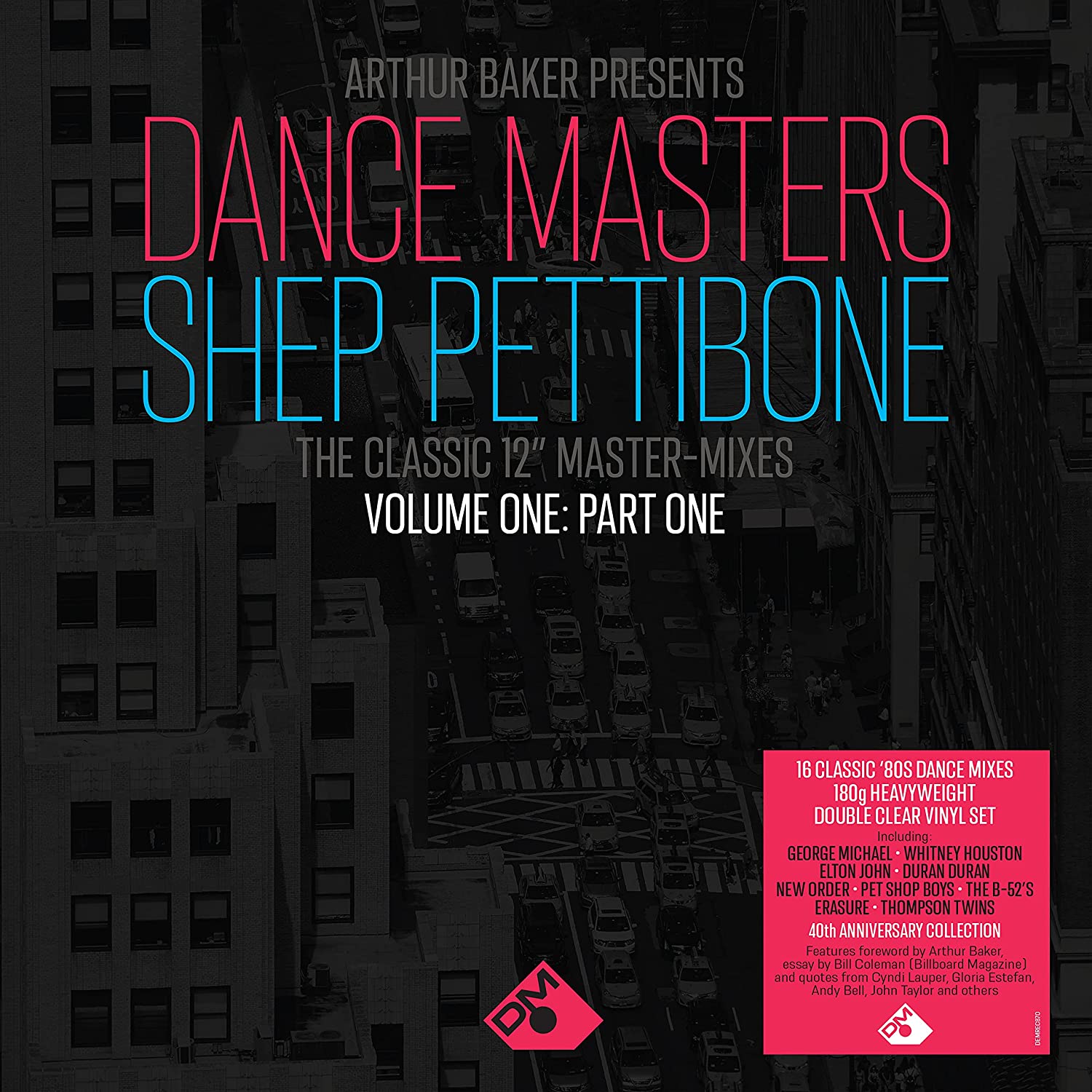 Various Artists
Dance Masters Shep Pettibone Vol one part 1 - 2LP clear vinyl
Compare prices and pre-order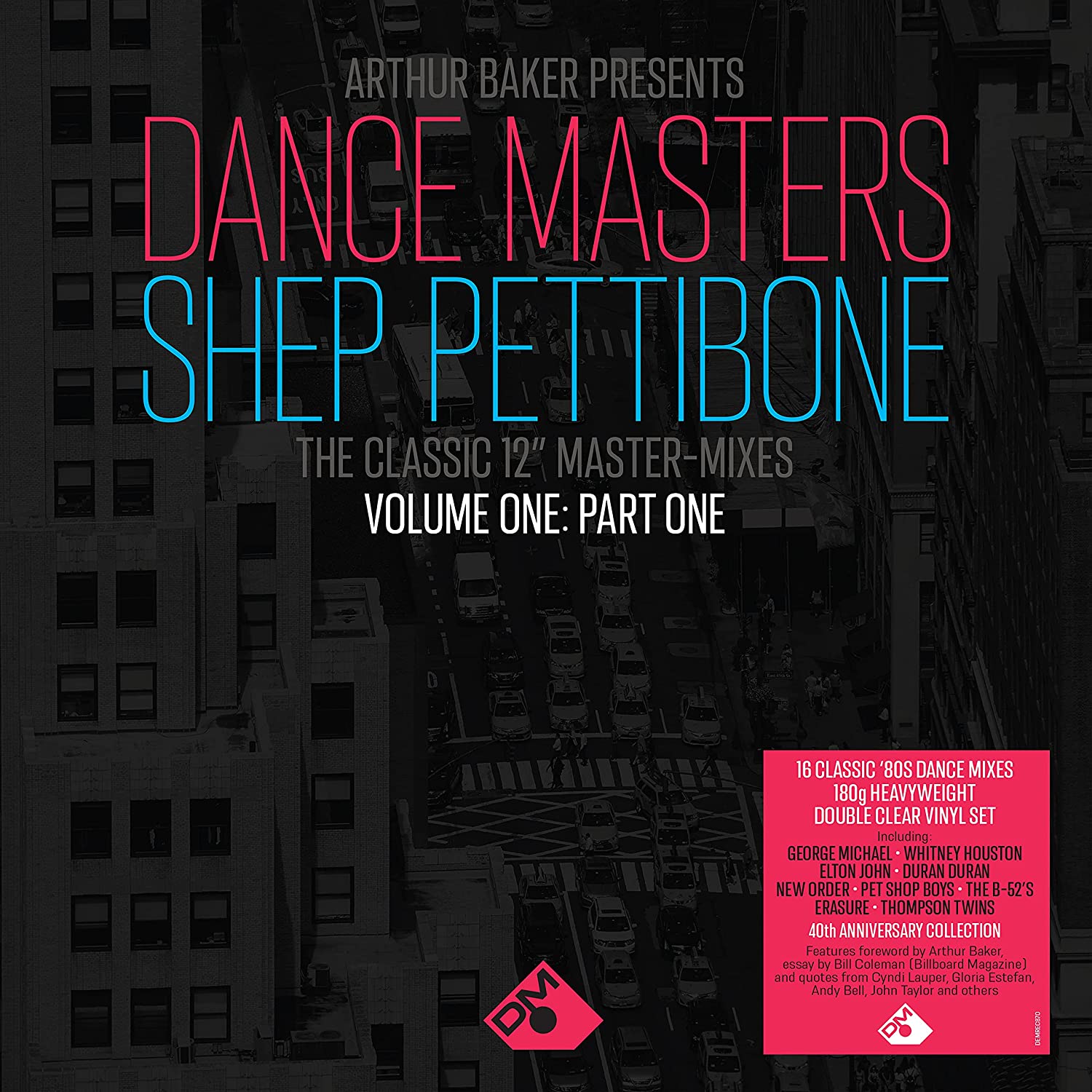 Various Artists
Dance Masters Shep Pettibone Vol one part 2 - 2LP clear vinyl
Tracklisting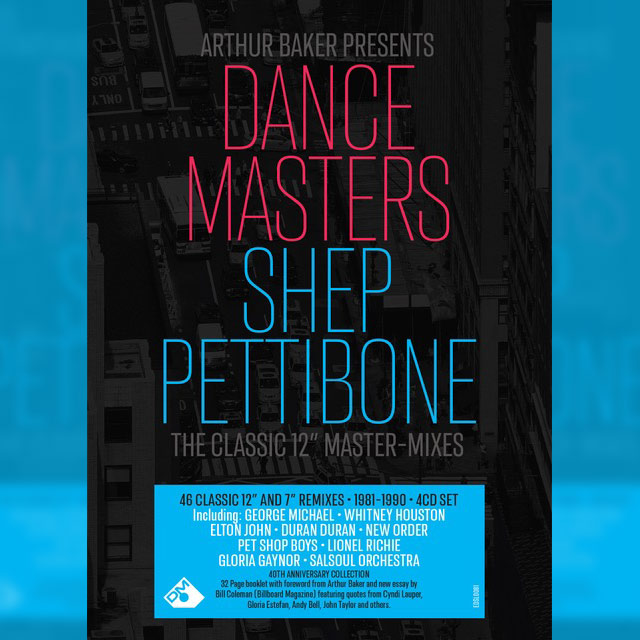 Arthur Baker Presents Dance Masters: Shep Pettibone The Classic Master-Mixes Various Artists
/
4CD set
CD 1

GEORGE MICHAEL – HARD DAY (12" Shep Pettibone Remix) 9.05
DURAN DURAN – I DON'T WANT YOUR LOVE (12" Shep Pettibone Big Mix) 7.55
LEVEL 42 – LESSONS IN LOVE (12" Shep Pettibone Remix) 7.48
WHITNEY HOUSTON – SO EMOTIONAL (Shep Pettibone Edited Remix) 4.26
BELINDA CARLISLE – HEAVEN IS A PLACE ON EARTH (12" Shep Pettibone Heavenly Remix) 5.55
B-52'S- SUMMER OF LOVE (12" Summer Party Mix) 6.04
HUEY LEWIS AND THE NEWS – HIP TO BE SQUARE (12" Shep Pettibone Dance Mix) 6.11
MIAMI SOUND MACHINE – BAD BOY (12" Shep Pettibone Remix) 6.11
CYNDI LAUPER – CHANGE OF HEART (12" Shep Pettibone Extended Version) 7.53
RUN D.M.C – IT'S TRICKY (12" Shep Pettibone Club Version) 7.19
PAULA ABDUL – KNOCKED OUT (Pettibone 12") 6.12
NARADA – DIVINE EMOTIONS (7" Shep Pettibone Single Mix) 4.12

CD 2

PET SHOP BOYS – WEST END GIRLS (12" Shep Pettibone Mastermix) 8:27
ALISHA – BABY TALK (12" Shep Pettibone Special Remix) 6.45
THE FLIRTS – YOU AND ME TALK (12" Shep Pettibone Mix) 6.03
PHYLLIS NELSON – I LIKE YOU (12" Shep Pettibone Mix) 7.27
NEW ORDER – BIZARRE LOVE TRIANGLE (12" Shep Pettibone Remix) 6.41
DEPECHE MODE – BEHIND THE WHEEL (12" Shep Pettibone Remix) 5.55
ERASURE – CHAINS OF LOVE (12" Unfettered Mix) 8.25
KIM WILDE – YOU CAME (Shep Pettibone 7" Version) 4.10
THE PSYCHEDELIC FURS – SHOCK (The Shep Pettibone Mix) 7.21
ELTON JOHN – I DON'T WANNA GO ON WITH YOU LIKE THAT (12" Shep Pettibone Remix) 7.59
THE COMMUNARDS – NEVER CAN SAY GOODBYE (Single Mix) 4.28
GLORIA GAYNOR – I AM WHAT I AM (12" Shep Pettibone Mix) – 5.56

CD 3

LISA LISA & CULT JAM WITH FULL FORCE – I WONDER IF I TAKE YOU HOME (12" Shep Pettibone Remix) 6.22
TERENCE TRENT D'ARBY/SANADA MAITREYA ‎– IF YOU LET ME STAY (12" Shep Pettibone Remix) 6.30
FIVE STAR – ARE YOU MAN ENOUGH (12" Shep Pettibone Mix) 6.38
POINTER SISTERS – GOLDMINE (12" Shep Pettibone Remix) 6.32
LIONEL RICHIE – LOVE WILL CONQUER ALL (12" Version) 7.07
B B & Q – (I'M A) DREAMER (12" Shep Pettibone Vocal/Long Version) 7:09
HOWARD HEWETT – STAY (12" After Midnight Mix) 7.26
GEORGE BENSON – TWICE THE LOVE (12" Club Love Mix) 7.40
THOMPSON TWINS – IN THE NAME OF LOVE '88 (12" Railroad Mix) 6.40
LISA STANSFIELD – THIS IS THE RIGHT TIME (Shep Pettibone Mix) 9.44
PIA – DANCE OUT OF MY HEAD (The Dressed-Down Mix) 7.44

CD 4

LEROY BURGESS – HEARTBREAKER (12" Shep Pettibone Mix) 5.53
SINNAMON – THANKS TO YOU (12" Shep Pettibone Remix) – 6.59
THE JAMMERS – BE MINE TONIGHT (12" Shep Pettibone Mix) – 7.02
INSTANT FUNK – (JUST BECAUSE) YOU'LL BE MINE (12" Shep Pettibone Mix) – 5.52
AURRA – SUCH A FEELING (12" Shep Pettibone Mix) – 6.28
CAROL WILLIAMS – NO ONE CAN DO IT (LIKE YOU) (12" Shep Pettibone Mix) – 6.57
STEVE SHELTO ‎– DON'T GIVE YOUR LOVE AWAY (Short Version) – 3.42 Demon
SKYY – SHOW ME THE WAY (12" Shep Pettibone Mix) – 5.55
MIKE AND BRENDA SUTTON – DON'T LET GO OF ME (GRIP MY HIPS AND MOVE ME) (12" Shep Pettibone Mix) 6.54
WEEKS AND CO. – IF YOU'RE LOOKING FOR FUN (12" Shep Pettibone Master Dub Mix) – 7.42
SALSOUL ORCHESTRA – OOH I LOVE IT (LOVE BREAK) (12" Shep Pettibone Mix) – 7.25
FIRST CHOICE ‎– LET NO MAN PUT ASUNDER (12" Shep Pettibone Remix) – 7.58
Tracklisting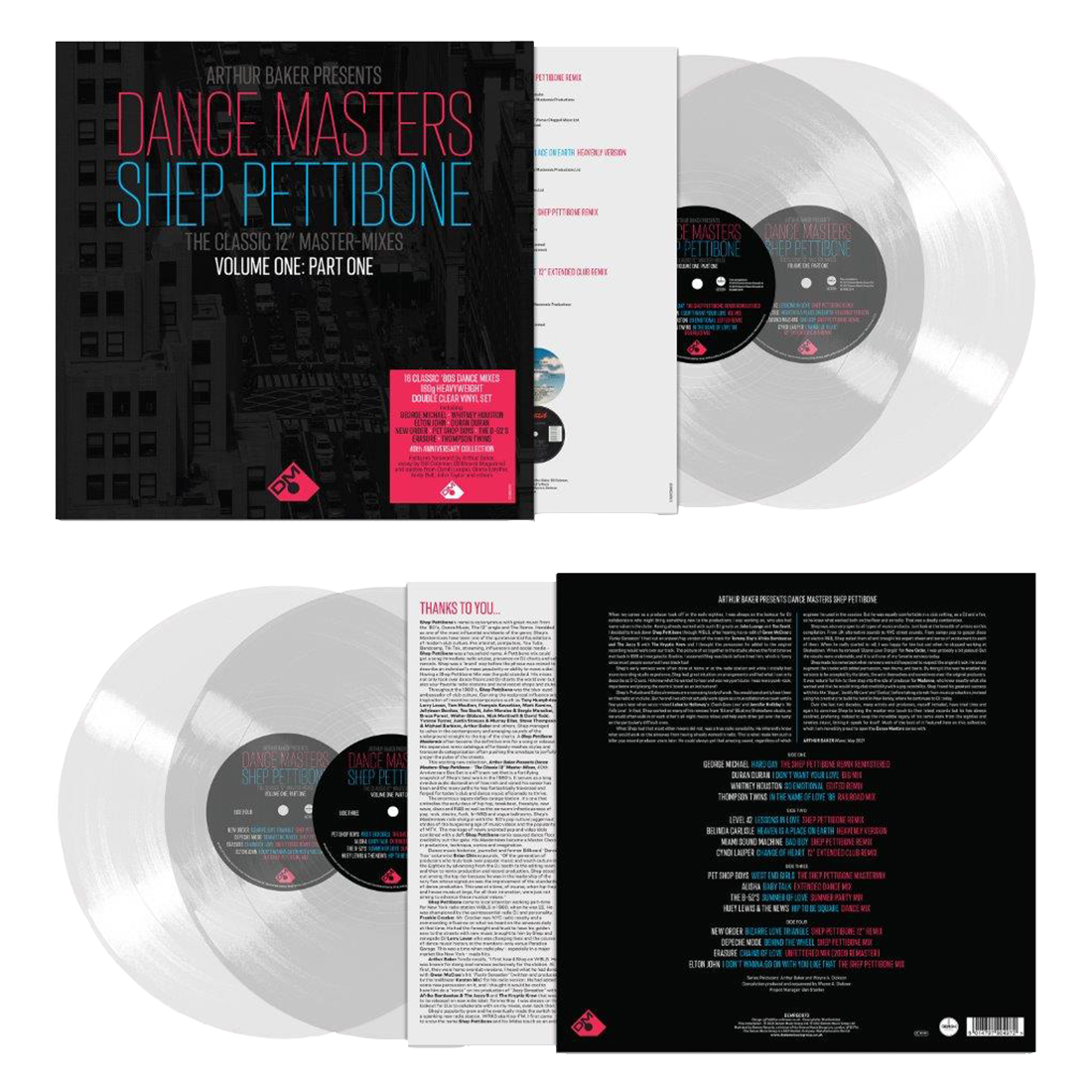 Arthur Baker Presents Dance Masters: Shep Pettibone Part 1 Various Artists
/
2LP clear vinyl
Side A

GEORGE MICHAEL – HARD DAY (12" Shep Pettibone Remix) – 9.05
DURAN DURAN – I DON'T WANT YOUR LOVE (12" Shep Pettibone Big Mix) – 7.35
WHITNEY HOUSTON – SO EMOTIONAL (Shep Pettibone Edited Remix) – 4.36
THOMPSON TWINS – IN THE NAME OF LOVE '88 (12" Railroad Mix) – 6.40

Side B

LEVEL 42 – LESSONS IN LOVE (12" Shep Pettibone Remix) – 7.44
BELINDA CARLISLE – HEAVEN IS A PLACE ON EARTH (12" Shep Pettibone Heavenly Remix) – 5.55
MIAMI SOUND MACHINE – BAD BOY (12" Shep Pettibone Remix) – 6.11
CYNDI LAUPER – CHANGE OF HEART (12" Shep Pettibone Extended Version) – 7.53

Side C

PET SHOP BOYS – WEST END GIRLS (12" Shep Pettibone Mastermix) – 8:35
ALISHA – BABY TALK (12" Shep Pettibone Special Remix) – 6.45
B-52'S- SUMMER OF LOVE (12" Summer Party Mix) – 6.04
HUEY LEWIS AND THE NEWS – HIP TO BE SQUARE (12" Shep Pettibone Dance Mix) – 6.05

Side D

NEW ORDER – BIZARRE LOVE TRIANGLE (12" Shep Pettibone Remix) – 6.43
DEPECHE MODE – BEHIND THE WHEEL (12" Shep Pettibone Remix) – 5.57
ERASURE – CHAINS OF LOVE (12" Unfettered Mix) – 8.25
ELTON JOHN – I DON'T WANNA GO ON WITH YOU LIKE THAT (12" Shep Pettibone Remix) – 7.20
Tracklisting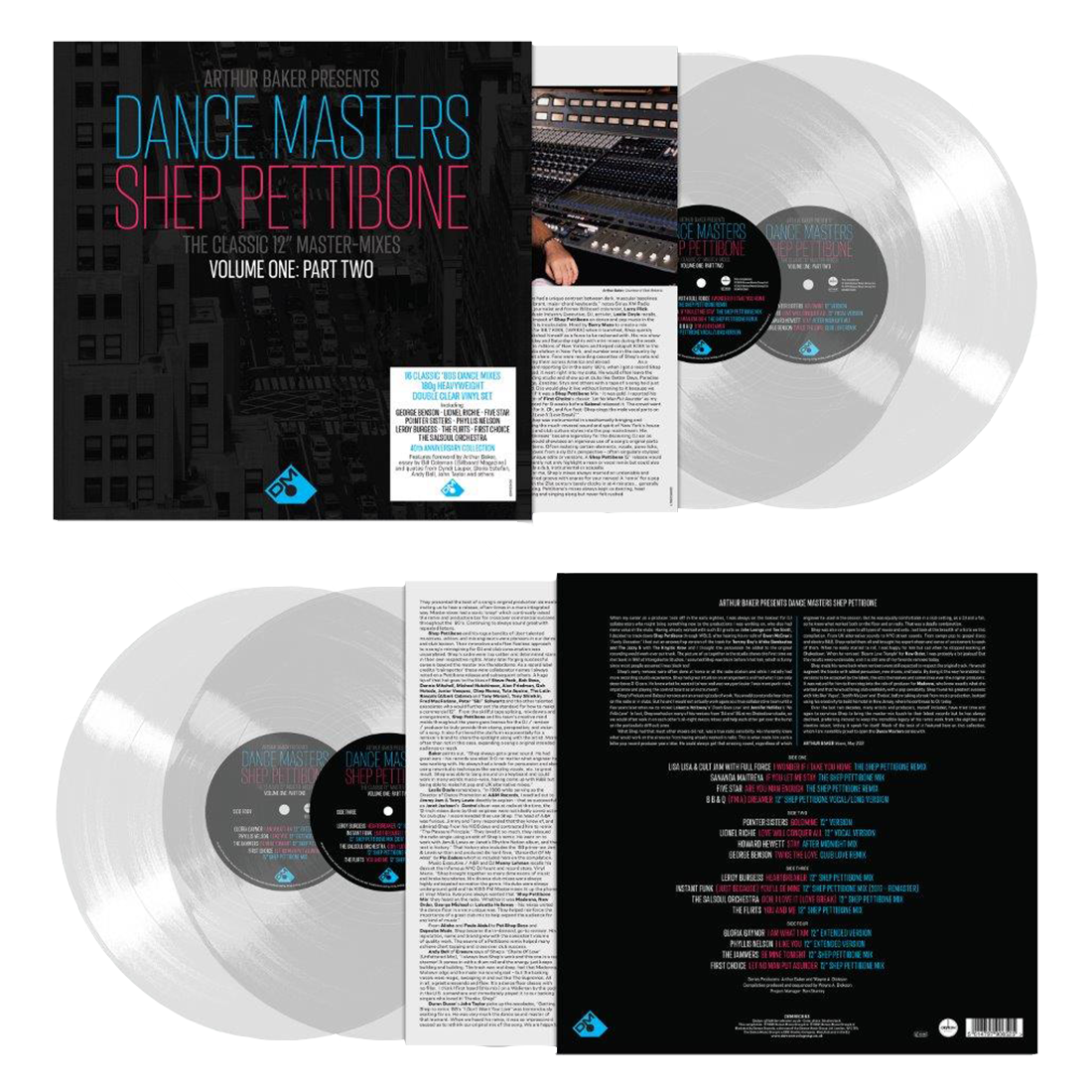 Arthur Baker Presents Dance Masters: Shep Pettibone Part 2 Various Artists
/
2LP clear vinyl
Side A

LISA LISA & CULT JAM WITH FULL FORCE – I WONDER IF I TAKE YOU HOME (12" Shep Pettibone Remix) – 6.22
TERENCE TRENT D'ARBY / SANADA MAITREYA – IF YOU LET ME STAY (12" Shep Pettibone Remix) – 6.30
FIVE STAR – ARE YOU MAN ENOUGH (12" Shep Pettibone Mix) – 6.38
B B & Q – (I'M A) DREAMER (12" Shep Pettibone Vocal/Long Version) 7:09

Side B

POINTER SISTERS – GOLDMINE (12" Shep Pettibone Remix) – 6.32 S
LIONEL RICHIE – LOVE WILL CONQUER ALL (12" Version) – 7.07
HOWARD HEWETT – STAY (12" After Midnight Mix) 7.26
GEORGE BENSON – TWICE THE LOVE (12" Club Love Mix) – 7.40

Side C

LEROY BURGESS – HEARTBREAKER (12" Shep Pettibone Mix) – 5.53
INSTANT FUNK – (JUST BECAUSE) YOU'LL BE MINE (12" Shep Pettibone Mix) – 5.52
SALSOUL ORCHESTRA – OOH I LOVE IT (LOVE BREAK) (12" Shep Pettibone Mix) – 7.15
THE FLIRTS – YOU AND ME TALK (12" Shep Pettibone Mix) 6.03

Side D

GLORIA GAYNOR – I AM WHAT I AM (12" Shep Pettibone Mix) – 5.56
PHYLLIS NELSON – I LIKE YOU (12" Shep Pettibone Mix) 7.27
THE JAMMERS – BE MINE TONIGHT (12" Shep Pettibone Mix) – 7.02
FIRST CHOICE – LET NO MAN PUT ASUNDER (12" Shep Pettibone Remix) – 7.58