 News
Bad Company / The Swan Song Years 1974-1982 / 6CD clamshell box set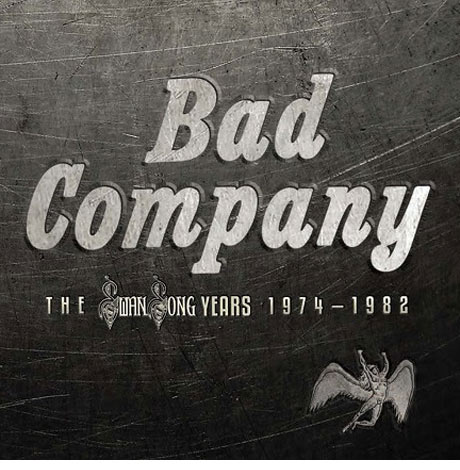 Bad Company are to celebrate their 45th anniversary with, The Swan Song Years 1974-1982, a new 6CD box set of their albums.

The six-disc Bad Company: The Swan Song Years 1974-1982 collects together their output for Swan Song. These are all fairly recent remasters (from the original tapes), with Desolation Angels and Rough Diamonds brand new 2019 remastered versions. The other albums included are: Bad Company (1974), Straight Shooter (1975), Run with the Pack (1976), and Burnin' Sky (1977).
Bad Company formed when members of Free (Paul Rodgers, Simon Kirke), King Crimson (Boz Burrell) and Mott The Hoople (Mick Ralphs) decided to pool their talents back in 1973. They became the first band to sign to Led Zeppelin's Swan Song label later that year.
The band's 1974 debut Bad Company went to number one in America and was a massive seller thanks to songs like 'Can't Get Enough,' 'Rock Steady,' and 'Movin' On'. The multi-platinum streak continued a year later with Straight Shooter which delivered standouts like 'Good Lovin' Gone Bad,' 'Shooting Star' and the Grammy-nominated smash, 'Feel Like Makin' Love.'
The band carried on with double-platinum releases for the next few albums, before ceasing operation in 1982 after the measly gold of Rough Diamonds, becoming the last studio album the original quartet released.
Bad Company: The Swan Song Years 1974-1982 is released 2 August 2019.
Compare prices and pre-order
Bad Company
Bad Company - The Swan Song Years 1974-1982 - 6CD box
CD1: Bad Company (2015 Remaster)
Can't Get Enough
Rock Steady
Ready For Love
Don't Let Me Down
Bad Company
The Way I Choose
Movin' On
Seagull
CD2: Straight Shooter (2015 Remaster)
Good Lovin' Gone Bad
Feel Like Makin' Love
Weep No More
Shooting Star
Wild Fire Woman
Anna
Call On Me
CD3: Run with the Pack (2017 Remaster)
Live For The Music
Simple Man
Honey Child
Love Me Somebody
Run With The Pack
Silver, Blue & Gold
Young Blood
Do Right By Your Woman
Sweet Lil' Sister
Fade Away
CD4: Burnin' Sky (2017 Remaster)
Burnin' Sky
Morning Sun
Leaving You
Like Water
Knapsack (The Happy Wanderer)
Everything I Need
Heartbeat
Peace Of Mind
Passing Time
Too Bad
Man Needs Woman
Master Of Ceremony
CD5: Desolation Angels (2019 Remaster)
Rock 'n' Roll Fantasy
Crazy Circles
Gone, Gone, Gone
Evil Wind
Early In The Morning
Lonely For Your Love
Oh, Atlanta
Take The Time
Rhythm Machine
She Brings Me Love
CD6: Rough Diamonds (2019 Remaster)
Electricland
Untie The Knot
Nuthin' On The TV
Painted Face
Kickdown
Ballad Of The Band
Cross Country Boy
Old Mexico
Downhill Ryder