 News
Bananarama / Live at the London Eventim Hammersmith Apollo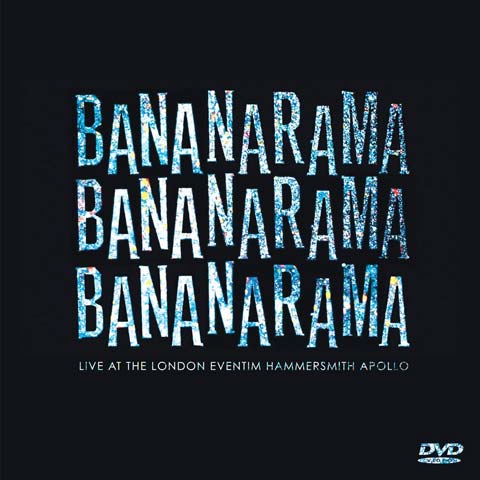 2CD+DVD and 3LP vinyl sets commemorating their first ever tour
Bananarama reunited last year and completed a successful 22-date UK tour. The evening at London's Eventim Hammersmith Apollo, in late November, was recorded and filmed and will be issued as a 2CD+DVD set next month.

This new package features 19 songs performed live by Sara, Keren and Siobhan, including early classics like 'Robert De Niro's Waiting', 'Cruel Summer', 'Rough Justice' along with later hi-energy hits like 'Love In The First Degree' and 'I Heard A Rumour'. These are included across the two CDs and a DVD.
The audio for this Hammersmith Show (the venue is technically just called the 'Eventim Apollo') is also available across a triple vinyl set and there's even a 2CD+DVD+blu-ray photobook package, although at £130 in the UK that's likely to be of limited appeal.
This set will be released on 14 September 2018 and was previously available on PledgeMusic with some different/extra configurations.
Compare prices and pre-order
Bananarama
Live at the Eventim Apollo 2CD+DVD
Compare prices and pre-order
Bananarama
Live at the Eventim Apollo 3LP vinyl
Compare prices and pre-order
Bananarama
Live at the Eventim Apollo 4-disc deluxe photobook
CD 1
1. Nathan Jones
2. Robert De Niro's Waiting
3. Rough Justice
4. Aie A Mwana
5. Cruel Summer
6. A Trick Of The Night 2017
7. Shy Boy Trouble
8. Really Saying Something
9. Cheers Then
10. Stay
CD 2
1. Preacher Man
2. I Heard A Rumour
3. More Than Physical
4. I Can't Help It
5. I Want You Back
6. Venus
7. Na Na Hey Hey Kiss Him Goodbye
8. It Aint What You Do…
9. Love In The First Degree
DVD
1. Nathan Jones
2. Robert De Niro's Waiting
3. Rough Justice
4. Aie A Mwana
5. Cruel Summer
6. A Trick Of The Night 2017
7. Shy Boy Trouble
8. Really Saying Something
9. Cheers Then
10. Stay
11. Preacher Man
12. I Heard A Rumour
13. More Than Physical
14. I Can't Help It
15. I Want You Back
16. Venus
17. Na Na Hey Hey Kiss Him Goodbye
18. It Aint What You Do…
19. Love In The First Degree